Shinobu Kawajiri
Jump to navigation
Jump to search
"
Pour la première fois depuis une dizaine d'années ... depuis que nous vivions ensemble, j'ai trouvé cet
homme
romantique !
"

Shinobu Kawajiri (川尻 しのぶ, Kawajiri Shinobu) est un personnage secondaire de la quatrième partie de JoJo's Bizarre Adventure, Diamond is Unbreakable.
Shinobu est la femme de Kosaku Kawajiri et la mère de Hayato. Coincée dans un mariage sans amour et une vie monotone, Shinobu voit sa vie se pimenter pour le mieux lorsque son mari semble avoir changé en meilleur homme. Elle ignore cependant que son "mari" n'est autre que le tueur en série Yoshikage Kira déguisé.
Apparence

Shinobu est une femme japonaise de taille moyenne et à la silhouette plutôt svelte. Elle a des cheveux longs coiffés vers la droite et attachés en queue de cheval. Durant sa première apparition, Shinobu avait des cheveux un peu moins bien coiffés avec quelques mèches rebelle lui tombant devant le visage.
Shinobu porte plusieurs tenue durant l'histoire, le plus souvent ce sont des robes courtes ou pulls avec jupes, la plupart étant des vêtements à poix.
Palettes
Les palettes changent souvent entre les médias. L'information ci-dessous ne devrait pas être considérée comme canonique.
Outfit
(Chemisier rose, jupe à carreaux violet et noir avec doublure rose et clous violets.)
Ceinture
(Ceinture brune, boucle dorée)
Tenue
(Chemisier blanc, jupe à carreaux verts et noirs avec doublure marron et clous argentés.)
Ceinture
(Ceinture jaune, boucle argentée-bleue)
Personnalité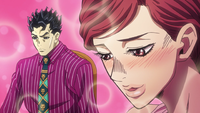 Shinobu est au fond plus une jeune fille qu'une mère de famille responsable. De fait, elle déteste son mariage car elle sait qu'elle s'est condamnée à une vie monotone avec un homme qu'elle n'aime pas. Bien qu'elle ne déteste pas vraiment Kosaku, elle a une relation froide avec lui et elle porte beaucoup de regrets de s'être mariée avec lui, au point qu'il lui arrive de lui faire des tours pour le faire réagir (comme par exemple délibérément lui laisser un bol de nouilles instantanées en guise de dîner). Elle a aussi une relation difficile avec son fils Hayato, et elle considère qu'il est la raison pour laquelle est a été forcée de marier Kosaku. Elle essaie tout de même de communiquer avec lui, et si il l'ignore la plupart du temps, elle est contente quand Hayato lui témoigne un peu d'affection.
A un certain moment, Yoshikage Kira vole l'identité de Kosaku. Shinobu ne réalise pas ce vol d'identité mais remarque que son comportement a changé. De fait elle est très contente lorsque "Kosaku" cuisine, vole de l'argent au propriétaire, la protège contre Stray Cat et semble lui faire des avances (en réalité Kira essaie de se retenir de ne pas la tuer), et interprète ses gestes comme un développement de son mari. Elle en vient même à tomber amoureuse pour de vrai. A la fin de la partie 4, Shinobu attend le retour de "Kosaku", ne sachant pas que son mari est mort depuis longtemps.
Shinobu prétend être la type de personne que les chats aiment d'habitude.
Histoire
Passé
Shinobu est un habitante de Morioh. Elle avait rencontré son futur mari, Kosaku Kawajiri, à l'université et le fréquentait parce qu'elle pouvait rendre ses amies jalouses qu'elle ait un grand petit copain. Il se sont mariés et ont eu un garçon, Hayato. Cependant, c'est là qu'elle a réalisé qu'elle s'est marié avec un homme qu'elle n'aimait pas vraiment et, ne pouvant pas le divorcer à cause de leurs fils, a fini par détester cette vie de famille.
Diamond is Unbreakable
A un moment, juste avant l'été 1999, Yoshikage Kira vole l'identité de Kosaku alors qu'il fuyait Josuke Higashikata et ses compagnons. Il est donc forcé de jouer le rôle d'un père de famille. Hors, les habitudes de Kira sont différentes de Kosaku, et il est beaucoup plus actif et courtois avec sa femme. Contrairement à Kosaku, il cuisine et va même voler l'argent du propriétaire pour le lui rendre en prétendant que c'est leur loyer. Shinobu en vient à développer des sentiments pour "Kosaku", sans réaliser qu'elle aime un autre homme.
Un jour, Shinobu rencontre Tama le chat dans la cave de la maison. Elle essaie d'abord de se lier d'amitié avec lui mais Tama reste agressif. Agacée, elle essaie de le chasser à coup de balais et Tama meurt accidentellement. Tama se réincarne alors en Stray Cat, un hybride de plante et de chat. Stray Cat lui arrache un ongle avec une bulle d'air et Shinobu commence à croire que l'endroit où on a enterré le chat est maudit. Kira remarque alors la plante. Il essaie de la combattre et protège Shinobu d'elle, et le combat se finit en match nul. Shinobu ne réalise pas qu'un Stand l'a attaquée mais est tout de même émue que son mari l'ai protégée.
Le matin où Bites the Dust a été activé, Shinobu passe alors une matinée comme tous les autres bien que certains évènements surviennent pour mouvementer sa matinée. Malheureusement pour elle, son service à thé préféré se casse. Elle gronde alors Hayato, qu'elle blâme parce qu'il n'a pas bougé un doigt pour protéger ce précieux service et elle pense qu'il ne l'aime pas. Kira la calme et lui souhaite bonne journée en l'embrassant alors qu'Hayato regarde avec colère cette scène.
Durant la dernière boucle temporelle, Hayato essaie d'obéir à sa mère en répondant au téléphone et l'embrasse même pour lui souhaiter une bonne journée, chose qu'il n'a pas fait depuis des années. Elle est confuse mais contente de son changement soudain de comportement, ignorant un peu Kira.
Après que Kira meurt, Hayato n'a pas le courage de lui expliquer que Kosaku est mort, et Shinobu continue à attendre que son mari revienne à la maison.
Chapitres / Episodes

Apparitions Manga
Apparition dans les chapitres

Apparitions Animé
Apparitions dans les épisodes
Citations

Citations
"

I guess I have to spend another night with that insensitive ass.. The only words he ever says between getting home from work and leaving the next morning are "food", "bath", and "sleep".

"

"

It's too much trouble to turn and greet

him

. I'll just pretend I didn't notice. I have no interest in you at all. It'd be better if you never came back home, you cheap bastard.

"

"

I don't get

this kid

either... It's because of you I was roped into this marriage in the first place! And because of you I can't get a divorce either! You're just like your damn father.

"

"

I know right now, I should be afraid, and maybe disdainful of this scumbag of a husband... But after witnessing that brazen theft firsthand... for the very first time... after more than a dozen years of living together... How romantic! ...Is all I can think!

"

"

Was

he

going to undo the buttons for me? He said "I didn't mean to scare you"... The way he's been acting lately makes me nervous... and... excited. I think I'm finally falling for him...

"

"

I was glad. That was the closest thing [Kosaku and I have] ever really been. So this morning is the happiest I've been in a long time.

"

"

Look, I'm being totally submissive, right? Have you calmed down? Can we be friends now?

"

"

This is your fault! Why do you keep ignoring me!? Fine! If you won't treat me like your mother, I won't treat you like my son!

"

"

Oh, you don't have to wait [for Kosaku]. [The food is] getting cold. Go ahead and dig in. I'll wait a bit longer myself.

"
The information below derives from a source not written by Araki. As such, it may or may not be considered canon.
Dans le roman JORGE JOESTAR, une version alternative de Shinobu vit dans le 37e univers. Elle semble être toujours la femme d'un certain Kosaku et la mère de Hayato. Dans cet univers, elle travaille au comité d'élection de la ville. Alors que des détectives suivent la trace de Yoshikage Kira, ce dernier tue brutalement Shinobu et Hayato.[1]
Monde Parallèle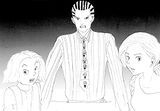 Dans l'un des mondes parallèles connectés grâce à D4C, Jorge Joestar et Kars entrent soudainement dans la maison des Kawajiri alors que la famille dine paisiblement.
En voyant Kars, Kosaku ordonne à Shinobu et Hayato de s'enfuir. Shinobu est confuse en voyant la réaction de son mari et heurte accidentellement la table, renversant de la soupe chaude sur sa main. Elle demande ce qui se passe et si Kosaku les connaît. Kosaku demande à nouveau désespérément à sa famille de partir, ce qui oblige Shinobu à traîner Hayato par la porte arrière de la maison.[2]
Galerie d'Images
Références