Sauveur de Josuke
Jump to navigation
Jump to search
"
Il est malade, n'est-ce pas ? Laissez-moi pousser la voiture ?
"
Le Sauveur de Josuke (仗助の恩人, Jōsuke no onjin) est un personnage tertiaire figurant dans la quatrième partie de JoJo's Bizarre Adventure, Diamond is Unbreakable. Il était un mystérieux jeune lycéen qui a aidé un jeune Josuke Higashikata et sa mère Tomoko à s'échapper d'un blizzard.
Apparaissant sans crier gare, ce jeune homme a aidé les Higashikata en poussant leur voiture et en les débloquant de la neige. Josuke, voyant à peine l'homme, en vient à imiter son pompadour pour lui rendre hommage.
Apparence
On ne dévoile pas réellement l'apparence de ce jeune homme, mis à part son pompadour. Il porte un uniforme de lycéen avec trois épingles en forme de bandes verticales sur le col à gauche, et une autre épingle métallique en forme de blason sur le col droit. Il porte un pull sous son haut d'uniforme.
Palettes
Les palettes changent souvent entre les médias. L'information ci-dessous ne devrait pas être considérée comme canonique.
Cheveux
(Noir aux reflets bleus)
Tenue
(Uniforme bleu, épingles dorés, pull beige)
Cheveux
(Noir aux reflets bleus)
Tenue
(Uniforme bleu, épingles dorés, pull violet)
Personnalité
On ne sait pas grand chose de la personnalité du sauveur de Josuke puisqu'on le voit à peine dans l'histoire. Il semble avoir été un jeune homme vigilant et bienveillant. Lorsqu'il apparu, il est blessé comme s'il avait été impliqué dans une bagarre, ce qui peut suggérer qu'il était un délinquent. Cependant, il remarqua le petit Josuke à l'arrière en étant malade. Il aida alors immédiatement Tomoko Higashikata à s'échapper de la neige en poussant sa voiture, sacrifiant sa veste (que Koichi considère devait être un objet auquel ce jeune homme tenait). En ayant réussi à aider les Higashikata, le jeune homme partit immédiatement sans demander quoique ce soit en retour.[1]
Histoire
Passé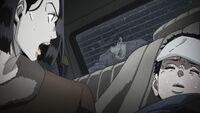 Le sauveur de Josuke apparait dans l'histoire durant l'hiver de 1988, alors que Josuke avait quatre ans et qu'il était tombé malade à cause de DIO dont l'influence néfaste rendait son pouvoir hors de contrôle et que donc le pouvoir Stand latent de Josuke était en train de le tuer.
Pour une raison inconnu, le jeune homme avait été impliqué dans une bagarre, et son visage était couvert de bleus et de coupure. Le jeune homme errait sur une route de campagne avec aucune habitation en vue à un kilomètre à la ronde. Il apparut soudain derrière la voiture de Tomoko Higashikata, qui avait voulut conduire le petit Josuke à l'hôpital mais la voiture se retrouva coincée dans un blizzard à cause des roues qui étaient pris dans la neige. Le jeune homme se tint silencieux et intimidée, Tomoko lui dit de s'en aller. Le jeune homme remarqua alors le jeune Josuke malade à l'arrière et décida immédiatement d'aider Tomoko. Il enleva sa veste, la mettant sous la roue de la voiture pour qu'elle accroche la route, puis poussa la voiture en disant à Tomoko de foncer et de ne pas s'arrêter. Lorsque la voiture put enfin démarrrer, le jeune sauveur reprit sa veste sans dire un mot et partit, disparaissant dans le blizzard. Josuke n'aperçut que très brièvement l'homme, ne voyant que son pompadour. Josuke put aller à l'hôpital et fut guéri de son mal.
Par la suite, Tomoko essaya de retrouver le sauveur de Josuke sans y parvenir. Pour lui rendre hommage, Josuke décida de se coiffer avec un pompadour car il voulait ressembler à son sauveur, un geste qu'il conserve même jusqu'à ses 16 ans. Depuis, Josuke se met aussi en colère quand on se moque de sa coiffure, ce que Koichi Hirose interprète comme de la colère car on se moque indirectement du sauveur de Josuke.[1]
L'information ci-dessous provient de sources dont Araki n'est pas l'auteur. Leur canonicité est incertaine.
Le sauveur de Josuke est mentionné dans le roman 4th Another Day. Takuma Hasumi a entendu parler des rumeurs selon lesquelles Josuke aurait son pompadour pour honorer son sauveur. Selon Josuke, ce ne serait pas le fait qu'il soit son sauveur spécifiquement, mais plutôt le fait qu'il a sacrifié sa veste pour le sauver qui a causé l'admiration de ce dernier. Ce geste était aussi sacré qu'une ligne d'un texte sacré.
Takuma déclare à Josuke qu'il aurait pu voir le jeune homme durant son enfance, sachant qu'il se souvient aussi d'avoir vu Josuke et Tomoko sa mère plusieurs fois dans les rues de Morioh quand Josuke avait quatre ans. En effet, Takuma a une mémoire eidétique grâce à son Stand The Book et se souvient de tous ceux qu'il a vu. Il dit à Josuke qu'il pourrait facilement retrouver ce jeune homme avec un pompadour. Ces déclarations ont surtout pour but de déstabiliser Josuke psychologiquement et il n'a aucune intention de retrouver ce jeune homme. Pour rendre Josuke encore plus confus, Takuma mentionne même la possibilité que Josuke aurait pu voyager dans le temps pour se sauver lui-même.[2]
Chapitres / Episodes

Apparition dans le Manga
Chapitres (ordre chronologique)

Apparitions dans l'Anime
Episodes (ordre chronologique)
Citations

Citations
"

He's sick isn't he? I'll push your car.

"

"

Hit the gas. As soon as you're free, keep gunning it. Slow down, and you'll get stuck in the snow again.

"
Galerie d'Images
Détails
L'identité du sauveur de Josuke est un sujet de débat dans le fandom de la série, qui date depuis la publication originale dans le Weekly Shonen Jump.[3]

Dans une entrevue avec le réalisateur de l'OAV, Hiroyuki Kitakubo, ce dernier a révélé que quand il a parlé à Hirohiko Araki à ce sujet, il a répondu, "Celà n'a rien à voir, c'est juste un souvenir de Josuke".[4]
Le réalisateur de l'anime produit par David Production, Naokatsu Tsuda, a aussi posé la question à Araki sur ce sujet durant la production, mais Araki aurait refusé d'en parler.[3]

Dans l'adaptation anime de la partie 4, personne n'interprète les dialogues du sauveur de Josuke. De fait, ils sont affichés sur l'écran avec un texte, comme dans un vieux film muet.
Dans Adventure Battle Card, on l'appelle le jeune homme dans la neige (

雪の中の青年

Yuki no naka no seinen).
Références