Ayana Hirose
Jump to navigation
Jump to search
"
Non, je ne parlais pas de toi ! Mon petit frère se balade en sous-vêtements, ha ha...
"

Ayana Hirose (広瀬 綾那, Hirose Ayana) est un personnage tertiaire figurant dans la quatrième partie de la série 'JoJo's Bizarre Adventure, Diamond is Unbreakable.
Ayana est la grande soeur de Koichi Hirose et la fille aînée de M. Hirose et Mme. Hirose qui étudie en dernière année de lycée à un lycée pour filles.[2] Elle devient la victime de Tamami Kobayashi et de son Stand The Lock.
Apparence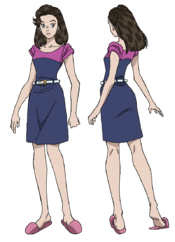 Ayana est une jeune fille japonaise à la silhouette svelte. Elle a des cheveux longs de couleur sombre avec deux franges frisées vers l'extérieur et des sourcils fins. Tamami Kobayashi la trouve attirante car selon ses dires, elle est "mignonne".[2]
On la voit d'abord porter une robe sans manches avec une ceinture, des collants dans le manga et des pantoufles. Dans un arc ultérieur, alors qu'elle est au téléphone avec un ami, elle porte un débardeur et un pantalon. Ses cheveux sont alors attachés en queue de cheval. Dans le dernier arc où elle apparait brièvement, elle va faire du shopping avec sa mère, elle porte un chemisier à manches longues, boutonné, avec une poche sur chaque poitrine, une jupe courte et des talons hauts ; ses cheveux ne sont pas attachés.
Palettes
Les palettes changent souvent entre les médias. L'information ci-dessous ne devrait pas être considérée comme canonique.
Peau
(Peau claire, rouge à lèvres rose)
Tenues
(Robe mauve clair, ceinture brune, collants bruns, chaussons roses.)
Peau
(Peau claire, rouge à lèvres rose)
Tenues
(Robe rose et bleue, ceinture blanche, chaussons roses)
Personnalité
Ayana est une jeune femme gentille et polie. Elle prend soin de son frère et l'appelle "Ko-chan" comme leur mère.[4] On la voit aussi prendre plaisir à taquiner Koichi de temps en temps.[5] Elle est gentille avec les étrangers, sourit aux amis de Koichi[6] et offre du thé à Tamami lorsqu'il lui rend visite.[2]
Tamami exploite d'ailleurs sa politesse, car lorsqu'elle renverse du thé par accident sur lui, elle se sent coupable et Tamami peut installer The Lock sur elle.[2]
Histoire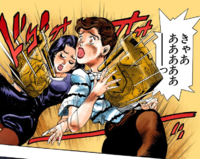 La mère d'Ayana accueille un jour Tamami dans sa maison, qui se fait passer pour un citoyen honnête et sympathique auprès de la famille puis prétend que Koichi aurait échangé accidentellement son porte-monnaie avec lui. Avant que Koichi ne rentre à la maison, Ayana sert une tasse de thé à Tamami. Cependant, Tamami donne à Ayana un petit coup de coude qui lui fait renverser le thé sur sa main. Il réagit de manière excessive comme s'il était brûlé et Ayana s'excuse à plusieurs reprises. Sa culpabilité fait apparaître The Lock sur sa poitrine.
Après le retour de Koichi chez lui et l'apparition de The Lock sur la poitrine de sa mère, Ayana entre dans la pièce et demande à Koichi si quelque chose ne va pas. Il s'aperçoit alors qu'elle a également The Lock sur elle et Tamami se moque d'elle, tout en imaginant à quel point elle est mignonne et ce qu'il aimerait faire avec elle.[2]
Les paroles de Tamami mettent Koichi en colère et celui-ci pousse Ayana et sa mère hors du salon pour confronter tranquillement Tamami.[7] Ne sachant pas ce qui arrive, Ayana et sa mère entendent un cri de douleur et accourent dans le salon. Elles voient alors Tamami qui saigne alors que Koichi tient un couteau dans sa main. Elles ne savent pas qu'en fait, c'est Tamami qui s'est légèrement entaillé le ventre et a lancé le couteau dans les mains de Koichi. Ayana croit alors que son frère a agressé Tamami, et sa culpabilité devient telle sous l'effet de The Lock qu'elle perd conscience et tombe au sol. Cependant, Koichi parvient à utiliser Echoes pour influencer sa mère et la faire reprendre confiance en lui. Tamami perd toute emprise sur les Hirose et capitule, libérant aussi Ayana.[4]
On voit brièvement Ayana durant l'arc "Visite chez un Mangaka". Le soir après avoir rendu visite à Rohan Kishibe, Koichi se rend compte qu'il a perdu beaucoup de poids. Inquiet, il court en dehors de la salle de bain pour appeler Josuke à la rescousse, et croise Ayana au téléphone. Elle taquine gentiment son frère car il est en caleçon et en parle à son amie au téléphone.[5]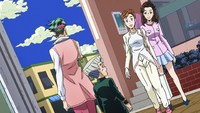 Ayana et sa mère vont aller faire les courses et c'est alors qu'elles croisent Koichi, Rohan et aussi Yukako. Sa mère les demande s'ils veulent bien les accompagner au centre commercial Kameyu et Ayana les accompagne. La présence d'Ayana et de la mère de Koichi agace Yukako, qui souhaitait être seule avec Koichi et commence à douter de la "chance" que devait lui apporter le traitement d'Aya Tsuji.[6]
Dans l'adaptation de l'anime, Ayana et sa mère sont à l'extérieur de Kameyu quand Ayana dit qu'elle vient de voir Koichi partir en tenant la main d'une jolie fille. Mme. Hirose est choquée de la nouvelle car Koichi ne lui a rien dit.[8]
Chapitres / Episodes

Apparitions Manga
Apparition dans les chapitres

Apparitions Animé
Apparitions dans les épisodes
Citations

Citations
"

Koichi, is something wrong?

"

"

Ko-chan? What are you doing? Do you need something? Do you... need the phone?

"

"

You weirdo. No, I didn't mean you! My little brother is wandering around in his underwear, ha ha...

"
Galerie d'Images
Références