Satoru Nakae
Jump to navigation
Jump to search
"
Is he a pickpocket? Or a perv trying to cop a feel? Want me to teach him a lesson? Hell, say the word and I'll kill him!
"
Satoru Nakae (中江 悟, Nakae Satoru) is a tertiary character featured in the fourth part of the JoJo's Bizarre Adventure series, Diamond is Unbreakable. During the investigation, Hayato Kawajiri witnessed him and his girlfriend Minako Okura being killed by Yoshikage Kira.
Appearance

Satoru is a tall 22 year old man of muscular build. He is a third-year student at S-City M Community College,[1] sporting a buzz cut and his attire consists of a long sleeve, striped crop-top shirt, baggy pants, circular earrings and glasses.
Color Schemes
The series is known for alternating colors between media, the information presented below may or may not be canon.
Outfit
(Lime, black striped crop-top shirt, blue boxers, pants and shoes. Black glasses and silver earrings.)
Outfit
(White, blue striped crop-top shirt, cyan boxers, green pants and blue shoes. Green tinted, blue glasses and gold earrings)
Personality
Satoru, much like his girlfriend, is seemingly quite rude and quick to make bold assumptions about others. He and his girlfriend, Minako Okura, are quick to assume Kira is a thief despite the latter merely pushing Minako's bag off his lap. They are also willing to quickly shift blame onto Kira for them bumping into him despite their carelessness being the cause. Despite their attitude, they're both intimate with each-other as a happy couple.[2]
History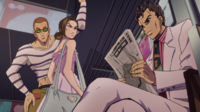 Satoru Nakae is introduced as a young man who is seen riding the train Kira takes home from work, being complained to by his girlfriend Minako Okura, about her supposedly overbearing father. As she tells the story enthusiastically to her boyfriend, they are unaware that Kira is sitting next to them, trying to control his killer instincts. Bothered by her bag being on top of his leg, Kira pushes it away, prompting the couple into accusing him of trying to steal it.
As they get off the train, Satoru and Kira bump into each other, knocking Kira's belongings to the ground. Satoru yells at Kira again, and he and Minako proceed to mock his bowling pin nail clippers. Tired of the repeated confrontations, Kira follows the couple home.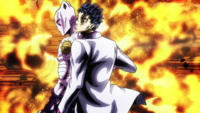 Entering their apartment, Satoru promises to Minako that he'll buy her a new pair of earrings. Just then, Kira barges into their apartment, blowing up a surprised Satoru instantly with Killer Queen, and doing the same to his girlfriend (but not before hanging her boyfriend's ears on her own).[2] Unbeknownst to Kira, Hayato was recording the whole scene with a camera.[3]
---
---
Jotaro Kujo visits Satoru and Minako's apartment during his investigation of reported missing people soon after Kira leaves. At the crime scene, he finds Minako's bag and traces of Satoru's blood.[1]
The information below derives from a source not written by Araki. As such, it may or may not be considered canon.
A year after the events of Diamond is Unbreakable, Kaoru and his mother move into the same apartment that Minako and Satoru were murdered in.

Chapters / Episodes

Manga Appearances
Chapters in order of appearance

Anime Appearances
Episodes in order of appearance

Novel Appearances
Chapters in order of appearance
Quotes

Quotes
"

Well you do party too much. So I bet you and your dad had a big fight, huh?

"

"

Is he a pickpocket? Or a perv trying to cop a feel? Want me to teach him a lesson? Hell, say the word and I'll kill him!

"

"

Hey, that hurt! What the hell's your problem? Could you get off the train any slower?

"

"

What the hell man?! This is my apartment!

"
Gallery
Trivia
References