Thus Spoke Kishibe Rohan
Jump to navigation
Jump to search
The English localization of the manga is titled Thus Spoke Rohan Kishibe.
Thus Spoke Kishibe Rohan[1] (岸辺露伴は動かない, Kishibe Rohan wa Ugokanai, lit. Rohan Kishibe Does Not Move) is an ongoing series of one-shots featuring the titular character, Rohan Kishibe, as the narrator and/or protagonist. These one-shots are intermittently published in various magazines such as Weekly Shonen Jump or Jump Square.
A volume compiling the first five chapters, including Kishibe Rohan Meets Gucci, was released on November 19, 2013. A second volume containing another four chapters was released on March 13, 2019. The series has spawned an OVA adaptation, a collection of short stories, and a live action TV drama adaptation.
Summary
The Thus Spoke Kishibe Rohan series is a set of short stories, each spanning a single chapter of around 40 to 60 pages and usually organized into disordered "episodes". They all feature Rohan Kishibe, who frequently witnesses and subsequently makes an account of the supernatural phenomena around him.
The first chapter of the series, At a Confessional, was published in Weekly Shonen Jump on July 7, 1997, under the restriction set by the magazine's editorial team that it couldn't be related to the JoJo's Bizarre Adventure series. As a workaround, Araki took inspiration from the 1950's TV show, Alfred Hitchcock Presents and made Rohan the narrator of the one-shot.[2] The title, Rohan Kishibe Does Not Move, was initially derived from the fact that Rohan is not the main protagonist of At a Confessional, but rather a "navigator" or onlooker of the story who ultimately does nothing.[3]
The plot of each chapter is generally divorced from the main JoJo's Bizarre Adventure storyline, featuring many esoteric creatures not appearing otherwise in the franchise, such as Yōkai. However, characters from Diamond is Unbreakable and the town of Morioh regularly make appearances and/or are referenced.
Characters & Stands
Characters from Thus Spoke Kishibe Rohan
Chapters

November 19, 2013
[1]

February 19, 2014 (Digital)
[4]

July 19, 2018 (
Digital Color
)
[5]

978-4088708720
Chapter Titles

May 27, 2011
[6]

978-4087823790
Chapter Titles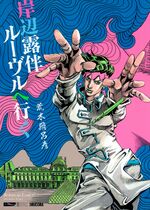 July 19, 2018
[7]

December 18, 2020 (
Digital Color
)
[8]

978-4088815572
Chapter Titles

March 19, 2022 - May 19, 2022
Chapter Titles
Publication
In Japan, Shueisha publishes the series in various different magazines before the individual chapters are compiled into volumes.
Taiwan was the first country to publish the series after Japan. The two volumes were published in Chinese on September 14, 2014, and February 2, 2019 by Tong Li Publishing.[9][10]
Star Comics published the series in Italy as "Così parlò Rohan Kishibe" on January 8, 2015 and November 13, 2019.[11][12]
Delcourt published the series in France as "Jojo's - Rohan Kishibe" on April 6, 2016 and March 13, 2019.[13][14]
Munhak published the series in South Korea on March 3, 2021 and May 14, 2021.[15][16]
In Spain and Argentina, the series is translated into Spanish with the title "Así habló Kishibe Rohan". Mil Comics published the volumes in Spain on July 22, 2021 and August 12, 2021. Ivrea Argentina published the volumes in Argentina on June 10, 2022 and September 23, 2022.[17][18][19][20]
In North America and the United Kingdom, the series is translated into English with the title "Thus Spoke Rohan Kishibe", using the Western name order. The two volumes were published on September 27, 2022 and December 27, 2022 by VIZ Media.[21][22]
Unlike the other international releases, the English and Spanish releases do not include Kishibe Rohan Meets Gucci due to Shueisha's request.[23]
Other Media
An OVA adaptation by David Production was announced on April 15, 2016. The first two episodes were released as a promotional DVD to those who had purchased the entirety of the Diamond is Unbreakable anime adaptation. Another two episodes released on Blu-ray and DVD on March 25, 2020.
Three booklets of an anthology of short stories based on the series were released with issues of Ultra Jump from July 19, 2017 to December 19 of the same year, with a fourth following suit on October 19, 2021. The stories were written by multiple Japanese authors, including Ballad Kitaguni, Ryo Yoshigami, Yusuke Iba, and Mirei Miyamoto. The stories were later compiled into three volumes that released on June 19, 2018, July 19, 2018, and December 19, 2022.
NHK aired a three-episode live action TV drama adaptation of Thus Spoke Kishibe Rohan in December 2020. The live action series follows a different format from the manga, choosing to adapt various chapters, short stories, and arcs from JoJo's Bizarre Adventure featuring Rohan into one cohesive storyline. The adaptation received good reception and continued with two more seasons that aired in December 2021 and 2022, as well as a theatrical film based on Rohan au Louvre, which is set to be released on May 26, 2023.
Gallery
Notes
References