Stardust Crusaders - Episode 19
Jump to navigation
Jump to search
Death Thirteen, Part 1
(死神13 その1 Desu Sātīn Sono 1)
[1]
is the nineteenth episode of
Stardust Crusaders
and the forty-fifth episode of the
JoJo's Bizarre Adventure
anime
. It covers
Chapter 168
through
Chapter 170
of the
manga
.
Kakyoin finds himself attacked by the Stand Death Thirteen in his nightmares. Meanwhile the evil baby Mannish Boy has managed to approach Joestar Group. Left without his Stand in his sleep, Kakyoin must somehow escape Death Thirteen.
Summary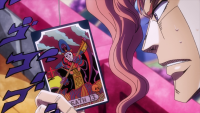 Kakyoin has a dream where he is in a deserted amusement park, accompanied only by a dog. Suddenly, the Death tarot card appears, and he is attacked by its image, the Stand Death Thirteen, killing the dog, before Polnareff wakes him up to tell him that they are on the way out of town. Kakyoin becomes concerned when he finds his hand has been cut in his sleep, and more so when he spots the dog he saw in his dreams, killed in the same manner as he saw in the dream.
When the two catch up with the others, Joseph is arguing with a man he had planned to rent a plane from, who has now refused to let him go as they need to get a baby to the hospital. Joseph offers to take the child with them, and a woman with the child agrees. As the group takes off, the woman says she must find the child's mother, admitting that the child, Mannish Boy, is not her own, and she was scared of his fangs. While in flight, both Kakyoin and Polnareff fall asleep and find themselves at the amusement park, again.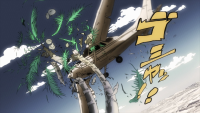 Kakyoin tries to warn Polnareff that he was attacked in his dreams by a Stand, using the dead dog as proof, but Polnareff does not seem to pay much attention, until Death Thirteen makes itself known once more, attacking the two of them. They find that in their dreams they cannot summon their Stands to fight back, but before Death Thirteen lands a mortal blow on Polnareff, Joseph wakes him up to have him change the baby's diaper, leaving Kakyoin on his own.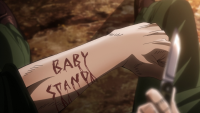 As Death Thirteen is revealed to be the Stand of Mannish Boy, Kakyoin cuts his own arm, as he thrashes about in his sleep, causing Joseph to crash the plane. As the team sets up camp to prepare for rescue, Kakyoin sees that he has cut the words "Baby Stand" into his arm, leading him to realize that the child they have been taking with them is their attacker. He tries to warn the others, but they do not believe him, as Mannish Boy is pleased that his plans to kill the group are succeeding.

Appearances
Stands

Credits
Staff
Animation Director Cooperation
(作画監督協力)
Assistant Chief Animation Director
(総作画監督補)
Mechanical Animation Director
(メカ作画監督)
Kouki Shikiji
Yuji Tsuchiya
Shinji Abe
Kumiko Kawahara
Kyoko Kotani
Hitomi Shiroki
Hideyuki Sugiura
Yoon Young Tai
Takeshi Moriyama
Yasuhiro Saiki
Eiko Mishima
Akihide Muraji
Asuna Imahashi
Takaaki Sekizaki
Manabu Imura
Airi Ishikawa
Yoshinobu Ando
Masaki Takasaka
Toshihiro Irie
Sachiko Mori
式地 幸喜
(Key)
土屋 友次
(Key)
阿部 伸司
河原 久美子
小谷 杏子
白木 仁美
杉浦 英之
Yoon Young Tai
森山 剛史
才木 康寛
三島 詠子
村司 晃英
今橋 明日菜
関崎 高明
井村 学
石川 愛理
安藤 義信
高坂 雅基
入江 俊博
森 幸子
赤間 紗枝
大川貴大
西村 彩
荒川 理恵
刀根川 弥一
川端 新
荒澤 光子
泰田 楓
久米 沙綾
山田 雄一郎
山村 有理
上門 友喜
小谷 杏子
横山 謙次
常盤 健太郎
小田 裕康
糸井 恵
芦谷 耕平
小美野 雅彦
WHITE LINE
きのプロダクション
動画工房
In-between Animation
(動画)
Digital In-Between AnimationDavid Production
Masato Ujibe
Makoto Yaguchi
宇治部 正人
矢口 真琴
---
David Production
Yusaku Nagahama
Rie Takahashi
Chie Nakagami
長濱 佑作
高橋 梨恵
中神 智絵
---
White Line
Triple A
AI
Sunshine Corporation
Jumondo
drop
J&K Corporation
Hayashi
TAP
Ace Company
Asahi Production
WHITE LINE
Triple A
AI
サンシャインコーポレーション
寿門堂
drop
J&Kコーボレーション
ハヤシ株式会社
TAP
エースカンパニー
旭プロダクション
Design Cooperation
(デザイン協力)
David Production
Kenichi Higaki
Aiki Watanabe
檜垣 賢一
渡辺 藍希
Momomo Works
(もももワークス)
Motonobu Kawashima
Saori Goto
川島 基展
後藤 沙央里
David Production
工藤 かよ
Puavaranukroh Taweeporn
Eyecatch Illustration
(アイキャッチ原画)
Music
In other languages
Language
Title
Translation
Japanese
死神13 その1
Death Thirteen, Part 1
English
Death 13, Part 1
Spanish
Death 13 Primera parte
Death 13 Part 1
Portuguese
Death 13 - Parte 1
Death 13 - Part 1
French
Death 13, Partie 1
Death 13, Part 1
German
Der Tod 13, Teil 1
Death 13, Part 1
Arabic
الموت، الجزء 1
The Death, Part 1
Italian
Death 13, Parte 1
Death 13, Part 1
Danish
Død 13, Del et
Death 13, Part 1
Hebrew
מוות 13, חלק 1
Death 13, Part 1
Polish
Śmierć 13: część 1
Death 13: part 1
Commentary
Gallery
References