Adams
Jump to navigation
Jump to search
"
Ona
zamknie cię w stodole, kiedy wrócisz do domu, i nakarmi cię gorzkim lekarstwem! (
帰ってきたらオメーのこと牛小屋にとじこめてにがい薬のませてやるとよォ!
Kaettekitara omē no koto ushigoya ni tojikomete nigai kusuri noma sete yaru to yo!
)
"
Adams (アダムス, Adamusu) jest trzeciorzędnym antagonistą występującym w pierwszej części serii JoJo's Bizarre Adventure, Phantom Blood.
Adams jest byłym człowiekiem i wieśniakiem z Windknight's Lot, który staje się zombie stworzonym przez Dio Brando. Udając, że wciąż jest człowiekiem, próbuje zaatakować Poco od tyłu swoim długim, rozciągliwym językiem, ale zostaje natychmiast pokonany przez Jonathana Joestara.
Wygląd
W swoim ludzkim przebraniu Adams jest zwykłym mężczyzną o średnim wzroście i muskularnej budowie. Ma krótkie kręcone, lekkie włosy z dwiema cienkimi grzywkami. Ma szczególnie długi i szeroki nos. Adams nosi kamizelkę z kieszeniami po obu stronach na koszuli z długim rękawem z kołnierzykiem. Na ramieniu nosi torbę kurierską. Poniżej nosi pasek, grube spodnie i długie buty.
Kiedy ujawnia swoją zombifikowaną postać, Adams wyrasta kły, a jego język staje się nienormalnie długi. Porzuca swój ludzki wygląd, wypełniając górną część tułowia, zwiększając mięśnie i tracąc koszulę. Jego włosy odpadają i staje się łysy, a czubek głowy aż do nosa zyskuje wąską, segmentową wypukłość z kilkoma małymi kolcami.
Schematy kolorów
Seria znana jest z zmiennych kolorów między mediami, informacje przedstawione poniżej mogą, ale nie muszą być kanoniczne.
Ubiór
(Zielona koszula, żółte guziki, niebieskie spodnie, brązowe buty)
Ubiór
(Brązowy pasek i ciemnoszare spodnie)
Człowiek
Ubiór
(Ciemnoczerwona kamizelka, jasnożółta-szara koszula, ciemnofioletowe spodnie)
Zombie
Oczy
(Jasnozielona twardówka)
Osobowość
Adams początkowo pojawia się jako normalny dorosły, pouczając Poco, że dziecko takie jak on nie powinno wychodzić tak późno w nocy. Może być nieco niedojrzały, gdy naśladuje palcami rogi krowy, drażniąc Poco, że jego siostra zamknie go w stodole.
Ujawnia jednak swoją prawdziwą naturę jako nieszczerego bezdusznego zombie, który jest szczególnie krwiożerczy, aby jeść dzieci. Próbuje być przebiegły, oszukując Poco i grupę Joestar, że miasto jest w porządku, tylko po to, by spróbować zaatakować ich od tyłu po tym, jak odejdą. Pomimo nadmiernej pewności siebie w swoich umiejętnościach, jego język jest łatwo złapany przez Jonathana.[2]
Umiejętności
Jako zombie Adams pomnaża swoją siłę fizyczną. Potrafi powiększyć mięśnie i jest pewny swojej szybkości, zakładając, że Jonathan nie będzie w stanie go wyprzedzić.[2]
Techniki
Historia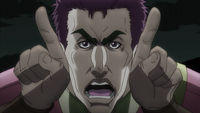 1 grudnia 1888 roku Dio Brando zamienia Adamsa w zombie w Windknight's Lot. Tej nocy spotyka Poco, Jonathana i Speedwagona w przebraniu człowieka. Poco wita go, ale Adams beszta go za to, że wyszedł tak późno w nocy. Po tym, jak Poco, jak sobie radzi jego siostra i miasto, Adams naśladuje palcami rogi krowy. Wyjaśnia, że siostra Poco jest wściekła, że Poco wyszedł tak późno i zamknie go w stodole, kiedy wróci do domu. Poco dziękuje Adamsowi i cała trójka kieruje się w stronę Dio.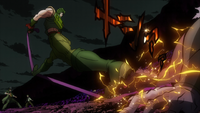 Gdy odchodzą, Adams wyciąga język i przekręca głowę o 180 stopni. Podekscytowany piciem krwi dziecka, rzuca językiem w Poco, ale jonathan łatwo go chwyta, zanim dotrze do Poco. Adams powiększa mięśnie górnej części tułowia, zrywając koszulę i tracąc włosy, aby ujawnić, że jest zombie. Pewny swojej prędkości, skacze nad Jonathanem, przygotowując się do uderzenia rękami i ustami. Jonathan z łatwością chwyta Adamsa za język i wchodzi mu na głowę, napełniając stopę Fale. Gdy Fala topi twarz Adamsa, Jonathan wyciąga język Adamsa i umiera.
Rozdziały / Odcinki

Manga Appearances
Chapters in order of appearance

Anime Appearances
Episodes in order of appearance
Cytaty

Quotes
"

Hej, Poco! Co takiego dzieciak jak ty robi, włócząc się o tej godzinie?! (

おいポコォ!おめーのようなガキんちょが夜おそく どこほっつき歩いとるんだァー!?

Oi Poko! O-me no yōna gaki n cho ga yoru osoku doko hottsuki arui torunda!?

)

"

"

Ona zamknie cię w stodole, kiedy wrócisz do domu, i nakarmi cię gorzkim lekarstwem! (

帰ってきたらオメーのこと牛小屋にとじこめてにがい薬のませてやるとよォ!

Kaettekitara omē no koto ushigoya ni tojikomete nigai kusuri noma sete yaru to yo!

)

"

"

Dziecko! Uheeheehee... Głupcy! Chcę wypić świeżą, ciepłą krew dziecka! (

こ…子どもだァ!ウヒヒヒ、バカめェ!子どものあったけー血がすいてェーぜ!

Ko… kodomo da! Uhihihi, baka-me! Kodomo no atta ke chi ga suite ze!

)

"

"

You think you can match my speed?! (

ほれ様のスピードがかわへるかーっ!

Hore-sama no supīdo ga kawa heru ka!

)

"
Gry wideo
Adams appears as an enemy in Chapter 18, faced before Jonathan's confrontation with Dire. His special techniques revolve around attacking with his tongue. In Dio Mode, there is an extra event where he teams up with Doobie to defeat Dio. He is only playable in 77 Rings Knights Mode.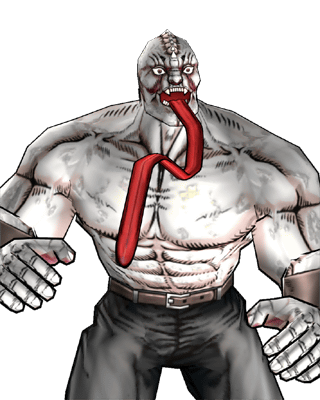 Mr. Adams









Running

Running



during damage

(LV0)

(LV1-3)
Available Stages: 77 Rings Knights Mode: Living Corpses
Galeria
Ciekawostki
Przypisy
Nawigacja w witrynie