Kenny G.
Jump to navigation
Jump to search
"
Entre no nosso caminho e te matamos. Sacou?
"
Kenny G. (ケニーG, Kenī Jī) é um antagonista menor na terceira parte de JoJo's Bizarre Adventure, Stardust Crusaders.
Quando o Grupo Joestar adentra a Mansão de DIO, ele cria ilusões para que a mansão pareça um labirinto mas é rapidamente derrotado.
Aparência
Kenny G. é um homem pequeno e entroncado com orelhas pontudas, um nariz e olhos pequenos, mas uma boca larga. Kenny G. veste um colete abotoado nos lados, ombreiras, calças e sapatos escuros, luvas, um colar dourado metálico e um chapéu em forma de cone.
Esquemas de Cores
A obra é conhecida por sua mudança de cores entre as mídias, a informação apresentada abaixo pode ou não ser cânon.
Outfit
(Tan scarf and vest with stone gray shoulderpads, golden necklace, khaki gloves, black pants and shoes)
Outfit
(White scarf and vest with red shoulderpads, green necklace with red charm)
Outfit
(Black and white hat, white, scarf and gloves, lavender vest, black pants and shoes)
Upper Outfit
(Baby blue scarf, white vest with brown shoulderpads, gray gloves)
Necklace
(Dull golden with purple charm)
Lower Outfit
(Black pants, dark brown shoes)
Personalidade
Pouco é conhecido sobre Kenny G., mas ele se sente superior a Nukesaku e ameaça matá-lo se ele entrar em seu caminho.[2]
Habilidades
O Stand de Kenny G. Tenore Sax é capaz de gerar grandes ilusões e halucinações. Ele usa essa habilidade para disfarçar a aparência da Mansão de DIO.
Tenore Sax
(
ティナー・サックス
)


História
Passado
Kenny G. aparece pela primeira vez se preparando para batalhar contra os Joestars com Vanilla Ice e Telence T. D'Arby. Quando Nukesaku sugere que ele poderia ajudá-los, mas o grupo ameaça matá-lo caso ele interfira.[2]
Stardust Crusaders
Para ajudar Telence, Kenny G. usa seu Stand para prender Joseph Joestar e Jotaro Kujo com Telence. With this, ele consegue separá-los para que Vanilla Ice possa atacar. Ele então cria várias ilusões para confundir os que sobraram, fazendo que a mansão de DIO pareça ter muito mais escadarias do que ela realmente tem. Pelo tempo que eles chegam a sua localização, entretanto, Muhammad Avdol facilmente descobre que ele estava se escondendo usando uma das habilidades de Magician's Red. Iggy então usa o The Fool e o derrota antes que ele possa causar mais qualquer dano.[3]
Capítulos / Episódios

Manga Appearances
Chapters in order of appearance

Anime Appearances
Episodes in order of appearance
Video Games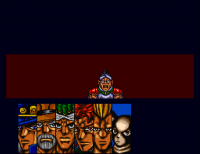 Kenny G. aparece como um boss de menor importância quando o jogador entra na mansão de DIO. Ele possui pouca vida e após a primeira rodada, foge com medo. Eventualmente, o jogador pode cercá-lo e derrotá-lo sem dificuldade, fazendo com que suas ilusões na mansão vão embora.

Kenny G. (escrito "Ken-E-Gee" no porte localizado de PSX) é um boss especial em um minigame no Modo História, onde o jogador deve usar os detectores de calor de Avdol para achar Kenny e mandar Iggy atacá-lo.
Galeria
Referências