The wiki is currently experiencing extreme amounts of traffic ever since the release of Stone Ocean.
We apologize for the downtime and slowness.
Fondation Speedwagon
Jump to navigation
Jump to search
La Fondation Speedwagon (スピードワゴン財団, Supīdowagon Zaidan) (souvent abrégé avec l'acronyme "SPW") est une puissante et influente organisation fondée par Robert E. O. Speedwagon et financée avec l'argent du pétrole qu'il exploite aux Etas-Unis.
La Fondation Speedwagon est dédié à la recherche médicale et la conservation environnementale en surface. Cependant, elle a aussi une division secrète pour faire des recherches et lutter contre des menaces fantastiques comme les Hommes du Pilier et des manieurs de Stands maléfique. Elle a assisté la Famille Joestar sur plusieurs génération en leur prêtant du matériel, des vivres, et en les assistant de multiples façons. La Fondation a aussi des liens avec la pègre.
La Fondation Speedwagon est présente durant la majorité de la première continuité de JoJo's Bizarre Adventure, apparaissant pour la première fois dans Battle Tendency, et assistant la famille Joestar durant toute l'histoire jusqu'à Stone Ocean.
Histoire
"
Au début du XXe siècle, un Anglais solitaire du nom
Robert E. O. Speedwagon
est arrivé aux Etats-Unis et fonda sa propre compagnie. Par conséquent il devint l'un des hommes les plus riches du monde. Speedwagon décida que sa fortune serait utilisée pour la recherche médicale et la protection de la nature et des animaux après sa mort. Dans cette organisation, il existe un département nommé le Département des Recherches Surnaturelles, responsable pour assister la
Famille Joestar
de toutes les façons. Ceci était la dernière volonté de Speedwagon, qui mourrut en 1952."
[2]
"

La Fondation Speedwagon a été fondée par Robert E. O. Speedwagon après qu'il ait fait fortune pour dédier sa fortune à de bonne causes. Ses secteurs d'activités sont, publiquement, la recherche médicale et la conservation environnementale.
Leur première action notable fut de découvrir et de faire des recherches archéologiques sur un mystérieux temple Aztèque au Mexique qui abritait l'Homme du Pilier Santana. Arpès que Joseph l'ai vaincu, la Fondation a pris son corps et l'a scellé dans une chambre baignée constamment de lumière ultraviolette pour l'emprisonner à jamais. De plus il ont découvert une prédiction qui parlait du réveil prochain des trois autres Hommes du Pilier. Une équipe des membre de la Fondation, l'Equipe Technologique de Combat, est intervenu en Suisse près de la Pierre du Talon-Squelette avec les Allemands pour se battre contre l'armée de Vampires de Cars.
La Fondation Speedwagon a continué d'aider la Famille Joestar durant le reste du 20e siècle et durant le 21e siècle. En 1988 et 1989, il ont aidé le troisième Groupe Joestar à atteindre le Caire en envoyant des équipes de reconnaissance et en prêtant de multiples véhicules. Une équipe de docteurs de la Fondation ont pris soin de Holy Kujo à Tokyo pendant que des agent en Egypte on découvert l'existence des 9 Glorieux Dieux Egyptiens et prévenus les héros. Ils ont aussi intervenus à la fin de l'histoire pour soigner les survivants du combat final, et aidé à ressusciter Joseph Joestar.
En 1999, la Fondation Speedwagon a assisté Jotaro Kujo durant son séjour à Morioh. Ils ont escorté Joseph Joestar vers la ville, et se sont eux qui ont pris et sécurise la Flèche pour la protéger et l'étudier. Ils ont ensuite interrogé Akira Otoishi pour trouver qui Otoishi avait percé avec la Flèche.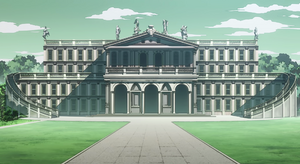 En 2011 et 2012, la Fondation a assisté Jolyne Cujoh durant sa sentence à la Prison Green Dolphin Street. Ils avaient d'abord prêté un sous-marin pour aider Jotaro et Jolyne à s'échapper. Après que Whitesnake ait volé l'âme de Jotaro, les docteurs de la Fondation ont pris soin de Jotaro dans leur quartier général et ont coopéré avec Jolyne pour récupérer les Disques mémoire et de Stands. Ils ont intervenus au Kennedy Space Center en propulsant une lance en plein milieu du centre pour permettre à Ermes Costello et Jotaro de rejoindre Jolyne dans son combat contre Enrico Pucci.
On connait deux quartiers générals de la Fondation Speedwagon. La première à Washington D.C. et la seconde à Dallas au Texas. De plus il y a des branches secondaires à Tokyo et Meguro au Japon.
Membres
ATTENTION AUX SPOILERS: Des spoilers pour la partie 1-6 sont à prévoir.
Membres de la Fondation Speedwagon
Description des symboles 
★: Leader
(✩: Leader Successeur / ✦: Leader de sous-faction)
†: Décédé
(👻: Demeure en tant que fantôme)
☮: A démissionné
⚓: "Retired" (neutralisé) et/ou leur sort est inconnu

Steel Ball Run
Une compagnie américaine nommée la Speedwagon Oil Company apparait dans Steel Ball Run. Elle a aussi été fondé par un entrepreneur qui est devenu riche en trouvant du pétrole aux Etats-Unis. Cependant elle n'a pas de connexion à la Famille Joestar et apparait seulement pour contribuer à financer la Steel Ball Run de Steven Steel.[3] On ne sait pas si c'est une version alternative de Robert E. O. Speedwagon qui a fondée cette compagie, mais le nom de la compagnie fait pencher pour cette théorie.
Dans JoJolion, on découvre Lucy Steel à Morioh en 1901 portant une valise avec le logo de la Compagnie de pétrole Speedwagon dessus.[4]
On sait qu'en 1941, Lucy est devenue une membre de la Fondation Speedwagon, qui s'est développée en organisation pour la recherche scientifique. Lucy elle-même travaille dans les domaines de l'herbologie et de la géomorphologie. Il est probable qu'elle était une membre depuis au moins 1901. En 1941, Lucy part à Morioh pour effectuer une mission de recherche pour enquêter sur la possible présence du Locacaca à Morioh.
Membres de la Fondation Speedwagon
Galerie d'Images
Références