The "Stand" Appears!
Jump to navigation
Jump to search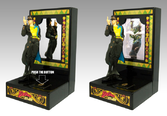 The "Stand" Appears! Figure (「幽波紋(スタンド)」出現!フィギュア, `Sutando' Shutsugen! Figyua) is a series of figurines released by Banpresto.
Each figure came with a pedestal that had a one-way mirror behind the character, as well as a button, that, when pressed, would light up the space behind the mirror, making a tarot card of the user's respective Stand visible.[1]
Figures
References