JoJo's Bizarre Adventure - Episode 20
Jump to navigation
Jump to search
"
I'll bow out by demonstrating the Zeppeli spirit, passed down from generation to generation, which I now entrust to the future! An unmistakably human spirit!
(

おれが最期にみせるのは代代受け継いだ 未来にたくすツェペリ魂だ!人間の魂だ!

)
"
Caesar: A Lonely Youth (シーザー孤独の青春, Shīzā Kodoku no Seishun)[1] is the twentieth episode of season one of JoJo's Bizarre Adventure: The Animation. It is also the eleventh episode of Battle Tendency. It covers Chapter 89 to Chapter 93 of the Battle Tendency manga.
Caesar loses patience and goes alone to seek the Pillar Men and avenge his family. On the way to their lair, he encounters Wamuu again and prepares to fight.
Summary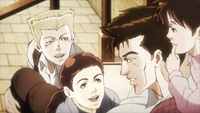 Lisa Lisa tells JoJo of Caesar's childhood. When he was young, Caesar adulated his father, Mario, before Mario inexplicably left his children and the money he left them was taken by unscrupulous relatives. Believing that Mario abandoned his children, Caesar repudiated the traditional family pride of all Italian men and took to crime with the exception of murder at a young age. However, when Caesar turned sixteen, he saw his father again and stalked him to murder him. Caesar came across the wall containing the Pillar Men, which was booby-trapped by Kars. Suddenly, Mario saved Caesar from the trap, getting absorbed into the wall, but lived long enough to tell Caesar to find Lisa Lisa and learn the Ripple. Afterward, Caesar understood everything Mario did and redoubled his pride for his lineage.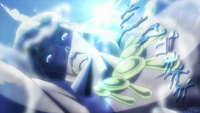 Back to the present, Joseph is impressed by Caesar and changes his mind, deciding to head for the hotel with Lisa Lisa. As Caesar arrives at the hotel, he is attacked by an invisible Wamuu who is using streams of moist air to both protect him from the sunlight and reflect the light around him. Messina arrives to assist, but Wamuu then swiftly takes him down and drags him into the hotel, coming back for Caesar. However, Caesar has made progress and his Savon Cutter are more resistant than ever. He throws bubbles at Wamuu and forces him to flee inside the hotel, then follows him to the main hall. An intense exchange of wind blasts and soap bubbles ensues, in which Caesar takes the advantage. Moreover, using a series of refractive bubble lenses, Caesar manages to redirect the sunlight inside the hotel to pin down Wamuu. However, when Caesar is short of delivering the final blow, Wamuu takes advantage of the split-second the sun is blotted by Caesar's attack to deliver a critical counter-attack.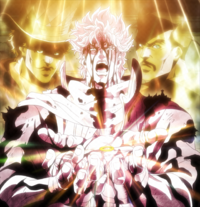 Too injured to continue the fight, Caesar recalls how his father and grandfather gave their lives to turn death into a fighting chance to survive and uses the last of his strength to steal the piercing containing the antidote for the ring around JoJo's heart. He then uses his Final Ripple to create a blood bubble to deliver the piercing and his headband to Joseph before being crushed by a cross-shaped debris. Wamuu, finding Caesar's fight and loyalty to be admirable, allows the bubble to remain.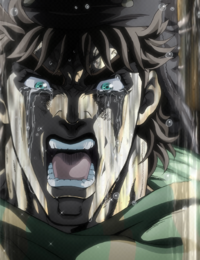 Joseph and Lisa Lisa are attracted to the hotel after Messina does not return, and unknowingly see the light of Caesar's Final Ripple. They discover the state of the hotel, finding the bubble with the antidote and Caesar's scarf. They try to find Caesar, but only see blood leaking out from under a cross-shaped debris. Realizing it's Caesar's blood, all they could do was weep over the loss of their friend and ally.

Appearances
Credits
Staff
Animation Director Cooperation
(作画監督協力)
Hideyuki Sugiura
Shunichi Ishimoto
Toshihiro Irie
Hisashi Samejima
Eisuke Matsubara
HIGA★KING
Kiyotoshi Aoi
Mayumi Oda
Dai Imaoka
Hiroki Abe
Yoshinobu Ando
Daisuke Agata
Toshiharu Sugie
Masashi Nomura
Manabu Imura
Masaki Takasaka
Noriyasu Murata
Hideaki Matsuoka
杉浦 英之
石本 峻一
入江 俊博
鮫島 寿志
松原 栄介
HIGA★KING
青井 清年
小田 真弓
今岡 大
阿部 弘樹
安藤 義信
阿形 大輔
杉江 敏治
野村 雅史
井村 学
高阪 雅基
村田 憲泰
松岡 英明
White Line
White Line
Kang Sul A
Kwan Hyun Ae
Sim Myung Ju
Kang Sul A
Kwan Hyun Ae
Sim Myung Ju
---
Ace Company
Studio Mark
Mouse
Hebaraki
FAI Studio
Triple A
エースカンパニー
スタジオマーク
マウス
ヘバラギ
F.A.I
AAA
In-between Animation
(動画)
In-Between Animation Inspection
White Line
Kim Jong Kyu
Ku Ja Chun
Kim Yun Hui
Park Jin Hee
Park Hee Joung
Byun Jin Sun
Sin Jin Eun
Yang Hyo Jung
Lee Hye Kyoung
Jung A Yung
Cha Hyun Ju
Chae Youn Kyung
Kim Jong Kyu
Ku Ja Chun
Kim Yun Hui
Park Jin Hee
Park Hee Joung
Byun Jin Sun
Sin Jin Eun
Yang Hyo Jung
Lee Hye Kyoung
Jung A Young
Cha Hyun Ju
Chae Youn Kyung
---
Hisashi Mawatari
Triple A
Ace Company
AI
CL Corporation
F.A.I
Jinbun
Eslite Animation
Hayashi
Studio Mark
Azeta Pictures
馬渡 久史
AAA
エースカンパニー
AI
CLコーポレーション
F.A.I
じんぶん
誠品動画
ハヤシ株式会社
スタジオマーク
アゼータ・ピクチャーズ
david production
Shuhei Fukuda
Sae Akama
Takahiro Okawa
Asami Yamaguchi
Makoto Yaguchi
福田 周平
赤間 紗枝
大川 貴大
山口 朝美
矢口 真琴
Design Cooperation
(デザイン協力)
David Production
亀井 隆広
工藤 かよ
Puavaranukroh Taweeporn
Music
Manga/Anime Differences
Caesar's flashback at the beginning of the story is told by the narrator rather than Lisa Lisa directly.
The entire scene from when Caesar entered the hotel up until the use of the bubble lens was present in the anime only.
In the manga, Joseph and Lisa Lisa enter the hotel to find a badly wounded Messina and attempt to find him medical care, only to notice Caesar's crimson bubble soon after. In the anime, the Messina scene is skipped; they enter the hotel and immediately see the crimson bubble.
In other languages
Language
Title
Translation
Japanese
シーザー孤独の青春
Caesar: A Lonely Youth
Chinese
西撒孤獨的年少時光
Kaiser's Lonely Youth
Chinese (Hong Kong)
凱撒孤獨的青春
Caesar's Lonely Youth
English
Young Caesar
Spanish
La solitaria juventud de Caesar
The lonely youth of Caesar
Portuguese
Jovem Caesar
Young Caesar
French
La jeunesse solitaire de Caesar
The lonely youth of Caesar
German
Der junge Caesar
The young Caesar
Hebrew
סיזר הצעיר
The young Caesar
Arabic
قيصر الصغير
Young Casear
Italian
Il giovane Caesar
The young Caesar
Czech
Mladý Cézar
Young Caesar
Danish
Unge Caesar
Young Caesar
Polish
Młody Cezar
Young Caesar
Commentary
Gallery
Trivia
This episode was widely considered by fans and staff alike to be one of the most moving episodes of the TV anime.[2][3][4]
References