JoJo's Bizarre Adventure - Episode 17
Jump to navigation
Jump to search
Laying a Deeper Trap!
(

深く罠をはれ!

,

Fukaku Wana o Hare!

)
[1]
is the seventeenth episode of the
JoJo's Bizarre Adventure
anime
. It is also the eighth episode of
Battle Tendency
. It covers half of
Chapter 75
through
Chapter 80
of the manga.
The goal of the Pillar Men is revealed: they seek the perfect Red Stone of Aja to overcome their weakness to the Sun and the stone is in possession of Lisa Lisa. As Joseph prepares for his final trial, he encounters Esidisi who has discovered the location of the Aja.
Summary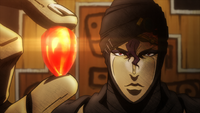 Kars's objectives are presented. In the far past, somewhere in a pyramid, Kars looks to his Stone Mask and a red stone and explains his problem to Esidisi. The Red Stone of Aja can refract light at least a billion times, unleashing a powerful, pure light. Unfortunately, he needs a superior stone called a Super Aja if they ever hope to conquer the sun.
Back to the present, Lisa Lisa explains to Joseph and Caesar how the creator of the Stone Mask, Kars, is seeking a gem known as the Red Stone of Aja to power the Stone Mask and become the "Ultimate Thing". Lisa Lisa reveals she herself possesses this gem, showing that this stone can turn the sunlight into a powerful laser ray. When Joseph suggests to destroy the stone, Lisa objects and explains that it is needed to defeat the Pillar Men. With a week left until the rings inside Joseph dissolve and kill him, Lisa Lisa pits Joseph and Caesar against Loggins and Messina respectively for their final test.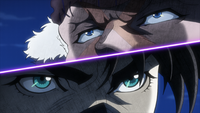 Later at dusk, Caesar and Messina are already beginning their duel while Joseph reaches the small arena where he will fight Loggins. However, he finds Loggins has been killed by Esidisi. Despite his hatred for Loggins, Joseph feels anger at the death of an ally and confronts Esidisi in the middle of a field of spikes. Joseph shows his progress as his Ripple is now strong enough to pierce the skin of the Pillar Men although that alone isn't sufficient. Thanks to an intricate trap, Joseph manages to use a wire set-up on Loggins to sever Esidisi's arm. Joseph then expects Esidisi to become angry and lower his guard.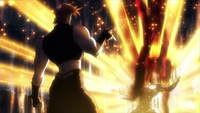 Disturbingly, Esidisi evacuates his stress by wailing and sobbing profusely. Then Esidisi steals Loggins' arm for himself before destroying his corpse with his burning hot blood, whose temperature can reach 500 °C; indeed, Esidisi's Mode is the "Flame Mode", consisting in raising his body temperature to lethal levels for others and using his veins as tubes with which he can inject his scalding blood into foes. However, Joseph manages to perform a two-layered trap with his wool hat to ensnare Esidisi and hit him with the Ripple. Esidisi attempts a flashy last ditch attack but fails and explodes. Joseph retrieves his antidote, safely dissolving the ring around his neck. Relieved, Joseph heads back to the castle, unaware that Esidisi's brain is clinging onto his back.
Appearances
Credits
Staff
Animation Director Cooperation
(作画監督協力)
Assistant Animation Director
(作画監督補)
Isamu Utsuki
Kenji Kanie
Motoki Kurihara
Yasuhiro Saiki
Keiji Shigesawa
Yutaka Sugiura
Aki Takahashi
Akira Takeuchi
Ichiro Hattori
Akihito Fujiwara
Jouji Yanase
Si-eun Lee
Hideki Watanabe
Toshinori Watanabe
TAP
BeeCom
MK Seoul
Red Door
宇都木 勇
蟹江 健二
栗原 基樹
才木 康寛
繁澤 敬二
杉浦 雄高
高橋 晶
竹内 アキラ
服部 一郎
藤原 彰人
柳瀬 譲二
李 始恩
渡辺 英樹
渡部 穏寛
TAP
Bee Com
MK Seoul
Led door
White Line
Kang Sul A
Kwan Hyun Ae
Sim Myung Ju
Kang Sul A
Kwan Hyun Ae
Sim Myung Ju
---
drop
Studio Kyuma
drop
スタジオ九魔
In-between Animation
(動画)
In-Between Animation Inspection
Hiroyuki Ohnishi
Takanobu Katada
大西 宏幸
片田 敬信
---
david production
Design Cooperation
(デザイン協力)
Jun Ishigami
Gorou Murata
石神 潤
村田 護郎
Momomo Works
(もももワークス)
Motonobu Kawashima
Naoyuki Seki
Hiroka Fujita
川島 基展
関 直幸
藤田 広香
Betop Japan
(Betop Japan株式会社)
Liu Jiaming
Wong Wai
劉 佳銘
王 偉
---
David Production
亀井 隆広
工藤 かよ
Puavaranukroh Taweeporn
Music
Manga/Anime Differences
In the manga, the scene where Lisa Lisa reveals the Red Stone of Aja took place on a boat. In the anime, it was on a balcony.

A short scene is cut after Lisa Lisa reveals the Red Stone of Aja to Joseph after the thief is chased off: she puts the Stone in her dress, flustering Joseph (to her confusion) and Caesar appearing behind Joseph, causing Joseph to accidentally slam into Caesar's face with his mask.

The anime removed a scene where a man was harassing Lisa Lisa and tried stealing the Red Stone of Aja, but was quickly stopped by Joseph.
In other languages
Language
Title
Translation
Japanese
深く罠をはれ!
Laying a Deeper Trap!
Chinese
設下極深的陷阱!
Set a Deep Trap!
Chinese (Hong Kong)
深謀遠慮的圈套
A Deeper Plan
English
The Deeper Plan
Spanish
El plan más profundo
The deepest plan
Portuguese
Bole um Plano Intrincado!
Come Up With an Intricate Plan!
French
Le piège parfait !
The perfect trap!
German
Der tiefere Plan
The Deeper Plan
Hebrew
תוכנית נסתרת
Hidden Plan
Arabic
الخطة الأعمق
The deeper plan
Italian
Escogitare un piano!
Come up with a plan!
Czech
Hlubší plán
A Deeper plan
Danish
Det dybere plan
The deeper plan
Polish
Głębszy plan
Deeper plan
Commentary
Gallery
References