JoJo's Bizarre Adventure - Episode 21
Jump to navigation
Jump to search
"
This feeling that's begun to swell up inside my chest... So this is altruism, is it?
(

今、メラメラとわきのぼってくるこの気持ちは…これが「仁」てものか

)
"
The Hundred vs. Two Strategy (100対2のかけひき, 100 tai 2 no Kakehiki)[1] is the twenty-first episode of season one of JoJo's Bizarre Adventure: The Animation. It is also the twelfth episode of Battle Tendency. It covers Chapter 94 to Chapter 97 of the Battle Tendency manga.
In the aftermath of Caesar's death, Joseph and Lisa Lisa go further into the Pillar Men's hideout. They encounter the Pillar Men, who have managed to raise a small army of Vampires which forces them to change their strategy.
Summary
The short history of the hotel JoJo and Lisa Lisa find themselves in is presented: it was once a luxurious establishment before falling into ruin when its owner died. Kars eventually turned it into a temporary lair.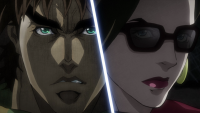 Whilst following Wamuu's trail of blood, Joseph and Lisa Lisa encounter another Vampire named Wired Beck. Beck is confident but Lisa Lisa instantly destroys him with her Ripple-infused scarf. Before continuing on, JoJo states he will not take the antidote he received until he has beaten Wamuu as a promise to Caesar.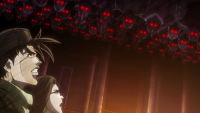 JoJo and Lisa Lisa proceed to a dark chamber where Wamuu is waiting for them. Joseph wants to attack but Lisa Lisa then detects the 100 hidden Vampires in the room, impressing Wamuu with her skill. Kars reveals himself and orders the Vampires to attack, even denying Wamuu his chance to fight JoJo. However, Lisa Lisa manages to hold off their attack with a bluff saying that if both she and JoJo are killed, a time bomb will destroy the Red Stone of Aja. Thus, she proposes that JoJo fights against Wamuu whilst she fights against Kars with the stone on the line.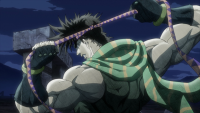 Wamuu and Kars arrange a place for the battle at midnight at the Skeleton Heel Stone near the foot of Piz Bernina, keeping Lisa Lisa as insurance to make sure JoJo brings the stone. After bringing Messina back with him, JoJo searches Lisa Lisa's luggage and finds an album with a picture of Erina, Speedwagon and Straizo from fifty years ago, becoming curious as to why Lisa Lisa would have it. Upon meeting at the arena, Lisa Lisa reveals that she was the baby that Erina rescued from the ship that fateful day, further explaining how she was raised by Straizo, who was the one who taught her about the Ripple and gave her the stone. As JoJo and Wamuu's battle is revealed to be a chariot race using vampire horses, JoJo puts on Caesar's Headband and prepares to battle.
Appearances
Credits
Staff
Assistant Animation Director
(作画監督補)
Toru Yoshida
Yuichi Nakazawa
Yasuhiro Ito
Yoshie Matsumoto
Miho Okawa
Toru Iino
Shigemi Aoyagi
Yi Zhang
Tomoki Koda
Hideaki Matsuoka
Kohei Ashiya
Atsushi Kashiwa
Kazuyuki Ikai
Hiroki Saito
Takashi Hirabayashi
Junichi Kitamura
吉田 徹
中澤 勇一
伊藤 康裕
松本 淑恵
大川 美穂子
飯野 亨
青柳 しげみ
張 益
香田 知樹
松岡 秀明
芦谷 耕平
柏 淳志
飯飼 一幸
斉藤 弘樹
平林 孝
北村 淳一
Megumi Itoi
Aya Nishimura
Shunichi Ishimoto
Shunsuke Igarashi
Yuta Azuma
Daiki Ito
Masahiro Yoshida
Tsuneta Ando
Takuya Azuma
Yoshimoto Mitsuota
Osamu Honma
Nobuko Shinohara
Mizue Ogawa
Mariko Inagaki
Takahiro Ninagawa
White LineMouse
Nakamura Production
Ekura Animal
糸井 恵
西村 彩
石本 峻一
五十嵐 俊介
東 雄太
伊藤 大喜
吉田 将広
安東 恒太
東 拓矢
三尾多 快始
本間 修
篠原 信子
小川 みずえ
稲垣 茉莉子
蜷川 貴弘
WHITE LINE
マウス
中村プロダクション
エクラアニマル
In-between Animation
(動画)
In-Between Animation Inspection
---
Takanao Takahashi
Kyohei Fukushima
Kenzo Fuse
Mahora Muraki
Eslite Animation
White Line
高橋 敬直
福島 恭平
布施 拳蔵
村木 麻保良
誠品動画
WHITE LINE
david production
Sae Akama
Takahiro Okawa
Asami Yamaguchi
Makoto Yaguchi
赤間 紗枝
大川 貴大
山口 朝美
矢口 真琴
Design Cooperation
(デザイン協力)
Momomo Works
(もももワークス)
Motonobu Kawashima
Naoyuki Seki
Hiroka Fujita
川島 基展
関 直幸
藤田 広香
Betop Japan
(Betop Japan株式会社)
Liu Jiaming
Wong Wai
劉 佳銘
王 偉
David Production
亀井 隆広
工藤 かよ
Puavaranukroh Taweeporn
Music
Manga/Anime Differences
In the manga, Wired Beck uses his ability to grow many spikes all over his body. In the anime, there are much fewer spikes.
There is a scene after Kars and Wamuu leave the room, where Joseph forces one of the vampires to bite his own tongue. This was not present in the anime.
In the manga, Wamuu dresses into his traditional outfit just after stopping the vampire horses. In the anime, he is already seen wearing it upon Joseph's arrival.
In the manga, after Wamuu chooses the area for their duel and Joseph protests that they're not favorable, a vampire from the ceiling insults Joseph, making Joseph want him to come down. This short scene is cut from the anime.
In other languages
Language
Title
Translation
Japanese
100対2のかけひき
The Hundred vs. Two Strategy
Chinese
100對2的討價還價
The Hundred vs. Two Strategy
English
A Hundred Against Two
Spanish
Cien contra dos
One hundred against two
Portuguese
A Tática de Cem Contra Dois
The Hundred Against Two Tactic
French
Cent contre deux
One hundred against two
German
Einhundert gegen zwei!
One hundred against two!
Hebrew
מאה נגד שניים
One hundred against two
Arabic
اثنان ضد مائة
Two against a hundred
Italian
Cento contro due
One hundred against two
Czech
Sto proti dvěma
A Hundred against two
Danish
Hundred mod to
Hundred against two
Polish
Stu przeciw dwojgu
One hundred against two
Commentary
Gallery
References