JoJo's Bizarre Adventure - Episode 23
Jump to navigation
Jump to search
The Warrior Returns to the Wind (風にかえる戦士, Kaze ni Kaeru Senshi)[1] is the twenty-third episode of the JoJo's Bizarre Adventure anime. It is also the fourteenth episode of Battle Tendency. It covers Chapter 103 to Chapter 106 of the Battle Tendency manga.
Wamuu and Joseph's battle continues. As both wounded fighters draw on the last of their strength, Joseph finds himself cornered by Wamuu's ultimate technique: the Atmospheric Rift.
Summary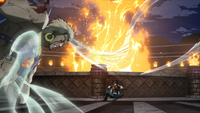 After tying and choking Joseph to the stone wall of the central pyre with his severed arms, Wamuu unleashes his Final Mode: Atmospheric Rift. Using special tubes to suck in the air at high speed to eject it through a thin slit like a blade made of wind, the Pillar Man threatens to decapitate Joseph although the fire somewhat hides Joseph's exact position. However, the force of his inhaled air starts peeling away his own body. Joseph throws a Molotov Cocktail at Wamuu, who cuts it, but then lights Caesar's Headband with the pyre and throws it. Wamuu unwillingly sucks the embers of the headband and the oil from the firebomb and explodes. JoJo has finally won the battle.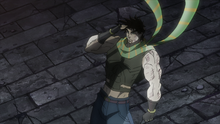 Wamuu is reduced to a head but Joseph feeds him a bit of his blood as a sign of respect. A group of Vampires barge in to kill Joseph but Wamuu protects him as a sign of respect too. Having spent the last of his strength, Wamuu asks Joseph to drink the antidote in front of him and then turns into ashes, scattering in the wind as Joseph makes a last salute.
Remembering Wamuu's ironclad code of honor, Kars is affected by the death of a servant of his caliber. However, he still steps forth to battle Lisa Lisa. Incidentally, he executes some Vampires who try to sully Wamuu's name. Kars takes Lisa Lisa and Joseph to a strange construct named the temple of Piz Bernina, and the two decide to fight with their favoured weapons: the Light Blades for Kars and the Ripple Conducting Scarf for Lisa Lisa.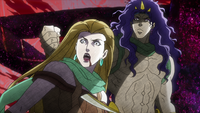 Strangely, Kars exudes no killing intent as he disappears in a flash of light. Lisa Lisa does detect Kars and smashes his face, but then the real Kars stabs Lisa Lisa from behind. In contrary to his claims of fighting honorably, Kars has used a body double as nothing counts but the final victory. After claiming the Red Stone of Aja for himself, Kars sends his vampire army after the weakened JoJo. However, Joseph is rescued by Stroheim and his men, along with Speedwagon, Smokey and the Speedwagon Foundation Special Forces, who use ultraviolet lights to fight off the vampires whilst JoJo goes to face Kars. As Kars uses Lisa Lisa to force JoJo into a vulnerable position, Smokey reveals that Lisa Lisa is, in fact, JoJo's mother.

Appearances
Credits
Staff
Animation Director Cooperation
(作画監督協力)
Manabu Imura
Zenjirou Ukulele
Mari Futamatsu
Toshihiro Irie
Noriyasu Murata
Kiyotoshi Aoi
Tomoaki Kado
Mayumi Oda
Hideyuki Sugiura
Kanetoshi Kamimoto
Aya Nishimura
Akihide Muraji
Dai Imaoka
Emi Honda
Ryoko Kawamura
Ryo Kamei
Hideaki Matsuoka
Masaki Takasaka
Masashi Nomura
Tatsuya Shirai
井村 学
ウクレレ 善次郎
二松 真理
入江 俊博
村田 憲泰
青井 清年
かど ともあき
小田 真弓
杉浦 英之
神本 兼利
西村 彩
村司 晃英
今岡 大
本多 恵美
河村 涼子
亀井 嶺
松岡 秀明
高阪 雅基
野村 雅史Z
白井 達也
White Line
Manabu Akita
Shunichi Ishimoto
Kumiko Kawahara
Kimitaka Ito
Yuuko Kamiyama
Michiko Takegami
Ai Mochida
Jin Hirakawa
Takashi Nakamichi
Tomoki Hirano
秋田 学
石本 峻一
河原 久美子
伊藤 公崇
神山 裕子
武上 みち子
持田 愛
平河 仁
仲道 隆
平野友己
White Line
Kang Sul A
Kwan Hyun Ae
Sim Myung Ju
Kang Sul A
Kwan Hyun Ae
Sim Myung Ju
In-between Animation
(動画)
In-Between Animation Inspectiondavid production
西村 彩
福田 周平
赤間 紗枝
大川 貴大
山口 朝美
矢口 真琴
森口 弘之
三沢 大
杉本 将太
White Line
Kim Jong Kyu
Ku Ja Chun
Kim Yun Hui
Park Jin Hee
Park Hee Joung
Byun Jin Sun
Sin Jin Eun
Yang Hyo Jung
Lee Hye Kyoung
Jung A Young
Cha Hyun Ju
Chae Youn Kyung
Kim Jong Kyu
Ku Ja Chun
Kim Yun Hui
Park Jin Hee
Park Hee Joung
Byun Jin Sun
Sin Jin Eun
Yang Hyo Jung
Lee Hye Kyoung
Jung A Young
Cha Hyun Ju
Chae Youn Kyung
---
Studio Mark
Triple A
Hayashi
Sunshine Corp.
MSJ Musashino Production
Ace Company
CL Corporation
Big Owl
Jinbun
スタジオマーク
AAA
ハヤシ株式会社
サンシャインコーポレーション
MSJ武蔵野制作所
エースカンパニー
CLコーポレーション
ビッグオウル
じんぶん
Design Cooperation
(デザイン協力)
Momomo Works
(もももワークス)
Motonobu Kawashima
Naoyuki Seki
Hiroka Fujita
川島 基展
関 直幸
藤田 広香
Betop Japan
(Betop Japan株式会社)
Liu Jiaming
Wong Wai
劉 佳銘
王 偉
David Production
亀井 隆広
工藤 かよ
Puavaranukroh Taweeporn
Music
Manga/Anime Differences
Lisa Lisa disposing of a few Vampires trying to attack her after Wamuu's defeat is omitted.
Lisa Lisa's exposition of the snake muffler is put before she kicks the fake Kars's face.
In the anime, after pointing at Kars, Joseph strikes a pose originally done by Jonathan in Chapter 37.
In other languages
Language
Title
Translation
Japanese
風にかえる戦士
The Warrior Returns to the Wind
Chinese
化為風的戰士
The Warrior Turned Into the Wind
Chinese (Hong Kong)
回歸風中的戰士
The Warrior Returns to the Wind
English
The Warrior of Wind
Spanish
El guerrero del viento
The warrior of the wind
Portuguese
O Guerreiro do Vento
The Warrior of the Wind
French
Le guerrier du vent
The warrior of the wind
German
Der Krieger des Winds
The Warrior of the Wind
Hebrew
לוחם הרוח
The Wind Warrior
Arabic
محارب الرياح
The wind warrior
Italian
Il Guerriero del Vento
The Warrior of the Wind
Czech
Válečník větru
The Wind warrior
Danish
Vindkrigeren
The wind warrior
Commentary
Commentary
"
I confess to having laughed a little at Wamuu's death. Granted, it's classy and gentlemanly, but when he shoots his own head and shouts "You miserable vermin!" it becomes so funny. He's a resourceful one for sure (laughs)! Episode 23 is also the episode with Kars's famous "win win win" when he caresses Lisa Lisa's legs. We've just come back from Wamuu's dignified end, but it's finally this scene you remember most when the episode is done. There's nothing we could do, it's the structure of the series that needed it (laughs). Kazuhiko Inoue was delighted to finally be able to act the entirety of Kars's trickery and baseness; he really stole the spotlight from Lisa Lisa.
I personally managed in detail the shots with Lisa Lisa's tights and the rope while adding a sketch that improved the knot until the result was credible. I gave many kinds of indications; out of pure auto satisfaction (laughs).
The direction is really meticulous in this episode; we had to redo some shots several times to make it viable. Stroheim appears again, everything's assembled, you really get the impression of a final battle.
"
Gallery
References