JoJo's Bizarre Adventure - Episode 10
Jump to navigation
Jump to search
JoJo of New York
(

ニューヨークのジョジョ

Nyū Yōku no JoJo)
[1]
is the tenth episode of the
JoJo's Bizarre Adventure
anime
. It is also the first episode of
Battle Tendency
. It covers
Chapter 45
through
Chapter 48
of the manga.
Fifty years later, Jonathan's grandson Joseph enters the scene. Meanwhile, Jonathan's former comrade Robert E. O. Speedwagon discovers a temple in Mexico containing dozens of Stone Masks and a man slumbering inside of a stone pillar.
Summary
It has been 49 years after Jonathan Joestar's death, and a much older looking Speedwagon and Straizo travel to Mexico to investigate a mysterious underground cavern. There they find it filled with similar Stone Masks to the one that was destroyed many years ago, as well a body integrated into a stone column.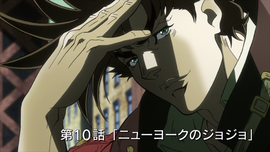 Meanwhile in New York, a peculiar tourist gets his wallet stolen by Smokey, a local pickpocket. However, he then saves that same pickpocket from two violent and corrupt policemen by using the Ripple. This man is Joseph Joestar, the grandson of Jonathan Joestar. Joseph has just arrived to the United States with his grandmother Erina, who has been taking care of him since his father and mother died.
Back in Mexico, Speedwagon is betrayed by Straizo. Straizo has come to envy the youth that the Stone Mask had granted Dio and dons one himself, to Speedwagon's horror.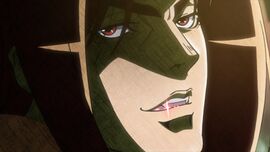 JoJo, Erina, and Smokey all go to a restaurant, only for a mafia henchman to insult Smokey. Furious, Joseph takes the time to put back the man in his place. During the scuffle, Joseph amply demonstrates his talent at reading and outsmarting his opponents. However, a mafia acquaintance of Speedwagon's informs them that Speedwagon has been murdered by Straizo. Later that night, JoJo is confronted outside a cafe by Straizo, who had regained his youth as a Vampire. Straizo plans to kill Joseph before he can unlock the full potential of the Ripple, but Joseph quickly pulls out a Tommy-Gun and promptly blasts Straizo through the cafe window, declaring war on Straizo as revenge for Speedwagon.

Appearances
Credits
Staff
Animation Director Cooperation
(作画監督協力)
西村 彩
杉浦 英之
村田 憲泰
安西 俊之
糸井 恵
横山 謙次
高阪 雅基
竹本 未希
平野 勇一
青井 清年
小田 真弓
小谷 杏子
今岡 大
小池 裕樹
村司 晃英
ソエジマ ヤスフミ
White Line
Cha Myoung Jun
Hwang Sung Won
石本 俊一
秋田 学
金城 優
光定 レイジ
片山 美智
河原 久美子
White Line
Kang Sul A
Kwan Hyun Ae
Sim Myung Ju
Kang Sul A
Kwan Hyun Ae
Sim Myung Ju
---
Sunshine Corp.
FAI Studio
TAP
Big Owl
サンシャインコーポレーション
F.A.I
TAP
ビッグオウル
In-between Animation
(動画)
In-Between Animation Inspectiondavid production
---
White Line
Kim Jong Kyu
Ku Ja Chun
Kim Young Min
Kim Yun Hui
Park Jin Hee
Park Hee Joung
Byun Jin Sun
Sin Jin Eun
Yang Hyo Jung
Lee Hye Kyoung
Jung A Yung
Cha Hyun Ju
Chae Youn Kyung
Kim Jong Kyu
Ku Ja Chun
Kim Young Min
Kim Yun Hui
Park Jin Hee
Park Hee Joung
Byun Jin Sun
Sin Jin Eun
Yang Hyo Jung
Lee Hye Kyoung
Jung A Young
Cha Hyun Ju
Chae Youn Kyung
---
david production
Sae Akama
Takahiro Okawa
Kirara Kikui
赤間 紗枝
大川 貴大
菊井 きらら
---
Sunshine Corp.
Hayashi
FAI Studio
Triple A
Big Owl
サンシャインコーポレーション
ハヤシ株式会社
F.A.I
AAA
ビッグオウル
Design Cooperation
(デザイン協力)
Momomo Works
(もももワークス)
Motonobu Kawashima
Naoyuki Seki
Hiroka Fujita
川島 基展
関 直幸
藤田 広香
Betop Japan
(Betop Japan株式会社)
Liu Jiaming
Wong Wai
劉 佳銘
王 偉
David Production
亀井 隆広
工藤 かよ
Puavaranukroh Taweeporn
Music
Manga/Anime Differences
The scene of Speedwagon revealing a mummified Stone Mask vampire to Straizo was removed from the anime.
After Joseph introduced himself to Smokey, the manga shows a single panel where Joseph says he wants to flip up some girl's skirts, which causes Smokey to question his British heritage. This was skipped in the anime.
Some lines of dialogue were censored in the TV version but were added back in the Blu-Ray.

The police originally calls Smokey a derogatory term for a black person (

黒人野郎

), but the phrase is replaced with "a pile of garbage" (

ゴミクズ野郎

) in the TV version, putting less emphasis on Smokey's race.
Similarly, Joseph calls the police officer a "yankee" (

アメ公

) after punching him in the manga, but it's changed to a slang word for "policeman" (

ポリ公

).

Joseph's Coca-Cola bottle was changed to a generic soda.
Originally Joseph was reading a Superman comic while Speedwagon's plane was being hijacked. In the anime, the comic was changed to Baoh instead.
Minor details are erased from some scenes (ex. a glass of wine being thrown in the back of Smokey's head by the gangster).
Added more details to the newspaper that Joseph was reading in the cafe:
In other languages
Language
Title
Translation
Japanese
ニューヨークのジョジョ
JoJo of New York
Chinese
紐約的JOJO
JoJo of New York
English
New York's JoJo
Spanish
JoJo en Nueva York
JoJo in New York
Portuguese
JoJo em Nova Iorque
JoJo in New York
French
JoJo de New York
JoJo from New York
German
JoJo in New York
Hebrew
ג'וג'ו בניו יורק
JoJo in New York
Arabic
جوجو نيويورك
New York JoJo
Italian
JoJo di New York
JoJo of New York
Czech
JoJo z New Yorku
JoJo from New York
Danish
New Yorks JoJo
Polish
Nowojorski JoJo
New York's JoJo
Commentary
Gallery
Trivia
The Superman comic that Joseph was reading may have been changed, however the scene still references Superman in a more subtle way, as the Baoh comic's cover is based on that of Superman #1 from 1939.
References