Ungalo
Jump to navigation
Jump to search
ALERTA DE SPOILERS: Spoilers da Parte 6 podem estar presentes abaixo.
"
Tudo que eu fiz até agora foi vagar sem destino, me afundando mais e mais, sem saber por que... mas agora, eu saquei! Eu existo para essa 'habilidade'! (
オレは今まで転がり落ちていくだけの人生をただ理由もわからず生きて来た……だが今はもう理解できた!オレはこの『能力』のために存在していたんだ!
Ore wa ima made korogari ochiteiku dake no jinsei o tada riyū mo wakarazu ikite kita……daga ima wa mō rikai de kita! Ore wa kono "nōryoku" no tame ni sonzai shiteitan da!
)
"
Ungalo (ウンガロ, Ungaro) é um antagonista menor apresentado na sexta parte de JoJo's Bizarre Adventure, Stone Ocean, especificamente no arco "Bohemian Rhapsody".
Ungalo é um dos filhos ilegítimos de DIO com uma mulher desconhecida. Quando ele fatidicamente conhece Enrico Pucci, ele desperta seu Stand, Bohemian Rhapsody, e causa caos ao trazer personagens fictícios para a realidade para matar o Grupo Joestar.
Aparência
Ungalo é um homem de porte e altura média, possuindo um rosto um tanto plano, olhos pequenos, grandes dentes visíveis, e uma marca em formato de "U" debaixo de seu olho esquerdo. Ungalo veste uma camisa com múltiplos pontos conectados um ao outro com linhas, e uma touca. Duas tranças podem ser vistas debaixo de sua touca.[3]
Esquemas de Cores
A série é conhecida por sua mudança de cores entre as mídias, a informação apresentada abaixo pode ou não ser cânon.
Pele
(Clara, marca no rosto laranja)
Roupas
(Camisa verde, pulseiras oliva, calças câqui, touca roxa)
Personalidade

Herdando as piores características de seu pai, Ungalo é um indivíduo sádico, violento, e incrivelmente vulgar com um pavio curto. Ele possui um rancor pelo mundo por causa de suas circunstâncias, desejando colocá-lo em desespero e caos.[4]
A natureza violenta de Ungalo é demonstrada em sua primeira aparição quando usando Enrico Pucci como refém para escapar de policiais. Ele aponta tesouras no pescoço do padre, ameaçando cortá-lo caso os policias peguem suas armas.[3]
Após Pucci despertar seu Stand Bohemian Rhapsody, Ungalo se torna repleto de vontade e felicidade manifestando sua nova habilidade. Capaz de ter sua vingança contra o mundo, ele joga fora sua necessidade de drogas e encontra um novo propósito em defender o padre. Entretanto, quando Bohemian Rhapsody é derrotado, Ungalo volta para sua natureza sem esperança e perde sua vontade de viver.[4]
Habilidades
Bohemian Rhapsody permite que Ungalo traga personagens fictícios ao mundo real e force pessoas a reviverem a história dos personagens com quem eles mais se identificam.
Bohemian Rhapsody
(
ボヘミアン・ラプソディー (自由人の狂想曲)
)


Habilidade
Realização da Ficção
História
Passado
Antes de ir a Florida (atraído pela "força gravitacional" de Enrico Pucci), Ungalo era um viciado em drogas que vivia sua vida em desespero, sem conhecimento de sua habilidade de Stand, Bohemian Rhapsody.
Stone Ocean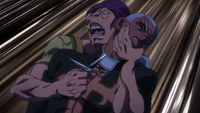 Ungalo is first introduced in Orlando after using an unknown drug and going into a state of shock. Ungalo is subsequently brought to the hospital and wakes up, only to hold Enrico Pucci hostage with a pair of scissors. Pucci, however, calmly explains that there is a certain "gravitational force" that attracts certain people together. In response to this, Ungalo impales Pucci through the throat, but Pucci somehow stays alive, going on to explain that Ungalo missed a vital nerve by a millimeter. Pucci then suggests that Ungalo use his energy for wiser things than drugs. At this moment the police officers shoot at him and he is miraculously dragged away by the stick figure from a nearby "Do Not Walk" sign.
Four days before the new moon, Ungalo then meets with his other half-brothers Donatello Versus and Rikiel and Pucci. Pucci seemingly explains his goal in life to Ungalo and Ungalo departs to attack the Joestar Group.
Ungalo activated Bohemian Rhapsody to bring fictional characters to life, where they run amok in the world. He travels in a plane, drinking wine and enjoying hearing of the chaos his newfound power caused, claiming it as revenge against the whole world for the miserable life he had. However, he is distracted by a cheerful girl reading from a Peter Pan

book, and realizes that his Stand was already defeated when he sees the titular character on the cover. Ungalo subsequently loses his will to live upon realizing that he will be reverting back to his hopeless life.

Capítulos

Manga Appearances
Chapters in order of appearance
Frases

Frases
"

Não apontem essas merdas de armas pra mim!! Eu não vou ser preso em lugar nenhum!!

"

"

Isso é satisfação... Eu finalmente encontrei algo que me dê um propósito! Tudo que eu fiz até agora foi vagar sem destino, me afundando mais e mais, sem saber por que... mas agora, eu saquei! Eu existo para essa 'habilidade'!

"

"

É tão satisfatório ver um mundo que me tratou feito merda entrar em caos e desespero!!

"
Galeria
Referências