Atum
Jump to navigation
Jump to search
"
Mój Stand może patrzeć na dusze ludzi. Nie ma znaczenia, kim są, ich dusze nie kłamią.
"
Atum (アトゥム神, Atumu-shin, dosł. "Bóg Atum") to Stand Telence T. D'Arby, występujący w trzeciej części serii JoJo's Bizarre Adventure, Stardust Crusaders.
Jest to humanoidalny Stand z mechanicznymi dodatkami obdarzony w dwie zdolności: kradzież dusz ludzi, którzy przegrali w grze z D'Arby, oraz obserwowanie duszy osoby, aby częściowo odgadnąć jej intencje.
Wygląd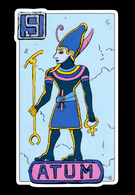 Atum przypomina humanoidalnego robota o atletycznej budowie Telence'a i, podobnie jak The World i Cream, jest ozdobiony motywami serca na ciele. Na jego twarzy znajdują się inicjały Telence'a wraz z czymś, co wydaje się przypominać aparat oddechowy. Urządzenie ma dwie dysze, które okresowo rozpylają parę. Jego wygląd jest wzorowany na robocie wojskowym.[2] Araki mówi, że schludną częścią wyglądu Atuma jest to, jak wygląda jak pół człowiek, pół marionetka.[2]
Ten Stand reprezentuje egipskiego boga Atuma.
Schematy kolorów
Seria znana jest z zmiennych kolorów między mediami, informacje przedstawione poniżej mogą, ale nie muszą być kanoniczne.
Ciało
(Jasnoniebieskie i jasnoróżowe)
Dodatki
(Ciemne stawy indygo, stalowe niebieskie rurki, różowe serca)
Dodatki
(Różowe stawy, złote rurki, szare serca)
Dodatki
(Ciemnofioletowe stawy, ciemnoszare rurki, różowe serca)
Umiejętności
Atum jest, podobnie jak Ozyrys, groźnym Standem ze względu na jego zdolność do kradzieży dusz i czytania w myślach. Jest jednak powstrzymywany przez nadmierne poleganie Telence'a na jego mocy. W ten sposób jego użytkownik został łatwo pokonany przez Josepha i Jotaro.
Kradzież duszy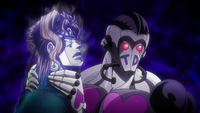 Podobnie jak Stand jego brata, Ozyrys, podstawowa umiejętność Atuma pozwala Telence'owi kraść dusze komuś, kto rozpoznał porażkę[3] w grze, której Telence zwykle używa w grach wideo.
Podobnie jak Ozyrys, ofiary muszą najpierw zastawić swoje dusze, ale Atum jest na tyle subtelny, że częściowo chwyta duszę od kogoś zaskoczonego. W jednym przypadku był w stanie uchwycić duszę Jotaro, nie będąc w stanie jej ukraść, gdy Telence poprawnie odgadł cios.[3] Teoretycznie Atum może swobodnie atakować powiązaną część ciała, ale nigdy nie widziano go w tym stylu.[3]
Skradzione dusze są umieszczane w specjalnie wykonanych lalkach od samego Telence'a, a on również może swobodnie uprawiać hazard i uwalniać dusze pod swoją kontrolą.[4]
Binarne czytanie duszy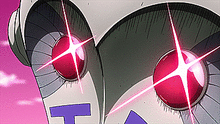 Druga zdolność Atuma umożliwia Telence'owi czytanie dusz.[5]
W efekcie psychicznie zadaje duszom pobliskiej osoby pytanie "tak" lub "nie", na które dusza jest zobowiązana odpowiedzieć, bez wiedzy czytanego, pozwalając Telence potajemnie odgadnąć czyjeś intencje.[6]
Atum wizualizuje osobę jakby przez detektor podczerwieni podczas czytania dusz, a jeśli osoba kłamie, zmienia się kolor jej aury, pozwalając mu stwierdzić, że kłamie.[6] Kiedy Atum wykryje "Tak", aura badanego rozbłyskuje; gdy wykryje "Nie", aura badanego wskazuje pionowo.[7][8] Telence może również zbadać kilka osób naraz,[4] chociaż może o nich zapomnieć.
Rozdziały / Odcinki

Występy w mandze
Rozdziały w kolejności pojawiania się

Występy w anime
Odcinki w kolejności pojawiania się

Występy w nowelach
Rozdziały w kolejności pojawiania się
Galeria
Ciekawostki
Araki zaczął włączać serca do swoich projektów w czasie tworzenia Atuma, który ostatecznie związał się ze Standem Josuke, Crazy Diamond.[2]
Przypisy
Nawigacja w witrynie