Horus
Jump to navigation
Jump to search
"
Horus, sokoli bóg, był czczony przez starożytnych Egipcjan jako strażnik rodziny królewskiej. Mówi się, że
Oko Horusa
znane również w starożytnym Egipcie jako Wadjet Eye, widziało swoją ofiarę z odległości kilku kilometrów. Oko symbolizuje ochronę i władzę królewską!
"
Horus (ホルス神, Horusu-shin, dosł. "Bóg Horus") to Stand Pet Shopa występującym w trzeciej części serii JoJo's Bizarre Adventure, Stardust Crusaders. Przywiązany do lodu, niejasno przybiera wygląd szkieletu ptaka i pozwala Pet Shopowi generować ekstremalnie niskie temperatury.
Wygląd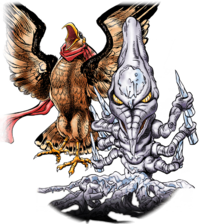 Horus rzadko pojawia się w swojej prawdziwej formie, spędzając większość czasu związany bezpośrednio z ciałem Pet Shopa. Kiedy manifestuje się oddzielnie od swojego pana, pojawia się jako duże, szkieletowe stworzenie z głową pterozaura. Ma wiele kończyn zakończonych ptasimi szponami, w tym sześć małych ramion na tułowiu i kilka par nóg na dolnej części ciała, co daje mu pewne podobieństwo do pająka lub stonogi.[2]
Reprezentuje Horusa, egipskiego boga nieba.
Schematy kolorów
Seria znana jest z zmiennych kolorów między mediami, informacje przedstawione poniżej mogą, ale nie muszą być kanoniczne.
Ciało
(Jasnoniebieskie i ciemnoniebieskie)
Ciało
(Szare z żółtymi kajdanami)
Umiejętności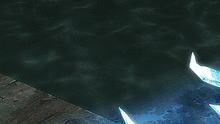 Horus to potężny lodowy Stand, który pozwala Pet Shopowi wykonywać potężne ataki dystansowe, które w połączeniu ze zwinnością Pet Shopa i lotem jako sokół sprawiają, że jest to przerażający przeciwnik w bitwie.
Kriokineza
Horus daje swojemu panu zdolność generowania lodu w dużej ilości i w szybkim tempie.[3] Pet Shop wykorzystuje lód na różne sposoby do walki.
Horus jest tak potężny, że może generować bloki lodu wystarczająco duże, aby zmiażdżyć samochód[3] i sprawić, że temperatura wokół niego spadnie zauważalnie[4] pomimo gorącej i suchej atmosfery Egiptu. In a humid environment, its real potential is unleashed and the cryokinesis is even more efficient.[2]
Ta moc jest często używana ofensywnie do tworzenia sopli lodu, które można rzucić z niesamowitą siłą w kierunku celu, działając jak pociski.[4] Lód jest zwykle generowany w przyzwoitej odległości od Pet Shopa, ale może również generować odłamki we własnym dziobie jako atak z bliskiej odległości.[5]
Lód Horusa może być również używany do tworzenia bloków lub ścian, aby ograniczyć ruch wroga, a także po prostu zamrażać wszystko wokół siebie, aby złapać cel.[4] Może być również stosowany do zamrażania ran Pet Shopa, zapobiegając ich wykrwawieniu.[2]
Pokazano również, że Pet Shop generuje lód na swoich szponach, aby prawdopodobnie zwiększyć ich niebezpieczeństwo.[6]
Rozdziały / Odcinki

Występy w mandze
Rozdziały w kolejności pojawiania się

Występy w anime
Odcinki w kolejności pojawiania się

Występy w nowelach
Rozdziały w kolejności pojawiania się
Galeria
Przypisy
Nawigacja w witrynie