Bastet
Jump to navigation
Jump to search
"
Moje ciało...! Zamieniło się w magnes!
"
Bastet (バステト女神, Basuteto-joshin, dosł. "Bogini Bastet") to Stand Mariah, występujący w trzeciej części serii JoJo's Bizarre Adventure, Stardust Crusaders. Przybiera nieszkodliwy wygląd gniazdka elektrycznego, ale po dotknięciu szokuje swoje ofiary i magnetyzuje je.
Wygląd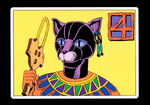 Bastet to Stand w kształcie gniazdka, który można umieścić na dowolnej powierzchni.
Reprezentuje egipską boginię ochrony, Bastet, i jest czwartym z dziewięciu egipskich bogów.
W Heritage for the Future, Bastet może być postrzegany jako eteryczne humanoidalne popiersie z głową kota, gdy Mariah blokuje lub wykonuje pewne działania, podobne do Standa Anubis.
Schematy kolorów
Seria znana jest z zmiennych kolorów między mediami, informacje przedstawione poniżej mogą, ale nie muszą być kanoniczne.
Gniazdko
(Białe, złota obwódka, czerwony drut)
Gniazdko
(Brązowe, ciemnozłota obwódka, brązowy drut)
Gniazdko
(Żółte, zielona i brązowa obwódka, ciemnozielony drut)
Gniazdko
(Beżowe, zielona i ciemnobrązowa obwódka, łososiowy drut)
Umiejętności
Bastet ma na celu obrócenie ciekawości ludzi przeciwko nim. Nie ma żadnych bezpośrednich zdolności bojowych i nie ma żadnego zastosowania poza łapaniem ofiar w pułapkę, zmuszając Mariah do czekania, aż jej ofiary umrą samotnie. Z drugiej strony nadaje się do zabójstwa, ponieważ dopóki Mariah się nie zdemaskuje, nie ma sposobu, aby ją złapać.
Przyciąganie magnetyczne
Kiedy osoba dotknie gniazdka, będzie porażona prądem[2] i stanie się magnesem, który przyciąga pobliskie metalowe przedmioty.[3]
Siła magnetyczna stopniowo stanie się silniejsza, do punktu, w którym przedmioty przyciągane do osoby albo je przytłoczą, albo po prostu przebiją, a jeśli na początku będą miały wpływ tylko małe metalowe przedmioty,[3] magnetyzm może wzrosnąć do punktu, w którym obiekty tak masywne jak samochody zostaną przyciągnięte.[4]
Dodatkowo, więcej niż jedna osoba może zostać poddana tej samej "klątwie magnetycznej". Wiele osób pod tym samym przyciąganiem magnetycznym będzie nawet przyciąganych do siebie.[5]
Wadą tej zdolności Standa jest to, że Mariah musi utrzymywać pewną odległość od celu, w przeciwnym razie magnetyzm się wyczerpie.[6]
Rozdziały / Odcinki

Występy w mandze
Rozdziały w kolejności pojawiania się

Występy w anime
Odcinki w kolejności pojawiania się

Występy w nowelach
Rozdziały w kolejności pojawiania się
Galeria
Ciekawostki
Przypisy
Nawigacja w witrynie