Stand Holy
Jump to navigation
Jump to search
"
Ta miła, spokojna
kobieta
nie ma mocy, aby oprzeć się klątwie
DIO
! Nie ma siły, by kontrolować swój
Stand
!!
"
Ten nienazwany Stand posiadany przez Holy Kujo pojawia się w trzeciej części serii JoJo's Bizarre Adventure, Stardust Crusaders. Jest to paproć-podobny Stand, który manifestuje się po przebudzeniu DIO. Jednak ze względu na łagodną naturę Holy, Stand wymyka się spod kontroli i zaczyna osłabiać użytkownika.
Wygląd
Stand Holy początkowo przybiera formę rośliny podobnej do paproci pokrytej cierniami, przypominającej Hermit Purple jej ojca Josepha Joestara, po raz pierwszy manifestujący się na środku jej pleców. Jednak w miarę upływu czasu Stand stopniowo rozprzestrzenia się po jej ciele, jakby ją pochłaniał, rosnąc z każdej jej części, aż całkowicie ją zakryje.
Wygląd Standa Holy został prawdopodobnie zainspirowany malinami, które są uważane za gatunek inwazyjny w niektórych częściach świata, rozprzestrzeniając się w niekontrolowany sposób i zakłócając lokalny ekosystem ze względu na ich dynamiczny wzrost.
Schematy kolorów
Seria znana jest z zmiennych kolorów między mediami, informacje przedstawione poniżej mogą, ale nie muszą być kanoniczne.
Ciernie
(Żółte winorośle z różowymi kwiatami)
Ciernie
(Zielone winorośle z fioletowymi kwiatami)
Ciernie
(Zielone winorośle z czerwonymi kwiatami)
Ciernie
(Zielone winorośle z fioletowymi kwiatami)
Umiejętności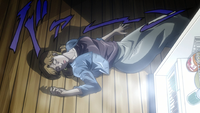 Osłabienie
Chociaż większość Standów jest używana do walki, Stand Holy działa przeciwko niej. Ze względu na jej łagodną, pozbawioną przemocy naturę, brakuje jej siły psychicznej niezbędnej do kontrolowania Standa, powoli powodując jej chorobę ze szkodliwą wysoką gorączką i prawie kończąc swoje życie pod koniec części 3.[1]
Stand Holy działa przeciwko użytkownikowi, ledwo się porusza i nie ma żadnych znanych zdolności ani mocy poza tym, że daje Holy możliwość widzenia innych Standów. Jej Stand nie może również zaszkodzić innym, przechodząc przez innych użytkowników Standa, którzy próbują go dotknąć. Jednak Stand Holy nie był jeszcze w pełni ukształtowany, a ona po prostu brakowało jej ducha walki, aby odpowiednio go kontrolować, stąd jej zdolności autodestrukcyjne. Nie wiadomo, jak by się to potoczyło, gdyby mogła to odpowiednio zamanifestować i kontrolować.
Rozdziały / Odcinki

Występy w mandze
Rozdziały w kolejności pojawiania się

Występy w anime
Odcinki w kolejności pojawiania się
Galeria
Ciekawostki
Przypisy
Nawigacja w witrynie