Cream
Jump to navigation
Jump to search
"
Moje usta są portalem do ciemnego wymiaru. Nawet ja ignoruję, dokąd to prowadzi. Wysłałem tam
twojego przyjaciela
... i ty jesteś następny.
"
Cream (クリーム, Kurīmu) to Stand Vanilla Ice'a, występujący w trzeciej części serii JoJo's Bizarre Adventure, Stardust Crusaders. Cream to humanoidalny Stand o monstrualnym wyglądzie. Jego usta prowadzą do wymiaru ciemności, a jeśli Cream połknie się, przybiera formę destrukcyjnej pustej sfery.
Wygląd
Cream pojawia się jako wyjątkowo wysoki, humanoidalny potwór o twarzy czaszki z maską przypominającą kaptur kata. Na masce widoczne są również dwa wystające rogi i podobnie jak Atum i The World, ma motywy w kształcie serca na ciele. When using its ability, Cream trzybiera formę poruszającej się kuli pustki, która przecina wszelkie przedmioty lub ludzi, przez których przechodzi. Ta druga forma jest w rzeczywistości pustką stworzoną przez Cream jedzącą samą siebie i Vanilla Ice, jak uroboros.
Jego konstrukcja opiera się na wspólnych wizerunkach katów i śmierci, w szczególności koncepcji średniowiecznych francuskich katów odcinających głowy skazanym[3]
Schematy kolorów
Seria znana jest z zmiennych kolorów między mediami, informacje przedstawione poniżej mogą, ale nie muszą być kanoniczne.
Ciało
(Biało-zabarwiony fiolet)
Maska
(Czarna z niebieskimi pasemkami)
Inne
(Czarne ramiona, różowe rogi i fioletowe serca)
Inne
(Ciemnoszare ramiona, złote rogi i czerwone serca)
Inne
(Czarne ramiona, szare rogi i pomarańczowe serca)
Inne
(Fioletowe ramiona, białe rogi i serca)
Inne
(Czarne ramiona, srebrne rogi i serca indygo)
Maska
(Czarna z fioletowymi pasemkami)
Inne
(Czarne ramiona, szare rogi i purpurowe serca)
Maska
(Czarna z fioletowymi pasemkami)
Inne
(Czarne ramiona, ciemnoszare rogi i fioletowe serca)
Umiejętności
Cream to dość potężny Stand o krótkim zasięgu, zdolny do wykonywania wyczynów, takich jak dekapitacja zwykłym siekaniem w szyję.[4] Jednak jego prawdziwa moc tkwi w wyjątkowej zdolności pustki, która czyni go jednym z najniebezpieczniejszych Standów w Stardust Crusaders.
Pustka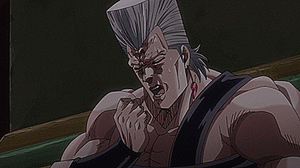 Cream jest w stanie stać się portalem do wymiaru przypominającego pustkę, który Vanilla Ice wykorzystuje głównie do dezintegracji wszystkiego na swojej drodze i ukrycia się.
Prawdziwy portal znajduje się w ustach Creama, więc jego modus operandi polega na pożarciu siebie i użytkownika, aby stać się pływającym portalem w kształcie kuli.[5]
Ponieważ Cream funkcjonuje jako portal, który bezkrytycznie przenosi materię do innego wymiaru, ma niesamowitą moc ofensywną, ponieważ może skutecznie zdezintegrować wszystko na swojej drodze, przecinając ją. Tylko Vanilla Ice okazuje się być nietknięty, gdy znajduje się w wymiarze pustki.[6] W razie potrzeby może cofnąć samopożeranie Cream.[7]
Wchodząc w stan pustki, Cream jest niewrażliwy i prawie niewykrywalny, ponieważ istnieje w innym wymiarze: Iggy nie widzi, nie słyszy, a nawet nie czuje jego zapachu.[6] Mimo to Polnareff jest w stanie go wykryć, rozrzucając piasek wewnątrz pomieszczenia i podążając śladem pożerającej kuli, którą pozostawia.[8] Sfera pustki okazuje się być dość szybka, ponieważ była w stanie ścigać Polnareffa, gdy biegł.[6]
Jednak stanie się kulą ma jedną poważną wadę. Chociaż jest niewykrywalny, Vanilla Ice również nie jest w stanie wyczuć otoczenia i musi regularnie zerkać, pozostawiając się na krótko podatnym na atak.[8]
Rozdziały / Odcinki

Występy w mandze
Rozdziały w kolejności pojawiania się

Występy w anime
Odcinki w kolejności pojawiania się

Występy w nowelach
Rozdziały w kolejności pojawiania się
Tworzenie i rozwój
Zdolność Cream do pustki wzięła się z tego, że Araki myślał o nicości i nieskończoności.[3]
Cream nie otrzymał właściwej nazwy aż do kilku lat po publikacji części 3, gdzie został ujawniony w JoJo6251. Z tego powodu Cream jest pierwszym Standem, do którego odwołuje się muzyk lub zespół. Jego nazwa jest również grą słów, w której jeśli Vanilla Ice (użytkownik Cream) zostanie umieszczony przed "Cream", następnie tworzy grę słów "lody waniliowe".
Ponieważ Cream jest jedynym głównym stanowiskiem w części 3, który nie jest oparty na tarocie lub egipskim bogu, nie otrzymał własnej karty Tarota. Na oficjalnej stronie anime jego karta tarota jest reprezentowana przez pustą szarą kartę z czarną kulą pośrodku; przedstawiający pustą formę Cream.[9] Gra Capcom, Heritage for the Future, daje Cream i Tenore Sax ich własne unikalne karty Tarota.
Galeria
Przypisy
Nawigacja w witrynie