Hermit Purple
Jump to navigation
Jump to search
"
Widzieliście to? Ciernie z mojej ręki? To jest mój Stand! Może ujawnić odległe wizje i umieścić je na filmie. Oczywiście, muszę zniszczyć aparat 3,000 jenów za każdym razem, gdy go używam...
"
Hermit Purple (ハーミットパープル(隠者の紫), Hāmitto Pāpuru) to Stand Josepha Joestara, występujący w trzeciej części serii JoJo's Bizarre Adventure, Stardust Crusaders, i krótko w czwartej części, Diamond is Unbreakable.
Hermit Purple jest Standem podobnym do winorośli, którą Joseph przywołuje na swoich rękach. Pozwala użytkownikowi na boskie informacje i wiadomości z innych lokalizacji.
Wygląd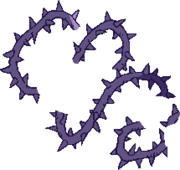 Hermit Purple objawia się jako wiele purpurowych, pokrytych cierniami winorośli, które pojawiają się z rąk Josepha. Winorośl jest wystarczająco silna, aby utrzymać własny ciężar i wystarczająco długa, aby całkowicie związać kogoś.
Hermit Purple reprezentuje kartę tarota, Pustelnika, która symbolizuje introspekcję i kontemplację, najlepiej reprezentowaną w mocach wróżbiarskich Standa.
Schematy kolorów
Seria znana jest z zmiennych kolorów między mediami, informacje przedstawione poniżej mogą, ale nie muszą być kanoniczne.
Winorośle
(Ciemnofioletowe)
Winorośle
(Jasnofioletowe)
Winorośle
(Fioletowe i niebieskie)
Winorośle
(Ciemnofioletowe)
Umiejętności
Winorośle Hermit Purple są stosunkowo słabe w walce, ale zapewniają Josephowi znaczne zdolności wróżbiarskie, umożliwiając mu materializowanie wszelkiego rodzaju informacji, takich jak obraz, miejsce, a nawet myśli.
Joseph pokazał, że może używać winorośli jako lin, których ruchy może kontrolować do woli. Ich długość i opór sprawiają, że Joseph może huśtać się z miejsca na miejsce[2] i związać kogoś.[3] Winorośle mają ograniczony opór, ponieważ wystarczająco silny Stand lub nawet silny wampir może je złamać.[3] Winorośle są wystarczająco zręczne, aby manipulować kontrolerem gier wideo.
Wróżby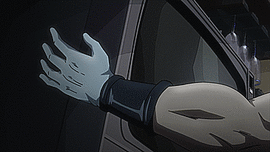 Główną zdolnością Hermit Purple jest wyznawanie informacji. Używając dowolnego przedmiotu lub materiału w połączeniu z Hermit Purple, Joseph Joestar może wyświetlić dowolne informacje, które chce zobaczyć. Do tej pory używał Hermit Purple do:
Tworzenia psychicznej fotografii niszcząc aparat.[4] Zepsuty aparat następnie tworzy zdjęcie, które ujawni informacje takie, jakie są w danym momencie, takie jak osoba w obecnej sytuacji.
Produkcji filmów psychicznych na żywo w telewizji.[5] Może losowo wyświetlać różne kanały telewizyjne, aby sformułować spójne zdanie, które pokaże myśl danej osoby lub sfilmować miejsce, nawet najbardziej nieprawdopodobne, takie jak wnętrze mózgu Josepha.
Wyczarowania mapy z kurzu na nieutwardzonej drodze, precyzyjnie określając lokalizację żądanego przedmiotu.[6]
Przeanalizowania maszynerii, aby sprawdzić, czy nie została w jakiś sposób naruszona, tak jak zrobił to z kartridżami z grami wideo i konsolą Telence T. D'Arby.
Manipulacja elektroniką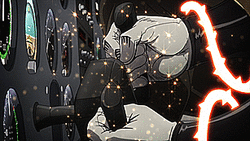 Hermit Purple wydaje się być w stanie łączyć się i manipulować systemami elektronicznymi poza jego zdolnością do boskich informacji. Joseph używa tej zdolności raz, aby przejąć kontrolę nad systemem elektronicznym Cessny i zmusić go do stabilizacji.[7] Używa również Hermit Purple, aby sprawdzić konsolę do gier wideo Telence T. D'Arby, aby potwierdzić, czy została naruszona, czy nie.[8]

Techniki
Joseph wykazał zdolność do przekazywania
Fali
przez Hermit Purple jako przedłużenie swojego ciała. Joseph wykorzystuje tę właściwość Hermit Purple, aby zaatakować
DIO
[3]
lub uniemożliwić mu dotknięcie go poprzez owinięcie się nim.
[9]
W adaptacji anime Joseph używa tej zdolności do przekazywania Fali w spotkaniu ze Steely Danem. Kiedy
Lovers
opuszcza jego mózg, używa swojej Fali, aby zabić wszystkie rosnące flesh budy.
Rozdziały / Odcinki

Występy w mandze
Rozdziały w kolejności pojawiania się

Występy w anime
Odcinki w kolejności pojawiania się

Występy w nowelach
Rozdziały w kolejności pojawiania się
Tworzenie i rozwój
Ponieważ Hermit Purple należał do głównego bohatera poprzedniej części, Hirohiko Araki postanowił nie robić go zorientowanego na walkę ani nie mieć humanoidalnego wyglądu, aby nie wyróżniał się zbytnio.[10] W rzeczywistości chciał sprawić, by umiejętności Josepha pasowały do jego roli nawigatora. Inspirował się zarówno liniami telefonicznymi, jak i sieciowymi oraz faktem, że przewodnik używał "linii", które łączą je na całym świecie, aby otrzymywać informacje; dlatego sprawił, że winorośl Standa reprezentuje te "linie". Kolor Hermit Purple został wybrany, ponieważ według Arakiego fioletowy jest kolorem klasycznym i łatwym do pracy ze starszymi postaciami. Doszedł do wniosku, że fiolet lepiej pasuje do starego Josepha niż do kogoś młodszego.[11]
Po powrocie Josepha w części 3, Araki zastanawiał się, jak wizualizować Falę w porównaniu do Standów. Fala jest energią życiową, która rozprzestrzenia się po całym ciele, a winorośle Hermit Purple mają być wyraźnym wizualnym wyrazem tego, dosłownie owijając się wokół ciała Josepha.[11]
Galeria
Joseph używa Hermit Purple, ale stara się wydostać swoją uwięzioną nogę z kierownicy, podczas gdy Geb próbuje zaatakować (Odcinek 9)

Joseph używa Hermit Purple, aby osłabić budynek, aby zwabić DIO do upadku i uszkodzenia się na nim (Odcinek 12)
Ciekawostki
Ciernie Hermit Purple można krótko zobaczyć w tle drugiej czołówki anime, "BLOODY STREAM". Działa to jako zapowiedź, ponieważ otwarcie dotyczy Battle Tendency, a Joseph nie rozwija Hermit Purple, dopóki nie będzie znacznie starszy w następnej części, Stardust Crusaders.
Przypisy
Nawigacja w witrynie