Geb
Jump to navigation
Jump to search
"
Stand nie chował się w wodzie, to jest woda!
"
Geb (ゲブ神, Gebu-shin, dosł. "Bóg Geb") to Stand N'Doula występującym w trzeciej części serii JoJo's Bizarre Adventure, Stardust Crusaders.
Geb to wodny Stand, który może być zdalnie sterowany z daleka. Jego natura jako kontrolowany wodą Stand sprawia, że jest bardzo zwinny, ale zabójczy, ponieważ może zmaterializować szponiastą rękę zdolną do rozerwania ciała i metalu, a także oderwania głowy człowieka.
Wygląd

Pomimo tego, że Geb został nazwany na cześć ziemskiego bóstwa, jest związany z małą, bezkształtną masą wody (wystarczająco małą, aby ukryć się w manierce).[2] Zwykle przybiera formę macki wyposażonej w szponiastą dłoń. OVA przedstawia Geba z ustami.
Reprezentuje egipskiego boga, Geba, boga ziemi w mitologii egipskiej.
Schematy kolorów
Seria znana jest z zmiennych kolorów między mediami, informacje przedstawione poniżej mogą, ale nie muszą być kanoniczne.
Umiejętności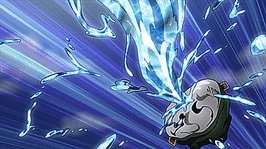 Największą siłą Geba jest zasięg, na którym można go precyzyjnie kontrolować, umożliwiając N'Doulowi siedzenie kilometry od celu, cztery kilometry, gdy atakuje Grupę Joestar.[3] W połączeniu ze zdolnością N'Doula do wykrywania wibracji z daleka, Geb może niezawodnie działać, gdy jego użytkownik jest bezpieczny.
Jest to jednak podstawowy Stand, którego niebezpieczeństwo wynika bardziej z umiejętności N'Doula jako użytkownika Standa niż z jego nieodłącznej mocy. N'Doul wykorzystał otaczającą pustynię, aby ukryć Geba pod piaskiem i nieustannie atakować z zaskoczenia,[2] myślał o stworzeniu ruchomych piasków z wodą[3] i użył Geba do napędzania piasku w powietrze, działając jak sonar do wykrywania dźwięku piasku spadającego z szybowca The Foola.[4]
Amorfizm wody
Geb, będąc zbiornikiem wodnym, jest całkowicie amorficzny, a zatem jest wyjątkowo elastyczny i zwinny, będąc w stanie uniknąć ciosu Star Platinum, skręcając się.[4]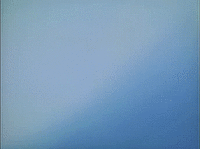 Pomimo tego, że jest to masa wody, pazur Geba jest wystarczająco silny, aby przeciąć mięso, a nawet oderwał głowę mężczyzny i wciągnął ją całkowicie do metalowej manierki.[2][3] Kiedy porusza się z wystarczająco dużą prędkością, Geb może nawet przeciąć metal.[5] Ponadto woda może działać jako twarda tarcza przeciwko pociskom.[4] W OVA Geb mógł również zebrać się w kulę wody i strzelać we wszystkich kierunkach, rozrywając wszystko na dużym obszarze szybkimi pociskami wodnymi.
Jednak woda jest szczególnie podatna na ciepło, ponieważ płomienie Magician's Red mogą ją częściowo odparować, raniąc N'Doula.[5]
Rozdziały / Odcinki

Występy w mandze
Rozdziały w kolejności pojawiania się

Występy w anime
Odcinki w kolejności pojawiania się

Występy w nowelach
Rozdziały w kolejności pojawiania się
Galeria
Ciekawostki
Przypisy
Nawigacja w witrynie