Mary Joestar
Jump to navigation
Jump to search
"
I dlaczego moja matka, o której nie pamiętam, kupiła
to
podczas wakacji? Zastanawiam się, co czuła... (
そして何よりもおぼえていない亡き母が、旅行中に買ったという。思慕の情もある
Soshite naniyori mo oboete inai naki haha ga, ryokō-chū ni katta to iu. Shibo no jō mo aru.
)
"
Mary Joestar (メアリー・ジョースター, Mearī Jōsutā) to trzeciorzędna postać pojawiająca się w pierwszej części serii JoJo's Bizarre Adventure, Phantom Blood.
Mary jest zmarłą żoną George'a Joestara i matką Jonathana Joestara. Towarzyszy mężowi podczas podróży do Londynu i umiera chroniąc swoje dziecko, gdy powóz ulega wypadkowi i spada z klifu.
Wygląd
Mary ma krótkie, kręcone, jasne włosy trzymane na szyi. Nosi naszyjnik choker z medalionem wraz z wiktoriańską sukienką. Jej sukienka ozdobiona jest różą.
Schematy kolorów
Seria znana jest z zmiennych kolorów między mediami, informacje przedstawione poniżej mogą, ale nie muszą być kanoniczne.
Ubiór
(Beżowa sukienka z pomarańczową różą, złota biżuteria.)
Historia
W pewnym momencie w latach 1860 Mary i George Joestar mają parę pierścionków wykonanych przez słynnego jubilera na zaręczyny.[1] Później mają syna o imieniu Jonathan Joestar 4 kwietnia 1868 roku.[2] Krótko po narodzinach Jonathana Mary i George podróżują z nim do galerii sztuki w Londynie. George znajduje tam Kamienną Maskę i polubił ją, a Mary kupuje ją dla niego.[3]
W drodze do domu ich powóz ześlizguje się z klifu w deszczu; Mary ginie w wypadku, chroniąc swoje dziecko. Dario Brando widzi ich ciała i, zakładając, że nikt w powozie nie przeżył, kradnie obrączkę, którą Mary dała George'owi. Jednak George budzi się i błędnie interpretuje działania Dario, wierząc, że uratował go i dziecko. Kiedy Dario potwierdza śmierć Mary, George lamentuje, że powinien był umrzeć zamiast niej, choć jest wdzięczny, że ich syn jest bezpieczny.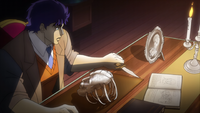 George trzyma Kamienną Maskę zawieszoną na jednej ze ścian rezydencji Joestar jako pamiątkę po Mary. Jonathan trzyma również zdjęcie Mary na wezgłowiu swojego łóżka. Po izolacji przez Dio, Jonathan patrzy na zdjęcie i płacze, tęskniąc za nią, mimo że nie pamięta o niej.[4]
Siedem lat po adopcji Dio, Jonathan studiuje Kamienną Maskę, wspominając, w jaki sposób maska została pierwotnie uzyskana z podróży jego matki. Czuje tęsknotę za jej spotkaniem, mimo że nie ma o niej wspomnień.[5]
Gdy umiera, George daje Pierścień Mary Jonatanowi, aby mógł go zachować.[1] Anime zawiera scenę płonącego zdjęcia Mary wraz z ciałem George'a, gdy rezydencja Joestar płonie.[6]

Rozdziały / Odcinki

Manga Appearances
Chapters in order of appearance

Anime Appearances
Episodes in order of appearance
Galeria
Przypisy
Nawigacja w witrynie