Dire
Jump to navigation
Jump to search
"
Ja, Dire, pogrążę cię w otchłani piekła! (
このダイアーがおまえを地獄の淵に沈めてやる!
Kono Daiā ga omae o jigoku no fuchi ni shizumete yaruǃ
)
"
Dire (ダイアー, Daiā) jest drugorzędnym sprzymierzeńcem występującym w pierwszej części serii JoJo's Bizarre Adventure, Phantom Blood.
Dire jest użytkownikiem Fali studiującym pod okiem mistrza Fali Tonpetty'ego, wraz ze Straizo. Jako bliski przyjaciel Willa Anthonio Zeppeli, pomaga Jonathanowi w walce z Dio Brando i jego armią zombie.
Wygląd
Dire jest bardzo muskularnym, dojrzałym mężczyzną, który ma wyrzeźbione rysy twarzy i jasne włosy oraz duży płaski top z wdowim szczpicem.
Nosi obszerne bawełniane ubrania z wyściełanymi chusteczkami na ramionach, z frędzlami materiału wystającymi z ramion i kostek. Nosi również skórzaną kamizelkę i ciemne opaski. Zakasuje rękawy, aby rozsunąć rękę.
Jego wygląd zmienia się znacząco w anime, gdzie traci skórzaną zbroję na rzecz prostej kamizelki, która zakrywa ramię, a zamiast tego nosi gorget i metalowe naramienniki. Ponadto frędzle są zredukowane do pary kolców wychodzących z naramienników.
Schematy kolorów
Seria znana jest z zmiennych kolorów między mediami, informacje przedstawione poniżej mogą, ale nie muszą być kanoniczne.
Ubiór
(Jasnoniebieskie ubrania, zbroja ze skóry khaki, brązowy pas, czarne akcesoria.)
Ubiór
(Fioletowe ubrania, czarno-brązowa skórzana zbroja i akcesoria.)
Ubiór
(Szare ubrania, zbroja i akcesoria, ciemnoniebieskie spodnie.)
Osobowość
Dire jest przedstawiany jako zacięty, ale honorowy użytkownik i wojownik Fali. Po spotkaniu z Jonathanem, testuje zdolność walki Jonathana w przeciwdziałaniu niedoskonałemu Atakowi Podziału Gromu, a później prosi Jonathana, aby pozwolił mu walczyć z Dio jeden na jednego, aby pomścić swojego przyjaciela Willa A. Zeppeliego. Nawet umierając, Dire jest zdeterminowany, drwiąc z Dio po raz ostatni, wysyłając różę z Falą w oko wampira.
Umiejętności
Dire pokazał niesamowite mistrzostwo Fali. Ma pełną kontrolę nad swoim ciałem i jego prędkością, do tego stopnia, że tworzy powidoki podczas ruchu. Manipuluje swoją prędkością, aby wyglądać wolniej niż w rzeczywistości, technika, która sprawia, że wrogowie są zbyt pewni siebie i ostatecznie obniżają czujność. Jest również w stanie nasycić przedmioty Falą i udaje mu się go użyć tuż po ścięciu (na róży), z pozostałym tlenem w mózgu.
Dire skacze na przeciwnika i wykonuje szpagat nogami, uniemożliwiając przeciwnikowi poruszanie rękami. Następnie atakuje szyję wroga uderzeniem nasyconym Falą. Jest na tyle szybki, że Dire jest nawet w stanie umieścić przedmioty na swoim przeciwniku, nie zauważając, gdy wsuwa list między ramię Jonathana a plecak. Słabością tego ataku jest to, że pozostawia gardę Dire'a otwartą na uderzenie głową lub inny bezpośredni atak.
Historia
Tło
Dire był dobrym przyjacielem Willa Anthonio Zeppeli, który trenował z nim i Straizo, aby zostać mistrzami Ripple pod okiem Tonpetty'ego. Kiedy Tonpetty otrzymał list od Zeppeli, ujawniający lokalizację Kamiennej Maski, Dire udał się do Windknight's Lot ze swoim panem i Straizo.
Phantom Blood
Dire po raz pierwszy przedstawił się po tym, jak nagle zaatakował Jonathana, gdzie Dire użył przeciwko niemu swojego Ataku Podziału Gromu. Jednak Jonathan skontrował ten ruch, uderzając go głową. Użytkownik Fali ujawnił, że zaatakował Jonathana tylko po to, aby sprawdzić jego siłę i sprawdzić, czy naprawdę jest przyjacielem Zeppeliego. Aby udowodnić, że przyszedł z pomocą, Dire dał Jonathanowi list, który napisał Zeppeli.[3]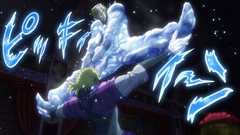 Zanim Dio Brando i Jonathan stoczyli swoją ostatnią walkę, Dire walczył z Dio, aby pomścić Zeppeliego. Jednak nawet najlepszy atak Dire'a, Atak Podziału Krzyża Gromu, nie miał szans w starciu z Mroźnym Atakiem Dio, który całkowicie zamienił jego ciało w lód, a następnie rozbił je. Dire, teraz tylko głowa, był w stanie wykorzystać ostatnią uncję energii Fali, aby wystrzelić różę w oko Dio. W tym celu głowa Dire'a również została zamieniona w lód i zniszczona.
Rozdziały / Odcinki

Manga Appearances
Chapters in order of appearance

Anime Appearances
Episodes in order of appearance

Novel Appearances
Chapters in order of appearance
Cytaty

Quotes
"

Nazywam się Dire. (

我が名はダイアー

Waga na wa Daiā

)

"

"

Pewna śmierć! Atak Podziału Gromu (必殺!稲妻空烈刃!!Hissatsu! Sandā Supuritto Atakku!!)

"

"

Ja, Dire, pogrążę cię w otchłani piekła! (

このダイアーがおまえを地獄の淵に沈めてやる!

Kono Daiā ga omae o jigoku no fuchi ni shizumete yaruǃ

)

"

"

Dałeś się na to nabrać, głupcze! Atak Podziału Krzyża Gromu! (かかったなアホが!稲妻十字空烈刃!Kakatta na aho gaǃ Sandā Kurosu Supuritto Atakkuǃ)

"

"

Heheh... T-Ten cierń róży nasycony Falą jest b-bolesny... czyż nie...? Ha... (

フフ……は…波紋入りの薔薇の棘はい、痛か……るう………フッ

Fufu... Ha... Hamon-iri no bara no toge wa i, ita ka... ru... Fu...

)

"
Gry wideo
Dire appears as a playable character in 77 Rings Knights Mode, some battles in Extra Battle Mode, and Chapters 19 and 20 after Story Mode is beaten. His moveset consists of mainly normal punches and kicks, with his special Ripple move being Thunder Split Attack. He can also throw Ripple-charged roses and dodge attacks in a similar fashion to how he controlled his body speed in the original story.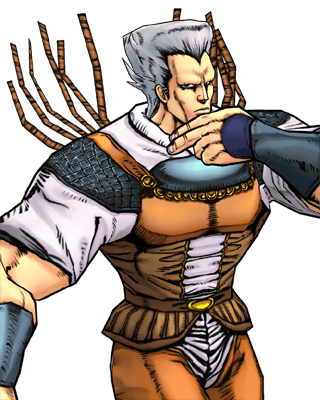 Dire








Ripple Heavenly Thunder Upper












Running

Running



during damage

(LV0-3)















Available Stages:
Story Mode Replay: Chapters 19, 20
Extra Battles 21, 22, 24, 25, 31, 32
77 Rings Knights Mode: Ripple Warriors
Dire pojawia się jako postać wspierająca w trybie kampanii, w którym używa swojego Ataku Podziału Gromu na przeciwniku gracza, co zmniejszy jego zdrowie o 40%, jeśli się powiedzie. Jeśli gracz zapłaci dodatkowy punkt energii, zamiast tego użyje Atak Podziału Krzyża Gromu, zadając 30% więcej obrażeń. Jest również dostępny jako obraz awatara i cytat dla profilu gracza w trybach kampanii i online.
Dire appears in Diamond Records as a playable character in both the Action Battle and Tactical Battle game modes. He has two 'Courage' type statues, one 4 star and one 5 star statue. Dire's moveset in both game modes is comprised of various ripple-based attacks inspired by the anime. As a ripple user, Dire has an advantage over vampires, zombies, and pillar men. Unlike a majority of statues in the game, Dire lacks an unlockable SP skill.

Dire

Offensive and Defensive Special Technique ver.
攻守一体の必殺技 ver.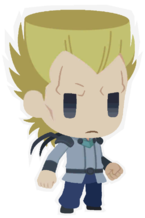 Rarity:

Max Power: 1099
(Lvl 50)
/ 2329
(Lvl 80)
Release Date: June 3, 2019
Favorite Gift and Voiced Gift Reactions:

Skill:
Thunder Cross Split Attack

Replaces panels on the corners with partner panels




































Skill Lv 1
# of Replaced Panels:
8
Cooldown:
85




































Skill Lv 2
# of Replaced Panels:
10
Cooldown:
85




































Skill Lv 3
# of Replaced Panels:
10
Cooldown:
80




































Skill Lv 4
# of Replaced Panels:
12
Cooldown:
80




































Skill Lv 5
# of Replaced Panels:
12
Cooldown:
75
Galeria
Dire prosi Jonathana i spółkę, aby pozostali z powrotem, jednocześnie szukając zemsty (Część 3 OVA Timelines)
Ciekawostki
Przypisy
Nawigacja w witrynie