Tattoo
Jump to navigation
Jump to search
"
Hej, twardzielu! Co myślałeś, że stanie się, kiedy odsunę ten nóż, co? Stracisz te cztery swoje ładne palce! (
体のでけえタフなあんちゃんよォ!おいらがこのナイフをちょいとひっぱったらどうなると思う?完璧に4本の指は そげ落ちるぜ!
Karada no deke e tafu na an-chan yo! Oira ga kono naifu o choi to hippattara dō naru to omou? Kanpeki ni 4-pon no yubi wa soge ochiru ze!
)
"
Tattoo (刺青, Irezumi), który jest tak nazywany przez Speedwagona, jest trzeciorzędnym sprzymierzeńcem występującym w pierwszej części serii JoJo's Bizarre Adventure, Phantom Blood. Jako mieszkaniec Ogre Street, początkowo próbuje obrabować Jonathana Joestara wraz ze Speedwagonem i Kempo Fighterem.
Wygląd
Tattoo to chropowaty dorosły mężczyzna ze średniej wielkości brodą i zaniedbanymi włosami. Jego garderoba składa się głównie ze skórzanej kurtki z frędzlami, spodni i paska. Jego najbardziej zauważalną cechą i oczywistym źródłem jego imienia jest duży tatuaż rozciągający się od policzka do policzka i od czoła do grzbietu nosa - tatuaż wydaje się być albo motylem, albo wzorem podobnym do obrazu testowego Rorschacha.
Schematy kolorów
Seria znana jest z zmiennych kolorów między mediami, informacje przedstawione poniżej mogą, ale nie muszą być kanoniczne.
Skóra
(Jasna, niebieski tatuaż na twarzy.)
Ubiór
(Opalone ponczo na zielonym płaszczu, brązowy pasek ze złotą klamrą, niebieskie spodnie.)
Skóra
(Jasna, czerwony tatuaż na twarzy.)
Ubiór
(Beżowe poncho na niebieskim płaszczu i spodniach, brązowym pasku, czarnych podgrzewaczach na ramiona.)
Skóra
(Jasna, niebieski tatuaż na twarzy.)
Ubiór
(Beżowe poncho z zielonym kołnierzem i ciemnobrązowymi frędzlami, modowy beżowy płaszcz z zielonymi rękawami, modne beżowe spodnie.)
Skóra
(Jasna, niebieski tatuaż na twarzy.)
Ubiór
(Beżowe ponczo i spodnie na beżowym płaszczu z zielonymi rękawami, kasztanowe ocieplacze na ramiona, brązowy pasek ze srebrną klamrą, czarne buty.)
Osobowość
Niewiele wiadomo o osobowości Tattoo'a, ale jest on awanturniczym, brutalnym bandytą ulicznym. Jako złodziej z niebezpiecznej uliczki znanej jako Ogre Street, Tattoo jest znany z atakowania nieznajomych wraz ze swoimi dwoma przyjaciółmi. Znany jest z używania noża i nie okazuje skruchy za okaleczanie i rozczłonkowywanie przeciwników.
Historia
Phantom Blood
Niewiele wiadomo o Tattoo, poza jego awanturniczą naturą i znajomością z innym bandytą z Ogre Street, Robertem E. O. Speedwagonem. Po raz pierwszy zostaje przedstawiony, gdy wraz ze Speedwagonem i Kempo Fighterem zastawia zasadzkę na Jonathana Joestara podczas jego podróży, aby znaleźć lekarstwo na chorobę ojca. Speedwagon wysyła Tattoo'a, aby najpierw zaatakował Jonathana: próbując dźgnąć Jonathana nożem, jest zaskoczony, gdy Jonathan chwyta ostrze. Chociaż grozi, że odetnie palce Jonathana, wyciągając ostrze, Tattoo zostaje znokautowany przez szybki cios Jonathana.[1] Po porażce Speedwagona, Tattoo jest zszokowany, gdy odkrywa, że jego obrażenia są niewielkie, a Jonathan powstrzymał się ze względu na swoją rodzinę.[2]
Po walce Jonathana z Dio w rezydencji Joestar, Speedwagon postanawia odwiedzić Jonathana w szpitalu, zabierając ze sobą Tattoo i Kempo Fightera na przejażdżkę. W trosce o zdrowie swojego przyjaciela, Tattoo sugeruje, aby Speedwagon zrelaksował się z powodu własnych obrażeń, sugestię, którą Speedwagon odrzuca, zanim upadnie twarzą w twarz na ziemię.[3]
On i Kempo Fighter dołączają do reszty przyjaciół Jonathana, aby zobaczyć Jonathana i Erinę w podróży poślubnej do Ameryki.[4]
Rozdziały / Odcinki

Manga Appearances
Chapters in order of appearance

Anime Appearances
Episodes in order of appearance
Gry wideo
Referred to as "Tattoo Guy" in the game, he appears as an enemy during Chapter 05 alongside Speedwagon and the Kempo Fighter. He can be selected for one fight in Extra Battle Mode, though his moveset is limited.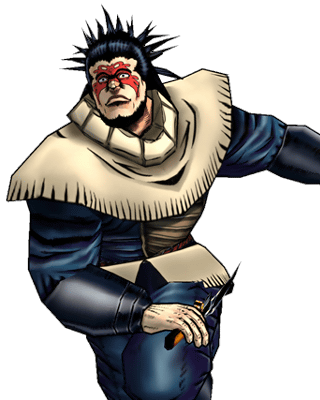 Tattoo Guy









Running

Running


Available Stages: Extra Battle 04
Tattoo pojawia się w grze jako część zestawu ruchów Speedwagona i ekskluzywnego stylu, Ogre Street (食屍鬼街, Ougā Sutorīto). Po użyciu Speedwagon tymczasowo przywoła Tattoo i Kempo Fightera, którzy będą podążać za nim, dopóki nie zostaną: rozkazu o zaatakowanie, uderzeni lub oddzielielą się wystarczająco daleko od niego.
Używając umiejętności "Idźcie na szaleństwo z tymi nożami, chłopcy!", Tattoo zaatakuje cel Speedwagona i wypuści nieblokowalny cios, ale także zaatakuje najbliższego przeciwnika, jeśli Speedwagon nie zostanie zablokowany na nikim.
Tattoo pojawia się w Diamond Records jako część movesetu Speedwagona, obok Kempo Fighter. W Action Battle, może zostać wezwany do ataku nożem lub zostać wezwany obok Kempo Fightera, aby pomóc Speedwagon walczyć z przeciwnikami przez ograniczony czas. Jednak w Tactical Battle może być wezwany tylko do wykonywania pojedynczych ataków.
Tattoo pojawia się również sam jako postać wroga.
Galeria
Przypisy
Nawigacja w witrynie