Arabia Fats
Jump to navigation
Jump to search
"
karta Standa "Słońce"... Był groźnym przeciwnikiem, ale kiedy już zrozumiesz jego sztuczkę, jest po prostu kolejnym idiotą.
"
Arabia Fats (アラビア・ファッツ, Arabia Fattsu) jest trzeciorzędnym antagonistą występującym w trzeciej części serii JoJo's Bizarre Adventure, Stardust Crusaders, a konkretnie w fabule "Sun".
Jest agentem DIO, który zastawia zasadzkę na Grupę Joestar na środku arabskiej pustyni ze swoim Standem, Słońce.
Wygląd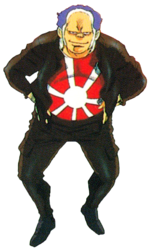 Arabia Fats to niski, otyły mężczyzna z krótkimi, kolczastymi włosami i cofniętą linią włosów. Ma koszulkę ze słońcem przypominającym flagę wschodzącego słońca Japonii. Ma również rozpięty płaszcz, spodnie cargo i mokasyny.
Schematy kolorów
Seria znana jest z zmiennych kolorów między mediami, informacje przedstawione poniżej mogą, ale nie muszą być kanoniczne.
Ubiór
(Pomarańczowa kurtka, czerwono-żółty podkoszulek, spodnie khaki, brązowe buty)
Ubiór
(Biała kurtka, czerwono-pomarańczowy podkoszulek)
Ubiór
(Szara kurtka i spodnie, czerwono-biały podkoszulek)
(
Obraz został rozjaśniony
)
Ubiór
(Jasnoniebieska kurtka, czerwono-żółty podkoszulek, niebieskie dżinsy, brązowe buty)
Osobowość
Osobowość Arabia Fats nigdy nie jest w pełni pokazana z powodu szybkiego pokonania, ale okazuje się, że jest dobrze przygotowanym, cierpliwym, niemoralnym użytkownikiem Standa, który jest gotów czekać tak długo, jak to konieczne, aż Grupa Joestar umrze z jego Stand. Upewnił się, że jego kryjówka jest wygodna, ponieważ jego Stand dramatycznie podnosi temperaturę otoczenia, dając sobie miejsce do siedzenia, napoje i klimatyzację. Okazuje się również sprytny, ponieważ przymocował duże lustro do małego pojazdu, aby skorzystać z jałowego krajobrazu pustyni. Jednak ta pomysłowość nie wystarczyła, aby zapobiec jego porażce, ponieważ lustro niestety odbiło duży kamień, odsłaniając go. Jotaro nazywa go początkowo groźnym, ale w rzeczywistości raczej nędznym przeciwnikiem.[2]
Umiejętności
Główny artykuł: Słońce
Stand Arabia Fats to wielka ognista kula podobna do samego słońca, która może ogrzać okolicę do niebezpiecznych poziomów, sprawiać wrażenie światła dziennego i strzelać promieniami energii. Jednak sam Arabia nie jest odporny na swój Stand i musi pozostać w pewnym zakresie swoich celów, aby nadal narażać je na jego skutki.
Słońce
(
サン (太陽)
)


Umiejętność
Replika Słońca, Energia Promienia Światła
Historia
Stardust Crusaders (1988)
Arabia Fats był jednym z użytkowników Standów, których zadaniem było pokonanie Grupy Joestar. Podążył za grupą na pustynię arabską w gokartu wyposażonym w klimatyzator. Pozostał zakamuflowany za pomocą urządzenia lustrzanego przymocowanego do gokarta, które odbijało obraz piasku na pustyni, aby grupa go nie zauważyła.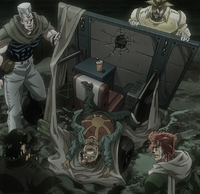 Cierpiąc z powodu ciepła wytwarzanego przez zdolności Arabii, grupa ostatecznie wydedukowała, że samo słońce jest Standem.[4] Wraz ze wzrostem temperatury grupa szykuje strategię. Noriaki Kakyoin pośpiesznie manifestuje Hierophant Green, ale Słońce wyrzuca promienie energii. Jotaro reaguje, zanurzając się w ziemi z Star Platinum i dając grupie jakąś jaskinię, w której może się ukryć. Desperacja sięga zenitu, ale nagle zaczynają się maniakalnie śmiać. Bohaterowie zrozumieli sztuczkę Arabii Fatsa, gdy zobaczyli kamień odbijający się w jego lustrze. W ten sposób Jotaro nakazuje Star Platinum rzucić kamieniem w lustro, które przebija je i wybija Arabia Fats. Moc Słońca zostaje anulowana. Jotaro komentuje, że Arabia mógł być groźny, ale po odkryciu jego sztuczki był kolejnym idiotą po drodze. Joseph jest po prostu zszokowany tym, jak prosta była ta wymiana. Nie wiadomo, czy Fats przeżył cios, ale biorąc pod uwagę komiczny wygląd jego siniaka, prawdopodobnie został po prostu powalony do nieprzytomności.[5]
Rozdziały / Odcinki

Występy w mandze
Rozdziały w kolejności pojawiania się

Występy w anime
Odcinki w kolejności pojawiania się
SC Episode 18: Sun

(Wycofany/a)

Występy w nowelach
Rozdziały w kolejności pojawiania się
Tworzenie i rozwój
Araki stworzył Arabia Fats, aby wyglądał na bardzo silnego, zastraszającego wroga, aby oszukać czytelników, że bitwa potrwa kilka tygodni tylko po to, aby zobaczyć go pokonanego niemal natychmiast po tym, jak Grupa Joestar odkryje sztuczkę jego Standa.[6]
Arabia Fats otrzymał właściwą nazwę dopiero kilka lat po publikacji części 3, gdzie została ujawniona w porcie PlayStation Heritage for the Future i ostatecznie udokumentowana w JOJO A-GO!GO!.
Casting
Aktor głosowy Arabia Fats w Heritage for the Future, Wataru Takagi, również podkładał głos Cameo, Boingo i Kenny'emu G. w tej samej grze. Ostatecznie użyczył głosu Okuyasu Nijimurze w wielu mediach od czasu 'All-Star Battle'.
Gry wideo
Arabia Fats jest jednym z wielu bossów występujących w grze. Gdy grupa dotrze do Egiptu, utknie na pustyni bez końca, a gracz musi rozpocząć walkę, sprawdzając słońce. Kiedy to zrobi, Słońce przyjdzie, aby zaatakować grupę. Potem Arabia Fats podda się, da grupie pieniądze i opowie im o Iggy'm, który mieszka w pobliskim pustynnym miasteczku.

Arabia Fats appears in a special mini-game. The player takes control of Star Platinum in first-person. The objective is to find his hideout and throw a rock at it before Arabia Fats hits the player with Sun's rock; the player needs to do this four times to deplete Arabia Fats's life bar. After the mini-game, Arabia Fats appears in a cutscene, knocked out as the group states that his Stand was rather childish.
Galeria
Przypisy
Nawigacja w witrynie