Cameo
Jump to navigation
Jump to search
"
Proszę wybacz miiiii!
"
Cameo (カメオ, Kameo) jest trzeciorzędnym antagonistą występującym w trzeciej części serii JoJo's Bizarre Adventure, Stardust Crusaders, a konkretnie w fabule "Judgement".
Izoluje Polnareffa od Grupy Joestar na odosobnionej wyspie na Morzu Czerwonym, podczas gdy oni są tam, aby odzyskać Avdola. Cameo jest jednym z popleczników DIO i użytkownikiem Standa, który dzierży dżina Stand, Judgment.
Wygląd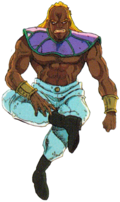 Cameo to dojrzały mężczyzna o atletycznej budowie. Jest łysiejący, ale ma długie włosy z tyłu. Jego strój składa się z usekh, opaski na guziki, spodnie i buty. Nosi również maskę do nurkowania z dodatkowym paskiem na czubku głowy pod ziemią, aby brud nie dostał się do oczu.
Schematy kolorów
Seria znana jest z zmiennych kolorów między mediami, informacje przedstawione poniżej mogą, ale nie muszą być kanoniczne.
Ubiór
(Szara maska do nurkowania, zielony usekh i opaski na rękę, spodnie khaki z żółtą klamrą, brązowe buty.)
Ubiór
(Fioletowy usekh, złote opaski, cyjanowe spodnie, ciemnobrązowe buty.)
Ubiór
(Czarna maska do nurkowania, niebieski i żółty usekh.)
Ubiór
(Szara maska do nurkowania z żółtym nausznikiem, turkusowy usekh, ciemne turkusowe opaski na rękę i buty, spodnie khaki.)
Osobowość
Cameo to okrutny mężczyzna, który udaje dżina za pomocą swojego Standa, Judgment. Początkowo przybiera postać wdzięcznego dżina i jest pobłażliwy, pozwalając Polnareffowi potwierdzić, czy chce złożyć życzenie, które Cameo uważa za nudne, a nawet anulować życzenie po jego potwierdzeniu.[2]
Cameo ujawnia swoją prawdziwą naturę wkrótce po tym, jak Polnareff chce ożywić Sherry i Avdola. W rzeczywistości jest manipulacyjny i bezduszny, bawi się ludzkimi sercami, aby zabić ich własnymi najgłębszymi pragnieniami. Lubi patrzeć, jak jego ofiary cierpią z powodu własnych życzeń[3] i nadal drwi ze swoich wrogów, nawet gdy pojawia się nieoczekiwana niekorzyść.[4] Pokazuje także realistyczną perspektywę, wyśmiewając Polnareffa za wiarę w to, że ktoś może powrócić do życia.[5]
Chociaż arogancki, Cameo jest tchórzliwy. Ucieka, aby uniknąć jakiejkolwiek krzywdy, jeśli Judgement zostanie obezwładniony. Osobiście dokłada wszelkich starań, aby się ukryć, aby tylko jego Stand mógł wdać się w jakikolwiek konflikt. Jeśli jest zagrożony, woła o litość.[4]
Umiejętności
Główny artykuł: Judgement
Judgement to potężny humanoidalny Stand, który jest bardzo silny i odporny, ale także manipuluje gliną, aby tworzyć fałszywe przedmioty i ludzi. Udaje, że jest dżinem i przekręca życzenia swojej ofiary przeciwko nim.
Judgement
(
ジャッジメント(審判)
)


Umiejętność
Spełnianie Życzeń
Historia
Stardust Crusaders (1988)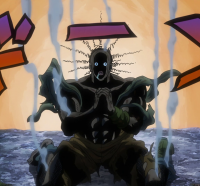 Cameo jest jednym z najemników wynajętych przez DIO do zabicia Jotaro i jego drużyny, czekających na wyspie, gdzie Joseph odwiedza ojca Avdola. Cameo całą walkę spędza pod ziemią, w wykopanej przez siebie, ubrany w okulary pływackie i słomkę do oddychania. Używa swojego Standa Judgement, aby Polnareff uwierzył, że to dżin i wyraził swoje trzy życzenia. Polnareff prosi go o ożywienie Sherry Polnareff i Muhammada Avdola, więc Cameo tworzy ich klony, które ostatecznie atakują Polnareffa.[5]
Pojawia się prawdziwy Avdol i ratuje Polnareffa przed klonami, niszcząc je i znajdując kryjówkę Cameo. O wiele bardziej wyluzowany niż przed jego "śmiercią", Avdol sugeruje Polnareffowi, że powinni go trochę torturować, blokując mu słomkę oddechową palcem na kilka sekund i śmiejąc się, podczas gdy Cameo cierpi na brak powietrza. Polnareff zaczyna od zrzucenia ziemi, pająka, mrówek i zapalonej zapałki na słomę, ale Cameo udaje się wytrwać. Avdol następnie wspomina, że "natura wzywa" i "użyj sprawdzonej techniki męskiego wiązania się razem". Para kończy oddając mocz do jego słomki oddechowej, co skłania przerażonego Cameo do ujawnienia się i błagania o przebaczenie. Avdol odmawia i używa Magician's Red, aby spalić go jako swoje czwarte i ostatnie życzenie.[4]
Rozdziały / Odcinki

Występy w mandze
Rozdziały w kolejności pojawiania się

Występy w anime
Odcinki w kolejności pojawiania się

Występy w nowelach
Rozdziały w kolejności pojawiania się
Cytaty

Quotes
"

Trzy! Tylko trzy! Złóż życzenie! (

3つ!3つだッ!願い事をいえ!

Mitsu! Mitsu da! Negaigoto o ie!

)

"

"

Hail 2 U! (HAIL 2 U(君に幸あれ)!Heiru tū yūǃ)

"

"

Nieeeeeeeee! (

いやだよおォォォォ~~~んンンンンン

Iyada yooooo~nnnnnn

)

"

"

Ludzie mają wszystkie swoje największe słabości w szczerych życzeniach. (

人間は心の底から願うことに最大の弱点全てがあられる

Ningen wa kokoro no soko kara negau koto ni saidai no jakuten subete ga ara reru

)

"
Gry wideo
The group encounters Cameo in a very different way portrayed in the manga. In Pakistan, the player finds him on the second floor of a Big Mansion where, after opening a treasure chest, Judgement will appear stating that it will grant the group three wishes. The first wish it grants is to level up the group, which requires fighting three clay dolls of Jotaro. The second wish allows the group to find Hol Horse, though this turns out to be a clay doll as well. The final wish pits Judgement itself against the group with the exchange of DIO's secret as the prize. Once Judgement is defeated, Cameo himself will appear and admit that he does not know anything about DIO, but urges the group to travel to Egypt to find a Stand user who is presumably not working for DIO.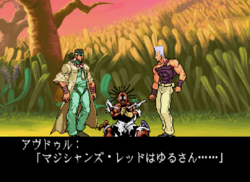 Cameo or Kameo in the English localization, appears as a battle in Super Story Mode. Polnareff has to primarily defeat his Stand, Judgement, who is accompanied by two stone-imitations of Avdol and Sherry. When Judgement is defeated, Cameo then surfaces from his hole to be burnt by the real Avdol.
The English version changes how Avdol and Polnareff play around with him after the fight. Instead of urinating into his breathing pipe, they drop pebbles into it, causing a similar but less-disturbing torture.
Galeria
Trivia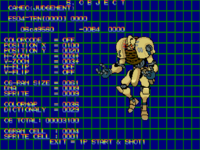 Przypisy
Nawigacja w witrynie