Devo the Cursed
Jump to navigation
Jump to search
"
Nazywam się Devo the Cursed. Mój Stand reprezentuje kartę "Diabła"... (おれの名は呪いのデーボ…スタンドは「悪魔のカード」の暗示…Ore no na wa Noroi no Dēbo... Sutando wa "Debiru no kādo" no anji...)
"
Devo the Cursed (呪いのデーボ, Noroi no Dēbo) jest trzeciorzędnym antagonistą występującym w trzeciej części serii JoJo's Bizarre Adventure, Stardust Crusaders, a konkretnie w fabule "Devil".
Niesławny indiański szaman i zabójca pracujący dla DIO, zastawia zasadzkę na Jean Pierre Polnareffa w swoim pokoju hotelowym w Singapurze. Devo jest użytkownikiem Standa, którego napędzana nienawiścią zdolność Ebony Devil pozwala mu zdalnie posiadać lalkę i atakować cel z zaskoczenia.
Wygląd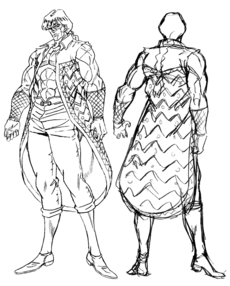 Devo jest wysokim, muskularnym rdzennym Amerykaninem[4] wyróżniającym się licznymi bliznami pokrywającymi jego twarz i ciało, które są wynikiem tego, że Devo pozwala się zranić przez cele, aby jego nienawiść mogła wzrosnąć. Jego włosy są długie, ciemne i splecione z tyłu, zakończone kucykiem i sięgające do pasa.
Devo nosi płaszcz bez rękawów z kołnierzykiem bez koszuli pod spodem, dżinsy, buty i rękawiczki z wzorem kabaretki na przedramionach i palcach. Płaszcz ma inspirowany rdzennymi Amerykanami wzór z każdej strony, rozciągający się wokół pleców i do dołu płaszcza. Składa się z zygzakowatej granicy i kolumn małych spiral. W anime wewnętrzny wzór zmienia się na naprzemienne rzędy małych kółek i zygzaków.
Schematy kolorów
Seria znana jest z zmiennych kolorów między mediami, informacje przedstawione poniżej mogą, ale nie muszą być kanoniczne.
Ubiór
(Brązowy płaszcz, czerwone rękawiczki, spodnie indygo.)
Włosy
(Czarne, zielona opaska do włosów.)
Ubiór
(Różowy płaszcz, ciemnoniebieskie rękawiczki, niebieskie spodnie.)
Włosy
(Ciemnobrązowa, czerwona opaska do włosów.)
Płaszcz
(Oliwkowy płaszcz z matowym żółtym, brązowym i zielonym wzorem.)
Reszta stroju
(Szare rękawiczki, niebieskie dżinsy, brązowe buty.)
Osobowość
Początkowo Devo wydaje się być ignoranckim przeciwnikiem, ukrywającym się w lodówce, ale zostawiającym zawartość na ladzie. W rzeczywistości jest sprytnym płatnym zabójcą, który zwabia swoich przeciwników do ataku, aby mógł w pełni wykorzystać swój Stand. Ma bardzo mało moralności i został zatrudniony przez niezliczone nikczemne osoby i organizacje.[4] Kiedy zostaje zaatakowany, wykazuje rodzaj masochizmu, śmiejąc się i rozkoszując się rozdzierającym bólem, ponieważ uwielbia mścić się za rany.[5]
Poprzez lalkę opętaną przez Ebony Devil, Devo pokazuje z pełną mocą swoją niesamowicie sadystyczną i mściwą stronę. Używa nieortodoksyjnych, ale okrutnych metod tortur, takich jak uwięzienie Polnareffa pod łóżkiem,[2] ugryzienie go i użycie alkoholu i rzucającej płomienie suszarki do włosów, aby spróbować go spalić.[6] Nie waha się zabić wszystkich niewinnych przechodniów, którzy staną mu na drodze.[2] Oprócz sadyzmu, uwielbia drwić ze swoich celów i jest szczególnie wulgarny, grożąc ugryzieniem penisa Polnareffa i żartując z oddawania na niego moczu.[6]
Umiejętności
Główny artykuł: Ebony Devil
Stand Devo to Ebony Devil, przekształcający "nienawiść" ucieleśnioną przez ataki na niego w moc, aby opętać i kontrolował lalkę marionetkową, jako pośredni środek zabójstwa. Według Devo, jego Stand reprezentuje Kartę Tarota Diabła, która reprezentuje szaleństwo wywołane klątwą i ścieżką pecha.[5]
Ebony Devil
(
エボニーデビル(悪魔)
)


Umiejętność
Opętanie Lalki, Wzmocnienie Gniewem
Historia
Tło
Przed sojuszem z DIO, Devo był już znany na całym świecie jako zabójca wynajęty przez wiele postaci w przestępczym półświatku. Po spotkaniu z Devo w tym czasie, wyjaśniając metodę Devo polegającą na zabijaniu swoich celów poprzez wykonanie pierwszego ruchu, Muhammad Avdol wyjaśnia, że żadna osoba, która widziała Stand Devo, nie dożyła, aby o tym powiedzieć. Prowadzi to wielu zwykłych ludzi do przekonania, że Devo przeklina swoje ofiary, aby poniosły straszliwą śmierć, stąd jego pseudonim.[8] Devo jest jednym z siedmiu użytkowników Standów, których Enya wysłała do Azji, aby powstrzymać Grupę Joestar.
Stardust Crusaders (1988)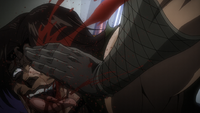 Po przybyciu do Singapuru przed Grupą Joestar, Devo ukrył się w lodówce w pokoju hotelowym, w którym znajdowała się Jean Pierre Polnareff. Kiedy Polnareff zauważył usunięte napoje alkoholowe, wydedukował obecność Devo i zmusił zabójcę do ujawnienia się. Devo właśnie to zrobił, aktywując swój Stand i każąc Silver Chariotowi zadać pierwszy cios kosztem lewego oka. W przerażającym bólu, gdy jego Stand szybko opętał lalkę, Devo sadystycznie przeklina Polnareffa, aby poniósł męczeńską śmierć, zanim spadnie z balkonu.[9] Ale w rzeczywistości Devo uciekł do łazienki na jednym z niższych pięter i pozostał w boksie, aby odegrać swoją klątwę poprzez swoją opętaną lalkę.[10]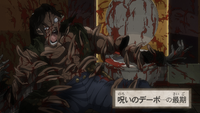 Z Ebony Devil w grze, opętującym lalką Devo udaje się uwięzić Polnareffa pod łóżkiem, aby Silver Chariot nie miał bezpośredniego wzroku użytkownika, zabijając pracownika hotelu i okaleczając jego twarz.[2] Po zabawie z crusaderem na jego łasce, Devo przystępuje do rozlewania alkoholu na podłogę i na Polnareffa z zamiarem użycia wadliwie działającej suszarki do włosów, aby spalić go i porazić prądem na śmierć. Jednak wcześniej Polnareff zdołał rozbić pobliskie lustro podczas ich potyczki, a następnie wykorzystał odbicie jego fragmentów, aby ostatecznie kontratakować Stand Devo z wyraźnym widokiem. Po uwolnieniu Polnareff odcina lalce nogi podczas przesłuchiwania Devo w celu uzyskania informacji na temat J. Geila. Devo odmawia rozmowy pod presją i umiera w przerażającym okaleczeniu, gdy Polnareff brutalnie niszczy Ebony Devil.[6]
Crazy Diamond's Demonic Heartbreak
Poniższa informacja pochodzi ze źródła, które nie zostało napisane przez Arakiego. Jako taki może, ale nie musi być uważany za kanon.
Devo the Cursed pojawia się w spin-offie Crazy Diamond's Demonic Heartbreak w retrospekcji z przeszłości Hol Horse'a. Krytykuje Hol Horse'a za to, że nie pasuje do karty Cesarza, ponieważ chował się za ludźmi, a teraz trzyma się blisko J. Geila. Hol Horse mówi mu, aby zamiast tego poskarżył się Enyi, ponieważ nazwała Stand Hol Horse'a. Następnie Devo grozi Hol Horse'owi swoją marionetką opętaną przez Ebony Devil, mówiąc mu, aby usunął się z drogi i mówiąc, że sam zabije Grupę Joestar.[11]
Rozdziały / Odcinki

Występy w mandze
Rozdziały w kolejności pojawiania się

Występy w anime
Odcinki w kolejności pojawiania się
SC Episode 8: Devil

(Śmierć)

Występy w nowelach
Rozdziały w kolejności pojawiania się
Cytaty

Quotes
"

To bardzo boli!!! HAHAHAHAHAHA!! Odważyłeś się mi to zrobić!!! Teraz naprawdę mogę cię nienawidzić!!

"

"

Mój Stand "Ebony Devil" aktywuje się, gdy jestem ranny! I staje się tym potężniejszy, im więcej nienawiści żywię do mojego przeciwnika!

"

"

Teraz Polnareff, odgryzę ci kutasa!!!

"

"

Uważaj na podłogę! Jest pokryta piwem, winem i sokiem! Taki był mój plan! Nie mógłbym zrobić tego bardziej mokrego, gdybym na to sikał!

"

"

Mam tę suszarkę do włosów i podłoga jest cała mokra... Hehe, zgadniesz, co jeszcze zrobię, Polnareff?! Dam ci wskazówkę! Nie zamierzam jej suszyć!

"

"

Czy jesteś głupi?! Użytkownicy Standów nigdy nie ujawniają swoich umiejętności! Jeśli to zrobią, albo użytkownik Standa, albo jego cel musi umrzeć!

"
Tworzenie i rozwój
Imię Devo zostało zmienione w tłumaczeniu mangi przez VIZ Media, aby uniknąć procesu sądowego ze strony zespołu o tej samej nazwie. Zgodnie z sugestią Hirohiko Araki, został przemianowany na "Soul Sacrifice", co jest odniesieniem do piosenki Santany o tym samym tytule. Od tego czasu nazwa ta była używana w międzynarodowym wydaniu All-Star Battle, napisach Crunchyroll Stardust Crusaders i transmisji Toonami angielskiego dubu.
Casting
Aktor głosowy Devo w All-Star Battle, Unsho Ishizuka później podkładał głos Josephowi Joestarowi w anime części 3 i części 4.
Gry wideo
Devo is one of the many bosses featured in the game. In the game, Devo actually attacks the group in India although he still ambushes them in a hotel.
The group encounters Devo when they enter their hotel room and Devo flies after a brief battle declaring that his grudge will fuel Ebony Devil, much like the original manga. This fight directly features Devo and Ebony Devil. Afterward, the group is attacked by Ebony Devil possessing the doll for a second fight and the doll will eventually flee. However, the group will be attacked a third time and defeat Ebony Devil for good.
Afterward, the group can go check the bathroom and take the Roof Key from Devo's corpse.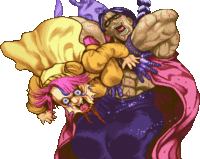 Devo or D'Bo in the English localization, appears in the Capcom game. He was part of the original roster in JoJo's Venture, and is an Active Stand user though Remote Mode only.
Movelist & Gameplay
Devo is one of the more unique characters in the game. While most characters with an Active Stand have their guardian immobilized in front of them, Devo's doll is allowed to roam freely across the battlefield when activated and lays dormant on the ground when it is not.
Aside from directly controlling his Stand, Devo can also order Ebony Devil to lunge at his opponent once, leaving him free to attack with his main body while they are distracted. This allows clever players to lure their opponents between Devo and Ebony Devil, and pincer them between a deadly flurry of attacks.
Stand Appearance Attack

+

(In Air Ok)
NORMAL
Dummy Dive

+

(In Air Ok While Stand Off)
Dummy Cutter

+

+

(In Air Ok While Stand Off)
(Mash

to extend duration)
Dummy Hunter
+

(In Air Ok)
(

+

after hit to extend duration While Stand On)
Junky Carnival

+

Barrel Roll Crusher
+

(In Air Ok)

+

(Notes: Cannot use Stand in child form.)
(※ Only available in Heritage for the Future.)
Story Mode
Devo is an assassin sent by DIO to destroy Jotaro Kujo and his companions. He appears as typical enemy in the Joestar Group's Story Modes.
In Super Story Mode on the PS1 version, Devo is the 7th Stage and the battle mirrors the one in the manga.
Expand/Collapse All

1
Stage 1
(Polnareff Stage 1)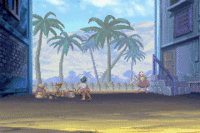 Just like in the manga, Polnareff knows Devo is hiding in the fridge, and fight him. However, this time, Devo is the one winning the survivor of the fight and goes to Kakyoin's room
2
Stage 2
(Kakyoin Stage 2)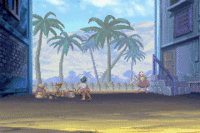 Kakyoin hear loud noises coming from Polnareff's room, and while he planned to warn Mr Joestar, Devo enters the room and kills the student.
3
Stage 3
(Muhammad Avdol Stage 3)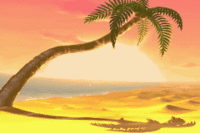 Avdol enters the room and notice a man standing over Kakyoin's body. He recognise this man as Devo the cursed and fight him, but suffers the same fate as Polnareff and Kakyoin. Devo leave Singapour, wanting more victims to curse.
4
Stage 4
(Joseph Joestar Stage 4)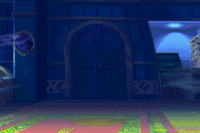 In Egypt, Iggy runs away from Ebony Devil's doll, but gets cornered by the user, who is shocked to learn that a dog is Part of the Joestar Group. He then kills him and goes to his next victim.
6
Stage 6
(Jotaro Kujo Stage 6)
7
Stage 7
(Vanilla Ice Stage 7)
Now leader of the underground, Devo became known as "The Cursed One" who killed DIO. This reputation caused him to be hired by many people, may they be politicians, criminals or armies. Devo's story ends with him threatening the player to curses them.
Expand/Collapse All

7
Unleash Your Vengeance!
(恨みをぶちまけろ! Urami o Buchimakero!)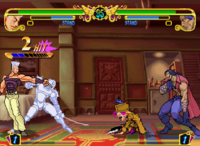 The group arrives in Singapore and checks into a hotel. Polnareff senses an enemy hiding in his room, who emerges from the room's minifridge and introduces himself as Devo the Cursed. Though Polnareff wastes no time attacking him, Devo announces that Polnareff will be cursed by his grudge, and his Stand Ebony Devil possesses a nearby doll. After the battle, Polnareff interrogates Ebony Devil about the man with two right hands; Devo refuses to respond, inciting Polnareff to slice the doll apart.
Secret Factor: I'll have to slice him up real good! (メッタやたらに突くしかねえ)

End the fight with Polnareff's Million Split special move.
Palettes
| A | B | C | Stand | Start |
| --- | --- | --- | --- | --- |
| | | | | |
Devo appears in Diamond Records as a playable character in both the
Action Battle
and
Tactical Battle
game modes. He has one 'Courage' type 5 star statue. In Action Battle, Devo remotely commands a doll controlled by
Ebony Devil
using his various Skills and SP attacks. However in Tactical Battle, the doll does not have a special gimmick and is only summoned for attacks like a typical stand ability.
An antagonist from Part 3: Stardust Crusaders. Usually known as Devo the Cursed, he is the user of the Stand Ebony Devil and a henchman of DIO. He attacks Polnareff, but dies when the Frenchman turns the tables using a mirror and slices almost all of Devo's body into shreds.[12]

User of the Stand Ebony Devil, and a henchman of DIO's known as Soul Sacrifice the Cursed. He attacks Polnareff, but dies when the Frenchman's quick wit turns the battle around using a mirror, and almost all of Soul Sacrifice's body is cut to shreds.

第3部『スターダストクルセイダース』の登場人物。『エボニーデビル』のスタンド使い。DIOの部下で、通称呪いのデーボ。ポルナレフを襲撃して苦しめるが、鏡を用いた機転によって逆転され、ほとんど全身を切り刻まれて死亡した。
Devo the Cursed, localized as "Soul Sacrifice" in international releases of the game, is featured in All-Star Battle R with a list of Tag Lines (プレイヤーカード名言, Pureiyā Kādo Meigen). They are unlocked by completing

150 Secret Missions in All-Star Battle Mode.


Tag Lines
"

They call me Devo the Cursed. My Stand is the Tarot card, Ebony Devil.

"

"

The ruin of your cursed spirit! Your fall from grace! That's what it means!

"

"

How did you know I was in the refrigerator?

"
Galeria
Przypisy
Nawigacja w witrynie