Winzaleo
Jump to navigation
Jump to search
"
Nazywam się Król Lew! (
我が名は獅子王!
Waga na wa Shishiō!
)
"
Winzaleo Król Lew (獅子王ウィンザレオ, Shishiō Winzareo) jest trzeciorzędną postacią występującą w pierwszej części serii JoJo's Bizarre Adventure, Phantom Blood.
Winzaleo jest jednym z zaledwie pięciu rycerzy, którzy przeżyli i wygrali proces 77 Pierścieni. Został pominięty w adaptacji anime, ale pojawia się jako grywalna postać w grze Phantom Blood na PlayStation 2 z oryginalnym wyglądem.
Wygląd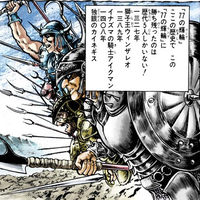 W grze Winzaleo pojawia się jako dziki, krzepki mężczyzna z ciemnymi, kolczastymi włosami skierowanymi do tyłu, wydatnymi kośćmi policzkowymi i szerokim nosem. Nie ma brwi i ma gęstą brodę. Nosi okrąg ze złotem na środku, zbroję odsłaniającą jego brzuchy i uda oraz pelerynę ozdobioną złotymi kamieniami szlachetnymi. Jego oczy nie mają tęczówek i ma ostre kły. Winzaleo ma również bandaże owinięte wokół ramion i nosi rękawiczki.
W mandze nie wiadomo, który rycerz jest konkretnie Winzaleo, jednak możliwe jest, że jest rycerzem narysowanym w centrum z powodu jego brody.
Schematy kolorów
Seria znana jest z zmiennych kolorów między mediami, informacje przedstawione poniżej mogą, ale nie muszą być kanoniczne.
Ubiór
(Niebiesko-szara zbroja, brązowa peleryna)
Osobowość
Jego osobowość w mandze jest nieznana, ponieważ został tylko wspomniany. W grze wideo Winzaleo wydaje się być dumny ze swojego tytułu "Króla Lwa", ponieważ deklaruje swój tytuł w bitwie. Jest opisany w trybie profilu gry jako rycerz, który zdobył tytuł "Króla Lwa" ze względu na swój dziki wygląd, umiejętności posługiwania się toporami, silną budowę i rycerskiego ducha.[2]
Umiejętności
Będąc pierwszym rycerzem, który ukończył wyzwanie 77 Pierścieni, Winzaleo jest niezwykle wytrzymały i jest w stanie wytrzymać ciężar ponad stu kilogramów na swoim ciele. Pomimo posiadania utrudnień poprzez noszenie kilku obciążonych pierścieni, Winzaleo udaje się pokonać wszystkich swoich przeciwników i przekroczyć 10-kilometrowe pasmo górskie.
[3]
---
---
Winzaleo dzierży gigantyczny topór bojowy i wyróżnia się umiejętnością posługiwania się toporami. Jest w stanie używać go jedną lub dwiema rękami. Jego ataki polegają na wymachiwaniu toporem, uderzaniu nim o ziemię i pchaniu go do przodu. Uderzając siekierą o ziemię, może wytworzyć kilka fal sejsmicznych.
Po tym, jak został ożywiony jako zombie przez
Dio Brando
w grze wideo, siła Winzaleo jest pomnożona kosztem osłabienia go na światło słoneczne i
Falę
.
---
Koniec sekcji niekanonicznej.
---
Historia
Tło
W 1327 roku Winzaleo jest pierwszym rycerzem, który przeżył i pomyślnie ukończył wyzwanie 77 Pierścieni. Przeszedł do historii jako legendarny rycerz obok Eijkmana, Caineghisa, Bruforda i Tarkusa.[3]
---
---
1889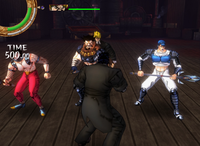 Ponad pięćset lat później Winzaleo zostaje wskrzeszone przez Dio Brando wraz z innymi zwycięzcami wyzwania 77 Pierścieni Na rozkaz Dio, Winzaleo, Eijkman, Caineghis i Wang Chan zakradają się na pokład statku płynącego do Ameryki. Po tym, jak Dio przejmuje ciało kiędza Styxa wzywa trzech rycerzy zombie, aby pokonali dla niego Jonathana Joestara.
W końcu Jonathan pokonuje go wraz z innymi rycerzami.[2]

---
Koniec sekcji niekanonicznej.
---
Rozdziały

Manga Appearances
Chapters in order of appearance
Cytaty

Quotes
"

Nazywam się Król Lew! (

我が名は獅子王!

Waga na wa Shishiō!

)

"

"

Zdmuchnę cię! (

消し飛べ!

Keshitobe!

)

"
Tworzenie i rozwój
Według Yusuke Sasaki, producenta z Bandai Namco Games, Winzaleo został początkowo zaprojektowany przez ich pracowników. Poprosili Hirohiko Arakiego, aby się mu przyjrzał, a następnie dokonał poprawek.[4]
Trzej rycerze zostali dodani w ostatecznej bitwie gry, ponieważ producent gry uważał, że Wang Chan nie byłby dobrym ostatecznym bossem, gdyby pozostał całkowicie wierny historii. Nie chciał jednak całkowicie odejść od historii JoJo, więc Araki podsunął mu różne pomysły.[4]
Casting
Chociaż Yasunori Masutani został wymieniony w napisach końcowych gry, nie określono, jaką rolę pełnił.,Sam Masutani potwierdził, że podkładał głos Winzaleo na Twitterze.[1]
Gry wideo
Winzaleo is playable for one Extra Battle in the Phantom Blood PS2 game where he has to defeat Eijkman, Caineghis, Bruford, and Tarkus at the same time. He also appears as an enemy in the alternate final chapter and 77 Rings Knights Mode.
Winzaleo









Running

Running



during damage

(LV0-3)
Available Stages: Extra Battle 28
Galeria
Ciekawostki
Przypisy
Nawigacja w witrynie