Caineghis
Jump to navigation
Jump to search
"
Pozwól mi usłyszeć twoje miłe sekrety! (
心地よい秘めよう聞かせてくれよ!
Kokochiyoi hime yō kika sete kure yo!
)
"
Jednooki Człowiek Caineghis (独眼のカイネギス, Dokugan no Kainegisu) jest trzeciorzędną postacią występującą w pierwszej części serii JoJo's Bizarre Adventure, Phantom Blood.
Caineghis jest jednym z zaledwie pięciu rycerzy, którzy przeżyli i wygrali proces 77 Pierścieni. Został pominięty w adaptacji anime, ale pojawia się jako grywalna postać w grze Phantom Blood na PlayStation 2 z oryginalnym wyglądem.
Wygląd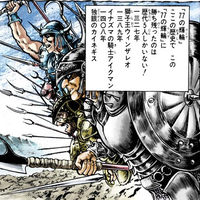 W grze wideo Caineghis pojawia się jako mężczyzna o atletycznej budowie i ciemnoróżowej szmince. Ma długie ciemne włosy z dużą, falującą grzywką pokrywającą prawe oko, którego prawdopodobnie brakuje, biorąc pod uwagę jego epitet. Ma małą tęczówkę w lewym oku i brak brwi. Caineghis jest bez koszuli, ale nosi kolczugę na szyi, metalowe paski na ramionach i rękawy kabaretki na ramionach. Na środku jego spodni znajduje się złoty emblemat z wygrawerowanym napisem "DIO".
W mandze nie wiadomo, który rycerz jest konkretnie Caineghis, możliwe jest jednak, że jest rycerzem z tyłu, ponieważ trzyma scimitar, a pozostali dwaj rycerze mają pewne cechy przypominające wygląd Winzaleo i Eijkmana z gry wideo.
Schematy kolorów
Seria znana jest z zmiennych kolorów między mediami, informacje przedstawione poniżej mogą, ale nie muszą być kanoniczne.
Skóra
(Blada, ciemnoróżowa szminka)
Ubiór
(Niebiesko-szara zbroja, ciemnoróżowe spodnie, złoty emblemat, jasnoniebieskie sznurki)
Osobowość
Jego osobowość w mandze jest nieznana, ponieważ został tylko wspomniany. W grze wideo Caineghis ma tendencję do bycia zgarbionym podczas walki. W trybie profilu gry opisany jest jako rycerz, który wbrew swojej pozycji woli korzystać z najbardziej podstępnych rozwiązań ze względu na swoją perwersyjną osobowość. Opierając się na jego cytatach, wydaje się być sadystą.[2]
Umiejętności
Będąc trzecim rycerzem z pięciu, który ukończył wyzwanie 77 Pierścieni, Caineghis jest niezwykle wytrzymały i zdolny wytrzymać ciężar ponad stu kilogramów na swoim ciele. Pomimo posiadania utrudnień poprzez noszenie kilku ważonych pierścieni, Caineghis udaje się pokonać wszystkich swoich przeciwników i przekroczyć 10-kilometrowe pasmo górskie.
[3]
---
---
Po tym, jak został ożywiony jako zombie przez
Dio Brando
w grze wideo, siła Caineghisa jest pomnożona kosztem osłabienia go na światło słoneczne i
Falę
.
---
Koniec sekcji niekanonicznej.
---
Historia
Tło
W 1408 roku Caineghis jest trzecim rycerzem, który przeżył i pomyślnie ukończył wyzwanie 77 Pierścieni. Przeszedł do historii jako legendarny rycerz obok Winzaleo, Eijkmana, Bruforda i Tarkusa.[3]
---
---
1889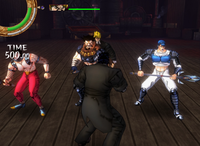 Ponad pięćset lat później Caineghis zostaje wskrzeszone przez Dio Brando wraz z innymi zwycięzcami wyzwania 77 Pierścieni. Na rozkaz Dio, Winzaleo, Eijkman, Caineghis i Wang Chan zakradają się na pokład statku płynącego do Ameryki. Po tym, jak Dio przejmuje ciało kiędza Styxa, wzywa trzech rycerzy zombie, aby pokonali dla niego Jonathana Joestara.
W końcu Jonathan pokonuje go wraz z innymi rycerzami.[2]

---
Koniec sekcji niekanonicznej.
---
Rozdziały

Manga Appearances
Chapters in order of appearance
Cytaty

Quotes
"

Ahh... Nie mam tego dość~ (

ああ~… たまんねえな~

Ā ~… tamannēna~

)

"

"

Pozwól mi usłyszeć twoje miłe sekrety! (

心地よい秘めよう聞かせてくれよ!

Kokochiyoi hime yō kika sete kure yo!

)

"

"

Ciesz się! (

楽しめ!

Tanoshime!

)

"

"

To boli, wiesz?! (

痛いじゃねか!

Itai jane ka!

)

"

"

Co robisz? (

何やってんだ?

Nani yattenda?

)

"

"

Umrzesz brudną śmiercią! (

汚穢死するよ!

Okai-shi suru yo!

)

"

"

Obrzydliwe... bardzo obrzydliwe! (

むかつく...むかつくぜ!

Mukatsuku... Mukatsuku ze!

)

"
Tworzenie i rozwój
Według Yusuke Sasaki, producenta z Bandai Namco Games, Caineghis został początkowo zaprojektowany przez ich pracowników. Poprosili Hirohiko Arakiego, aby się mu przyjrzał, a następnie dokonał poprawek.[4]
Trzej rycerze zostali dodani w ostatecznej bitwie gry, ponieważ producent gry uważał, że Wang Chan nie byłby dobrym ostatecznym bossem, gdyby pozostał całkowicie wierny historii. Nie chciał jednak całkowicie odejść od historii JoJo, więc Araki podsunął mu różne pomysły.[4]
Gry wideo
Caineghis is playable for one Extra Battle in the Phantom Blood PS2 game where he has to defeat Winzaleo, Eijkman, Bruford, and Tarkus at the same time. He also appears as an enemy in the alternate final chapter and 77 Rings Knights Mode.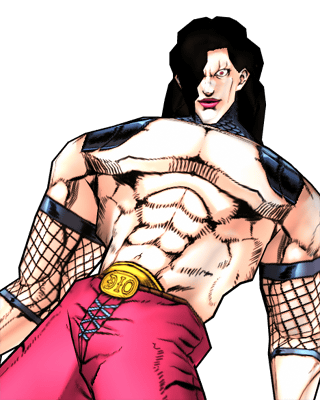 Caineghis









Running

Running



during damage

(LV0-3)
Available Stages: Extra Battle 30
Galeria
Ciekawostki
Jak na ironię, Caineghis, Eijkman i Winzaleo nie są grywalni w trybie 77 Rings Knights na PS2, ponieważ pojawiają się w tym trybie odpowiednio jako 33., 55. i 77. wróg.
Reklama gry w Shonen Jump 2006 Wydanie #47 błędnie zapisała nazwę Caineghis (

カイネギス

Kainegisu) jako Caighines (

カイギネス

Kaiginesu) w Japońskim.
Przypisy
Nawigacja w witrynie