Coire electricus lorenzinia
Jump to navigation
Jump to search
"
Czy zabijają zwierzęta o słabych sercach, aby żywić się ich bioelektrycznością? A może wręcz przeciwnie? Czy pozwalają nam żyć tylko po to, abyśmy mogli służyć ich celom jako wygodne źródło bioelektryczności?
"
Coire electricus lorenzinia (コーイレ・エリクトリカス・ロレンチーニャ, Kōire Erikutorikasu Rorenchīnya) jest głównym antagonistą w one-shocie Thus Spoke Kishibe Rohan - Episode 7: A Rainy Monday. Jest to nowy gatunek owada, który żyje wewnątrz elektroniki i pojawia się, aby atakować inne stworzenia o słabych sercach.
Wygląd
Coire electricus lorenzinia to niezwykle długie, robakowate owady z giętkimi ciałami, które mogą elastycznie zmieścić się w obwodach. Mają kilka okrągłych przegubów obrotowych na całym ciele. Lorenzinia ma również duże oczy, wyboiste usta oraz długie anteny i nogi.
Schematy kolorów
Seria znana jest z zmiennych kolorów między mediami, informacje przedstawione poniżej mogą, ale nie muszą być kanoniczne.
Osobowość
Lorenzinia to pasożytniczy gatunek owada, który żywi się bioelektrycznością ludzi i innych zwierząt. Celują w osoby o słabych sercach i manipulują innymi, aby pomóc im w dążeniu do celu. Żyją wewnątrz elektroniki na układach scalonych, gdzie również składają jaja. Są nieszkodliwe, gdy jest ich tylko jeden lub dwa, ponieważ po prostu jedzą energię z telefonów komórkowych. Jednakże, gdy jest ich rój, wyłaniają się z elektroniki, aby atakować inne stworzenia.[1]
Umiejętności
Manipulacja bioelektrycznością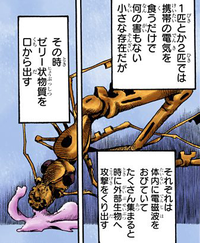 Żyjąc w telefonach komórkowych i innych obiektach elektrycznych, owady te żywią się falami elektromagnetycznymi i przechowują je w swoim ciele. Gdy zbierze się ich rój, emitują z ust galaretowatą substancję. Ponieważ mózg, serce i mięśnie działają na impulsy elektryczne, owady te mogą wywierać nieświadomy wpływ na ludzi korzystających z telefonów komórkowych, manipulując nimi, aby wpaść na osobę, którą określają jako swój cel.
Historia
Tło
Gatunek pochodzi z obszarów miejskich Hongkongu lub Szanghaju. Nie są one publicznie znane społeczeństwu, ale społeczność naukowa przygotowuje się do ogłoszenia światu istnienia tych stworzeń.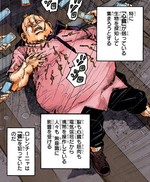 Rój tych stworzeń żyje w telefonach komórkowych kilku obywateli przechodzących na stacji kolejowej w S City. Skupili się na otyłym mężczyźnie o słabym sercu, chcącym żywić się bioelektrycznością w jego ciele. Manipulują przechodniami, sprawiając, że wpadają na mężczyznę, aby zepchnąć go z peronu kolejowego. Ci, którzy są kontrolowani przez owady, bezmyślnie wpadają na innych, oprócz swoich celów, takich jak Rohan Kishibe. W końcu owady powodują, że kilku pasażerów spada na tory kolejowe, przytłaczając otyłego mężczyznę.
Gdy ich cel jest teraz w zasięgu ręki, rój owadów wyłania się z kilku telefonów komórkowych i atakuje ciało mężczyzny. Zabijają mężczyznę, zbierając jego bioelektryczność. Gdy Rohan lamentuje, że nie mógł nic zrobić, aby uratować mężczyznę, owady przenoszą się na następny cel, starszą kobietę.[1]
Galeria
Przypisy
Nawigacja w witrynie