Zombie dowódca
Jump to navigation
Jump to search
Nienazwany
zombie dowódca
(

ゾンビ司令官

Zonbi Shireikan)
jest trzeciorzędną postacią występującą w drugiej części serii
JoJo's Bizarre Adventure
,
Battle Tendency
.
Jako ostatni pozostały zombie stworzony przez Dio, który przetrwał wydarzenia z Phantom Blood, przebrał się przez dziesięciolecia jako dowódca brytyjskiego RAF-u, dopóki jego prawdziwa natura nie została odkryta przez George'a Joestara II. Zamordował George'a, który następnie został pomszczony przez swoją żonę Elizabeth w przypływie wściekłości.
Wygląd
Aby zintegrować się jako członek społeczeństwa, przebrał się za majora RAF-u, przywdziewając mundur służbowy. Siedział na wózku inwalidzkim, udając, że jest ranny przez wojnę i nigdy nie pokazywał się w świetle dziennym.[3] Kiedy ujawnia swoją prawdziwą naturę, jest przerażająco dużym zombie z ostrymi paznokciami i kłami.[4]
Schematy kolorów
Seria znana jest z zmiennych kolorów między mediami, informacje przedstawione poniżej mogą, ale nie muszą być kanoniczne.
Ubiór
(Szary garnitur, biała koszula i czarny krawat.)
Ubiór
(Szary garnitur, biała koszula, czarny krawat i złote ramiączka.)
Osobowość
Speedwagon opisuje go jako sprytnego zombie, który jest w stanie ukrywać się tak długo, jak długo nie próbował się rozmnażać i nigdy nie pozostawił żadnych szczątków swoich ofiar. Był w stanie ukrywać się jako członek społeczeństwa przez dziesięciolecia i dowiedział się o dochodzeniu George'a w sprawie jego tożsamości, zanim zdążył zebrać wystarczające dowody przeciwko niemu.[5]
Umiejętności
Posiada wszystkie typowe cechy zombie. Jego siła jest zwielokrotniona i jest słaby na światło słoneczne i Fale. Ze względu na kontrolę, jaką ma nad swoim ciałem, jest w stanie przebrać się za rannego weterana, ale jego prawdziwy wygląd to duży zombie z ostrymi paznokciami i kłami.
Historia
Tło
50 lat przed wydarzeniami z Battle Tendency, Straizo i Speedwagon postawili sobie za cel wyeliminowanie pozostałych zombie, które stworzył Dio. Choć pozornie je zniszczyli, jeden był w stanie uciec i ukryć się w cieniu przez dziesięciolecia.
Znalazł sobie stanowisko w RAF-ie, zajmując stanowisko majora. Udawał, że jest ranny w czasie wojny, siedział na wózku inwalidzkim i nigdy nie wystawiał się na światło dzienne. Zombie nie był w stanie zaspokoić swojego głodu, ale nigdy nie zostawił śladu, gdy pożerał swoje ofiary do ostatnich kości i włosów.
1921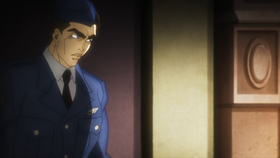 Pod zombie służył George Joestar II, który po zapoznaniu się z historią swojego rodowodu podejrzewał prawdziwą naturę majora. Planował zebrać dowody, aby to zdemaskować. Major odkrył ten plan i zamordował George'a, gdy go obserwował. Śmierć George'a została zatuszowana, przypisana wypadkowi podczas nocnego lotu.
Straizo i Speedwagon podejrzewali tę historię i zbadali prawdę. Elizabeth, w przypływie cichej wściekłości, rzuciła się, by znaleźć majora i zabić go. Z powodu jej pośpiechu została zauważona przez oficera, a rozpadające się zwłoki zombie zostały zrozumiane jako podpalenie ciała majora. Elizabeth została oskarżona o jego morderstwo, a następnie uznana za zdrajczynię.[6]
Poniższa informacja pochodzi ze źródła, które nie zostało napisane przez Arakiego. Jako taki może, ale nie musi być uważany za kanon.
W powieści JORGE JOESTAR, majorem jest człowiek o imieniu William Cardinal, którego ciało zostaje później przejęte przez zombie o imieniu Antonio Torres.
Rozdziały / Odcinki

Manga Appearances
Chapters in order of appearance

Anime Appearances
Episodes in order of appearance
Galeria
Przypisy
Nawigacja w witrynie