Gray Fly
Jump to navigation
Jump to search
"
Planuję zrobić jedną wielką ... MASAKRĘ!
"
Gray Fly (グレー・フライ, Gurē Furai) jest trzeciorzędnym antagonistą występującym w trzeciej części JoJo's Bizarre Adventure, Stardust Crusaders.
Gray Fly to zabójca wysłany przez DIO , który atakuje grupę na pokładzie samolotu lecącego z Tokio do Kairu, ostatecznie rozbijając go w oceanie w pobliżu Hongkongu. Jest użytkownikiem Standa i dzierży Tower of Gray.
Wygląd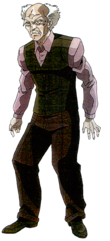 Gray Fly pojawia się jako mały starzec z szarą fryzurą w kształcie podkowy, gęstym wąsem i odciskiem jelonka rogacza na nienormalnie długim języku.
Kiedy próbuje uchodzić za normalną osobę, Gray Fly nosi zwykłą koszulę, kamizelkę i ciemne spodnie.
Schematy kolorów
Seria znana jest z zmiennych kolorów między mediami, informacje przedstawione poniżej mogą, ale nie muszą być kanoniczne.
Ubiór
(Biała koszula, zielona kamizelka, niebieskie spodnie)
Ubiór
(Różowa koszula, zielona kamizelka, brązowe spodnie, czarne buty)
Ubiór
(Szara koszula, żółta kamizelka, spodnie khaki i brązowe buty)
Ubiór
(Fioletowa koszula, kamizelka ciemnozielona)
Osobowość
Gray Fly to krwiożerczy najemnik, który zabija ludzi.
Według Muhammada Avdola, Gray Fly jest użytkownikiem Standa, który spowodował tragiczne wypadki, które spowodowały wiele zgonów[2] i był zwykłym złodziejem.[3] Gray Fly jest odrażającym i okrutnym wrogiem, ponieważ jego modus operandi polega na zdzieraniu języków swoim celom i wywoływaniu strachu.[4] Jego sadystyczna osobowość popycha go do zabijania ludzi tylko dla zabawy, a podczas jego pojawienia się Tower of Gray zabija kilku pasażerów samolotu i pisze słowo "masakra" krwią na ścianach.[5] Kakyoin i Avdol zauważają, że DIO nie musiał używać zarodnika, aby go kontrolować i przypuszczają, że został po prostu wynajęty do zabicia grupy Joestar.[3] Jednak Gray Fly demonstruje zaskakującą lojalność, twierdząc, że wszyscy użytkownicy Standów pokłonią się DIO i że bohaterowie nigdy nie dotrą do Egiptu.[6]
Podobnie jak w przypadku większości użytkowników Standów, Gray Fly jest pewny swojego Standa Tower of Gray, zwłaszcza w jego szybkości, i chwali się, że może uniknąć strzałów z pistoletu.[7]
Umiejętności
Główny artykuł: Tower of Gray
Stand Gray Fly to Tower of Gray, który przybiera postać gigantycznego i zwinnego jelonka rogacza (podobno szybszego niż Star Platinum). Jest w stanie łatwo rozerwać mięso na strzępy. Gray Fly zazwyczaj fizycznie atakuje swoje ofiary swoim Standem. Muhammad Avdol wyjaśnia, że dzięki szybkiego i dyskretnego Tower of Gray jest w stanie nie tylko spowodować masowe morderstwa, ale sprawić, że będą one wyglądały na zwykłe wypadki.[5]
Tower of Gray
(
タワー・オブ・グレー(灰の塔)
)


Umiejętność
Szybki Owad i Nabijająca Igła
Historia
Tło
Gray Fly jest użytkownikiem Standa zamieszanym w wiele kradzieży i masowych zabójstw przebranych za wypadki z udziałem katastrof lotniczych i kolejowych, w tym katastrofę lotniczą w Anglii z 300 ofiarami, bez śladów jego zbrodni. Zyskał wystarczającą sławę wśród użytkowników Standów, aby był znany przez Muhammada Avdola, ale wygląd jego Standa był nadal nieznany, ponieważ nawet wróżbita był zaskoczony, gdy dowiedział się, że może istnieć Stand insektoidalny. Według Avdola, Gray Fly mógł działać na rozkaz DIO.[9] Jest jednym z przedstawicieli kart tarota wysłanych przez Enyę, aby zabić grupę Joestar.
Stardust Crusaders (1988)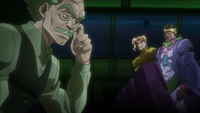 Gray Fly wsiada do samolotu w drodze do Kairu przez Bangkok jako jeden z pasażerów, którzy zabiją Grupę Joestar. Udając zwykłego starca, Gray Fly pozwala swojemu Standowi zaatakować Jotaro.
Tower of Gray atakuje Jotaro jako pierwszego, pokazując jego szybkość i język rozpruwacza i prawie odrywa mu język. Aby jego przeciwnicy zrozumieli jego prawdziwe moce i intencje, odcina języki innym pasażerom Tower of Gray, a następnie pisze słowo "Masakra" na ścianie ich krwią.
W tym momencie Gray Fly wstaje, opuszcza swoje miejsce i próbuje dotrzeć do łazienki, udając tylko nieszkodliwego starca. Następnie zatrzymuje się i zaczyna krzyczeć na widok krwi, prawdopodobnie próbując obudzić pasażerów i wpędzić grupę Joestar w jeszcze większe kłopoty. Jednak szybko zostaje znokautowany przez Kakyoina, który jest nowym przeciwnikiem Tower of Gray. Kakyoinowi udaje się oszukać Stand, odwracając jego uwagę swoim Emerald Splash, ukrywając macki swojego Hierophanta Green między siedzeniami samolotu. Strategia odnosi sukces, ponieważ macki chwytają Tower of Gray i niszczą ją, co prowadzi również do śmierci Gray Fly.[5]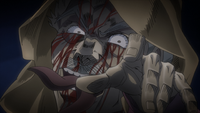 Jednak przed śmiercią Gray Fly zdołał zabić pilotów samolotu w ostatniej próbie doprowadzenia bohaterów do tego samego losu. Chociaż jego głowa i język zostały podzielone na dwie części z powodu ataku Kakyoina, udało mu się wstać i drwić z nich, mówiąc, że nigdy nie dotrą do DIO, nawet jeśli mieli szczęście przeżyć katastrofę. Ostrzega ich również, że sojusznicy DIO przyjdą po bohaterów. Dzięki umiejętnościom pilotażu Josepha pasażerowie przeżywają katastrofę, ale grupa Joestar jest teraz zmuszona do rezygnacji z jakiegokolwiek samolotu do Egiptu.[10]
Rozdziały / Odcinki

Występy w mandze
Rozdziały w kolejności pojawiania się

Występy w anime
Odcinki w kolejności pojawiania się

Występy w nowelach
Rozdziały w kolejności pojawiania się
Cytaty

Quotes
"

Nawet gdybyś wystrzelił dziesięć pistoletów z zaledwie jednego centymetra przede mną... żaden z nich nie mógł dotknąć mojego stoiska! Nie żeby broń mogła zaszkodzić Standowi...

"

"

Bingo! Mam ich języki! A teraz moim celem jest... masakra!

"

"

Co to za oślizgły gunk? M... a...? To jest... k-k-k... kreeeew!

"

"

Feh heh heh heh heh heh! Myślałeś, że jeśli wystrzelisz we mnie wystarczająco dużo rzeczy, to jeden trafi?! Po prostu nie jesteś wystarczająco szybki! Nie ma dziś bingo dla Ciebie!

"

"

Oszalasz z bólu, gdy ten wyrwie mu język!!

"

"

Mój Stand to karta Wierzy, która oznacza wypadki i koniec podróży! Nigdy nie dotrzesz do Lorda DIO! Nawet jeśli przeżyjesz katastrofę... Nadal jesteś 10 000 kilometrów od Egiptu! Ci, którzy są lojalni wobec DIO, będą podążać za tobą o każdej godzinie każdego dnia! Ten świat jest pełen Standów, które przekraczają twoje najśmielsze wyobrażenia! Lord DIO jest mistrzem Standów! On będzie panował nad nimi wszystkimi! Nie ma sposobu, abyś mógł do niego dotrzeć! Nigdy nie dotrzesz do Egiptu!

"

"

Ten świat jest pełen Standów, które przekraczają nawet twoje najśmielsze wyobrażenia! Ci lojalni wobec DIO będą podążać za Tobą na każdym kroku!

"
Gry wideo
The events from Tower of Gray chapters appear in a different form on the game. Instead of taking place on an airplane, the fight against Tower of Gray occurs on Jotaro's school and Gray Fly appears a school janitor rather than a passenger.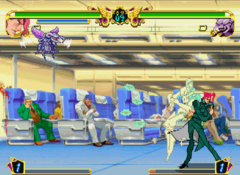 Gray Fly appears as a battle in the Super Story Mode. The player must defeat Gray Fly's Stand, Tower of Grey as Kakyoin. After Tower of Grey's defeat, Gray Fly's identity is revealed and he is promptly retired.
Tower of Gray's special battle can be unlocked in Book Mode, but the player can only play as one of the eight heroes (including Young Joseph and New Kakyoin).

Both the Stand Tower of Gray and the user Gray Fly posses a Metal Striker on the game as part of the PART 3 characters. They both share the same FINISH move of Tower of Gray attacking the defeated opponent with its tongue.
Gray Fly appears in Diamond Records as a playable character in both the
Action Battle
and
Tactical Battle
game modes. He has one 'Tactical' type 5 star statue. Gray Fly's moveset in both game modes is comprised of various attacks inspired by the anime, using his stand
Tower of Gray
. His attacks can target enemies from a longer distance than other stand users.
Galeria
Ciekawostki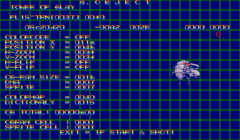 Przypisy
Nawigacja w witrynie