Rubber Soul
Jump to navigation
Jump to search
"
To jest moja prawdziwa forma... Jak przystojny jestem?
"
Rubber Soul (ラバーソール, Rabā Sōru) jest trzeciorzędnym antagonistą występującym w trzeciej części serii JoJo's Bizarre Adventure, Stardust Crusaders, a konkretnie w fabule "Yellow Temperance".
Podszywając się pod Kakyoina, Rubber Soul izoluje i atakuje Jotaro i Anne w Singapurze. Rubber Soul jest użytkownikiem Standa, który dzierży Yellow Temperance.
Wygląd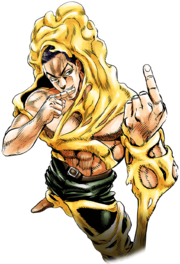 Rubber Soul to dorosły mężczyzna o ciemnych, kręconych włosach ułożonych w barwenę i muskularnej budowie. Ma gołą klatkę piersiową, nosi spodnie i buty. Jego Stand daje mu możliwość zmiany wyglądu do woli. Jego przebranie może rosnąć, gdy wchłania materię organiczną.
Schematy kolorów
Seria znana jest z zmiennych kolorów między mediami, informacje przedstawione poniżej mogą, ale nie muszą być kanoniczne.
Włosy
(Czarne z lawendowymi pasemkami)
Ubiór
(Zielone spodnie, brązowe buty)
Oczy
(Żółta twardówka, brązowe tęczówki)
Włosy
(Czarne z niebieskimi pasemkami)
Osobowość
"
CZY TY ROZUMIESZZZZZZ!? (
ドゥーユーアンダスタンンンンドゥ!
Dū yū andasutannnndu!
)
"
Rubber Soul to wulgarny i zbyt pewny siebie użytkownik Standa wynajęty do zamordowania Grupy Joestar.
Rubber Soul ma tępą i drażliwą osobowość, często przechwalając się i obrażając Jotaro Kujo podczas ich walki. Tendencję tę potęguje jego wielka wiara w Yellow Temperance, który chroni go przed krzywdą i może strawić całą materię organiczną. To prowadzi Rubber Soul do wielokrotnego twierdzenia, że Yellow Temperance nie ma słabości.[3] Rubber Soul jest również bardzo brutalny; próbuje ukarać kieszonkowca, łamiąc mu kręgosłup[4] i bezlitośnie zjada psa na oczach jego pana swoim Standem.[5] Ponieważ Yellow Temperance musi być karmiony materią organiczną, Rubber Soul nie ma skrupułów, aby jeść wszystko, co jest dostępne, od chrząszczy[6] po pojedynczą wiśnię[7] aby rozwijać swój Stand. Rubber Soul jest również dość narcystyczny i uważa się za przystojnego.[8]
Co więcej, Rubber Soul pokazuje swoją osobowość, gdy nie jest już chroniony przez Yellow Temperance. Jednym ciosem Jotaro, Rubber Soul został zastraszony do poddania się, zdradził imiona swoich sojuszników i próbował podlizać się Jotaro, aby uciec przed jego gniewem.[9] Jako ostatni żałosny pokaz tchórzostwa, Rubber Soul próbował również spisać swoją próbę zabójstwa i obelgi jako żarty i próbował przekonać Jotaro, że złamany nos i szczęka były wystarczającą karą, co szczególnie zirytowało studenta.[10]
W przeciwieństwie do większości agentów DIO, Rubber Soul nie ma szczególnej lojalności wobec wampira i został zwabiony obietnicą zarobienia 100 milionów dolarów jako nagrody za zabicie Jotaro.[11]
Rubber Soul nie wydaje się być szczególnie inteligentny. Zamierzał zaatakować Jotaro wyglądem Kakyoina, ale jego niezwykłe zachowanie zniszczyło jego osłonę.[12]
Umiejętności
Główny artykuł: Yellow Temperance
Stand Rubber Soula to Yellow Temperance; lepka, gumowata masa związana i otaczająca jego ciało, która zużywa każdą inną substancję organiczną, z którą się styka. Stand broni go przed wszelkimi formami brutalnej siły i pozwala mu skutecznie podszywać się pod innych.
Yellow Temperance
(
イエローテンパランス(黄の節制)
)


Umiejętność
Asymilacja Materii i Replikacja Wyglądu
Historia
Stardust Crusaders (1988)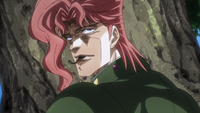 Rubber Soul jest jednym z siedmiu użytkowników Standów, których Enya wysyła do zabicia Grupy Joestar.
Podczas gdy Grupa Joestar jest w Singapurze w poszukiwaniu biletów na podróż do Indii, Rubber Soul używa swojego Standa Yellow Temperance, aby przyjąć wygląd Kakyoina pod nosem Jotaro Kujo i Anne. W tym samym czasie Joseph używa Hermit Purple na telewizorze, aby on i Avdol mogli przewidzieć następny ruch DIO. Łącząc segmenty głosowe z różnych programów telewizyjnych, Hermit Purple tajemniczo sugeruje, że "Kakyoin" jest zdrajcą tuż przed tym, jak DIO zniszczy telewizor.
Jotaro, Anne i Rubber Soul w przebraniu wchodzą do parku, gdzie kieszonkowiec próbuje ukraść portfel Rubber Soula. Rubber Soul od początku zachowuje się podejrzanie, zachowując się wulgarnie i próbując złamać złodzieja.[14] Co więcej, Rubber Soul zaczyna konsumować całą materię organiczną, którą wpadnie mu w ręce, w pewnym momencie jedząc chrząszcze, które przerażają Anne.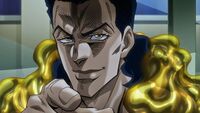 Na stacji kolejki linowej Rubber Soul próbuje zepchnąć Jotaro ponad ogrodzenie bezpieczeństwa i prawie go zabija. Rubber Soul zapisuje to jako żart, ale Jotaro demaskuje go i uderza. Rubber Soul i Jotaro wchodzą do kolejki linowej, w której Rubber Soul ujawnia się i wyjaśnia, w jaki sposób jego Stand strawi Jotaro przez jego rękę.[15] W obliczu niebezpieczeństwa, że zostanie pożarty przez Stand, Jotaro wyskakuje z kolejki linowej, a Rubber Soul chełpi się, że nie musi go ścigać. Rubber Soul wysiada i wchodzi do kolejnej kolejki linowej w przebraniu kobiety, aby zobaczyć daremne próby Jotaro zamrożenia fragmentu Standa. Rubber Soul ujawnia się i chełpi niezwyciężonością swojego Standa, podczas gdy pożera psa, który akurat był w kolejce linowej. Jotaro jest zmuszony użyć ostatecznej tajnej techniki swojego dziadka, uciekając, wybijając dziurę w dnie kolejki linowej i wciągając Rubber Soul'a do wody poniżej.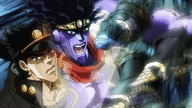 Gdy Rubber Soul jest zmuszony opuścić gardę swojego Standa, aby oddychać, Jotaro daje bezsilnemu użytkownikowi Stand złamany nos i szczękę,[16] po czym przesłuchuje go w sprawie pozostałych zabójców. Rubber Soul ujawnia, że ich karty to Cesarzowa, Cesarz, Śmierć i Wisielec, czwarty należący do J. Geila, człowieka, którego Polnareff szuka.
Po wyjściu z wody Rubber Soul dostrzega okazję do unieszkodliwienia Jotaro poprzez podróż jego Standa przez właz do rury odwadniającej. Wysyła Yellow Temperance przez stos, aby pokryć Jotaro, jednocześnie ciesząc się, że późniejsza nagroda jest większa niż zawodowy bokser zarabia na walce. Jednak Jotaro przeciwstawia się próbie, używając Star Platinum do uderzenia w odpływ i wytworzenia strumienia wody pod wysokim ciśnieniem, otwierając właz i wysyłając Rubber Soul z powrotem do wody. Rubber Soul błaga o litość, gdy Jotaro zaczyna go wykańczać gradem ciosów Star Platinum.[17]
Rozdziały / Odcinki

Występy w mandze
Rozdziały w kolejności pojawiania się

Występy w anime
Odcinki w kolejności pojawiania się

Występy w nowelach
Rozdziały w kolejności pojawiania się
Cytaty

Quotes
"

Rero rero rero rero rero rero rero rero rero rero rero rero rero rero rero rero rero rero... (

レロレロレロレロレロレロレロレロレロレロレロレロレロレロレロレロレロレロ...

Rero Rero Rero Rero Rero Rero Rero Rero Rero Rero Rero Rero Rero Rero Rero Rero Rero Rero...

)

"

"

Co masz na myśli "Ora"!? Po prostu przetrawię cię do gówna!

"

"

CZY TY ROZUMIESZZZZZZ!? (

ドゥーユーアンダスタンンンンドゥ!

Dū yū andasutannnndu!

)

"
Tworzenie i rozwój
Rubber Soul nie otrzymał właściwej nazwy aż do kilku lat po publikacji części 3, gdzie został ujawniony w zaktualizowanej wersji Heritage for the Future z 1999 roku i ostatecznie udokumentowany w JOJO A-GO!GO!.
Gry wideo
In the game, Rubber Soul instead briefly imitates Devo the Cursed and battles the player's group on a hotel rooftop.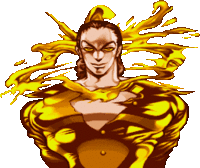 Rubber Soul is one of the several characters added in the arcade update. Looks-wise, he is a palette swap of Kakyoin with a taller build and a different face, and his Stand is a yellow-colored Hierophant Green. He is not encountered in the Story Mode by any of the main characters (arcade version) but has his own storyline as a secret character.
In his own story, Rubber Soul is hired by DIO to assassinate Jotaro and his companions. His story lacks any notable cutscenes aside from the ending after the player defeats all of the heroes. He claims that he is the luckiest man in the world and that no one else could earn one hundred million dollars by fighting for only a few minutes.
He is also encountered as a normal enemy in the PSX port's Super Story Mode. The Player will receive a Secret Factor bonus if they allow him to perform his "Rero rero rero" taunt.
Strategy
Rubber Soul might essentially be a palette swap of Kakyoin, but his playstyle differs greatly. He lacks an active Stand and instead elects to call Yellow Temperance to the battlefield temporarily for his special attacks. His moves tend to be slow and clumsy, as he cannot block or perform any follow-up attacks (aside from his light punch) while Yellow Temperance is still visible on the screen.
His special attacks involve Yellow Temperance (in the form of a yellow-colored Hierophant Green) shooting yellow acid balls at the opponent in short range. Within that same range, he can grab the opponent and break their back over his shoulders. He can also throw Yellow Temperance along the ground to ensnare the opponent's legs.
His special Stand technique allows Rubber Soul to counter an oncoming attack by forming a rubbery shield around his torso and knocking the opponent airborne. This is commonly followed up by his first super technique.
Rubber Soul's intro mimics a scene from his initial appearance, during which he eats several beetles and grows in size, making the sprite different from Kakyoin's. Also, if Alessi uses his Stand power on him, Rubber Soul does not turn into a child but rather reverts to the fat woman he took the appearance of in the cable car.
Palettes
| A | B | C | Stand | Start |
| --- | --- | --- | --- | --- |
| | | | | |
Rubber Soul appears as one of the several Part 3 characters who possess a Metal Striker. His Finish Move has Yellow Temperance envelope the target Striker, melting them.
Rubber Soul appears in Diamond Records as a playable character in both the
Action Battle
and
Tactical Battle
game modes. He has a variety unlockable statues under the 'Fighting Spirit' and 'Solitary' types, ranging from 3 stars to 5 stars. Rubber Soul's moveset in both game modes is comprised of various attacks inspired by the anime, using his stand
Yellow Temperance
. Most of his attacks deal damage over time to opponents.

Rubber Soul

Power-Absorbing Armor ver.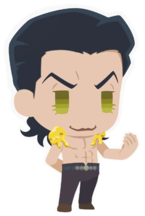 Rarity:

Max Power: 1797
(Lvl 50)
/ 3087
(Lvl 80)
Release Date: December 11, 2020
Favorite Gift and Voiced Gift Reactions:

Skill:
Yellow Temperance

Erases the center area and replaces random panels into Rubber Soul panels. The number of replaced panels increases by twice the number of Block panels and partner panels erased. The maximum number of changed panels depends on Skill Level.




































Skill Lv 1
# of Replaced Panels:
10
Cooldown:
85




































Skill Lv 2
# of Replaced Panels:
14
Cooldown:
85




































Skill Lv 3
# of Replaced Panels:
14
Cooldown:
80




































Skill Lv 4
# of Replaced Panels:
18
Cooldown:
80




































Skill Lv 5
# of Replaced Panels:
18
Cooldown:
70
Galeria
Ciekawostki
Zlokalizowana nazwa Steely Dana pierwotnie brzmiała "Rubber Soul", po albumie Beatlesów. Jednakże, ponieważ Rubber Soul został przekazany innemu użytkownikowi Standa, został później zmieniony na "Dan of Steel". Jest to gra słów na temat popularnego pseudonimu związanego z Supermanem, "Man of Steel", a także dosłowne tłumaczenie kanji jego imienia, "Hagane-iri no Dan" (

鋼入りのダン

).
Przypisy
Nawigacja w witrynie