Elżbieta I
Jump to navigation
Jump to search
"
Oddajcie się, wy dwaj! Wtedy i tylko wtedy oszczędzę życie Maryi! (
ふたりともただちに自首せよ!そうすればメアリーの命だけは助けよう!
Futari tomo tadachini jishu seyo! Sō sureba Mearī no inochi dake wa tasukeyou!
)
"
Elżbieta I (エリザベスⅠ世, Erizabesu Issei) jest trzeciorzędną postacią występującą w pierwszej części serii JoJo's Bizarre Adventure, Phantom Blood.
Jest królową Angli i monarchą z dynastii Tudorów. W 1565 roku walczy ze swoją pierwszą kuzynką, Marią Stuart, o tron. Jej zdrada Bruforda i Tarkusa, dwóch podwładnych Marii, doprowadziła do tego, że dwaj rycerze przeklinali ludzkość; Dio Brando wykorzystuje tę urazę na swoją korzyść ponad trzysta lat później, kiedy ożywia ich jako zombie.
Wygląd
Elżbieta I ma krótkie kręcone ciemne włosy, które są ogolone na czubku czoła, a także nie ma brwi. Jej strój składa się z długiej sukni z bufiastymi rękawami ozdobionymi różnymi biżuteriami, wraz z dużą kryzą na szyi.
Nosi kilka pierścieni na palcach. Jej korona jest również ozdobiona różnymi rubinami, szafirami, szmaragdami, diamentami i perłami.
Schematy kolorów
Seria znana jest z zmiennych kolorów między mediami, informacje przedstawione poniżej mogą, ale nie muszą być kanoniczne.
Ubiór
(Czarna sukienka z białą kryzą, ptysiami i rękawiczkami. Złota, purpurowa i zielona biżuteria.)
Ubiór
(Czarna sukienka z białą kryzą, ptysiami i rękawiczkami. Złota, purpurowa i zielona biżuteria.)
Osobowość
Elżbieta jest intrygującą kobietą i oportunistką, która wykorzystuje śmierć Darnleya na swoją korzyść. Nie waha się kłamać i mordować swojej krewnej, Marię Stuart, aby upewnić się, że ma prawo do tronu. Ponieważ nie może pokonać armii Tarkusa i Bruforda, używa podstępnej taktyki, aby ich wykonać: nakazuje kobiecie podszyć się pod uwięzioną Marię po jej egzekucji, a następnie żąda poddania się obu rycerzy w zamian za wolność Marii.[1]
Historia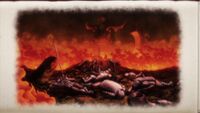 W 1565 roku Elżbieta i jej pierwsza kuzynka, Maria Stuart, rozpoczynają walkę o tron. Pewnego dnia szczęście uderza, gdy nagła eksplozja w domu Mary zabija jej męża Darnleya. Chociaż prawdziwa przyczyna jego śmierci pozostaje nieznana historii, Elżbieta oskarża Marię o zabicie go, skutecznie obracając ludność przeciwko niej. Szlachta z całego kraju buntuje się przeciwko niej. Z wyjątkiem armii Tarkusa i Bruforda, armia Elżbiety całkowicie niszczy żołnierzy Marii.
Elżbieta chwyta Marię i bierze ją do niewoli, a w pewnym momencie nakazuje katowi ściąć jej głowę. Po złożeniu obietnicy, że nie zabije Marię, Elżbieta zatrudnia podszywającej się pod nią, która pozostaje zamknięta w samotności w wieży. Elżbieta używa tej podszywającej się, aby oszukać Tarkusa i Bruforda, aby się poddali, aby uwolnić Mary. Zanim kat dwóch rycerzy ich zabije, wskazuje na głowę Marii na ziemi, ujawniając, że już ją zabił.
Rozgniewani zdradą Elżbiety, Tarkus i Bruford przeklinają Elżbietę i wszystkich jej przyszłych potomków przed śmiercią. Ponad trzysta lat później Dio interesuje się historią rycerzy i ożywia ich, aby zemścić się na świecie.[1]
Rozdziały / Odcinki

Manga Appearances
Chapters in order of appearance

Anime Appearances
Episodes in order of appearance
Galeria
Ciekawostki
Chociaż Bruford przeklina wszystkich przyszłych potomków Elżbiety, prawdziwa historyczna Elżbieta I nie miała dzieci.
Przypisy
Nawigacja w witrynie