Chaka
Jump to navigation
Jump to search
"
Ojciec zasługiwał na śmierć, podobnie jak ten drugi facet! A teraz myślę, że przetnę cię na pół.
"
Chaka (チャカ, Chaka) jest trzeciorzędnym antagonistą występującym w trzeciej części serii JoJo's Bizarre Adventure, Stardust Crusaders.
Jest egipskim rolnikiem, który znajduje Anubis, czującego Standa przywiązanego do miecza, który pracuje dla DIO. Po opętaniu przez miecz i tymczasowym staniu się jego użytkownikiem Stand, Chaka zostaje zmanipulowany, aby iść do walki z Jean Pierre Polnareff.
Wygląd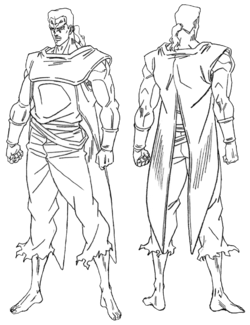 Chaka jest Egipcjaninem średniego wzrostu i muskularnej budowy. Ma ciemne włosy, które są uformowane w kucyk. Chaka ma wydatne kości policzkowe i usta, a jego brwi zakrzywiają się w górę w kierunku zewnętrznych końców. Nosi tunikę, pelerynę, cienką szarfę w talii, opaski na nadgarstki i poszarpane spodnie, które są podarte nad goleniami.
Dodatkowo Chaka nie nosi butów i chodzi boso.
Schematy kolorów
Seria znana jest z zmiennych kolorów między mediami, informacje przedstawione poniżej mogą, ale nie muszą być kanoniczne.
Włosy
(Czarne z fioletowymi pasemkami.)
Ubiór
(Żółta tunika, niebieska szarfa, czarne opaski na rękę i spodnie z niebieskimi pasemkami.)
Skóra
(Opalona, fioletowa szminka)
Ubiór
(Opalona tunika, ciemnobrązowe opaski na nadgarstki, szarfa i spodnie z bordowymi pasemkami.)
Skóra
(Brązowa, fioletowa szminka)
Ubiór
(Brązowa tunika, brązowe opaski na nadgarstki, szarfa i spodnie.)
Osobowość
Chaka jest łagodnym rolnikiem, który pracuje ze swoim ojcem. Chociaż często obrażany i zabrania mu się robienia wiele, pozostaje lojalny i pełen szacunku. Jest raczej ciekawy i naciska na ojca, aby pozwolił mu zobaczyć Anubisa. Jest również nieco przestraszony, próbuje pozbyć się winy i stoi w szoku, gdy Anubis przebija klatkę piersiową ojca.[3]
Po uwolnieniu pochwy Anubisa i poddaniu się jego kontroli, staje się zimnokrwistym zabójcą. Jego szacunek dla ojca i ludzkiego życia znika, a on chętnie przyjmuje misję zabicia Grupy Joestar.[3] Polnareff opisuje go jako honorowego za bezpośrednie wyzywanie go do walki i szybkie przedstawienie się,[4] ale nie wiadomo, jak bardzo prawdziwe ja Chaki wpłynęło na tę decyzję.
Umiejętności
Główny artykuł: Anubis
Chaka tymczasowo dzierży Stand Anubis, gdy ten podnosi miecz. Jest to czujący Stand, który opętuje umysł Chaki i czyni go śmiertelnym wojownikiem pomimo braku doświadczenia. Polnareff zauważa, że jego postawa i chwyt są jak u amatora.[4]
Anubis
(
アヌビス神
)


Umiejętność
Kontrola umysłu, selektywna niematerialność, atak wykładniczy
Podczas walki z Polnareffem woli chować się za filarami, aby wykonywać ataki podstępne, a miecz może stać się selektywnie nieuchwytny.
Historia
Stardust Crusaders (1989)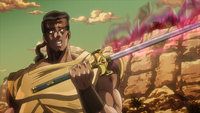 Chaka jest młodym rolnikiem podróżującym z ojcem i dwoma towarzyszami ojca w pobliżu Nilu. Jego ojciec krytykuje go za to, że został w tyle i szyderczo pyta, czy Chaka jest rzeczywiście jego synem. Tymczasem Chaka zauważa miecz na ziemi. Ojciec Chaki próbuje go wyjąć, ale miecz nie chce się ruszyć, nawet gdy mężczyzna i jego dwaj przyjaciele próbują wyciągnąć miecz razem. Chaka pyta dwa razy, czy on też może spróbować to zrobić. Ku zaskoczeniu wszystkich, Chaka z powodzeniem wyciąga miecz. Gdy zaczyna słyszeć coś z miecza, jego ojciec chwyta go od tyłu i żąda, aby Chaka dał mu miecz. Nagle Chaka dźga miecz w pierś ojca.
Gdy Chaka twierdzi, że był to wypadek, przyjaciel jego ojca próbuje wyciągnąć miecz, ale zamiast tego jego głowa zostaje rozcięta. Miecz zaczyna mówić do Chaki, ujawniając się jako Stand Anubis. Anubis przejmuje kontrolę nad Chaką, twierdząc, że czyni go mistrzem szermierki. Osobowość Chaki zmienia się natychmiast po opętaniu. Oświadcza, że jego ojciec i drugi facet zasłużyli na śmierć, a teraz przetnie również pozostałego. Gdy mężczyzna próbuje uciec, Chaka przecina krowę ojca, która przecina ciało mężczyzny na pół. Co ciekawe, krowa jest nieuszkodzona ze względu na zdolność Anubisa do selektywnej niematerialności. Anubis następnie wydaje Chace rozkaz zabicia Josepha Joestara, Jotaro Kujo i Jean Pierre Polnareffa.[3]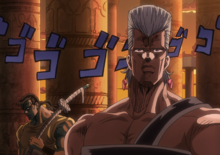 Chaka konfrontuje się z Polnareffem w świątyni Kom Ombo, przedstawiając siebie i swojego Standa do walki jeden na jednego. Polnareff chwali go za to, że od razu przeszedł do rzeczy i obaj rozpoczynają pojedynek. Po tym, jak Chaka odsłania Anubisa, Polnareff jest zdezorientowany z powodu uścisku Chaki i postawy amatora. Jednak Chaka pędzi za filarem, a następnie przecina go, wykorzystując selektywną niematerialność Anubisa, aby przeciąć Polnareffa. Chaka nadal chowa się za różnymi filarami, śmiejąc się, podczas gdy Polnareff boi się, skąd może uderzyć. Nagle Chaka przecina filar za Polnareffem, ujawniając, że może zrobić coś więcej niż tylko przejść przez przedmioty.
Na szczycie filaru, który właśnie przeciął, Chaka próbuje zaatakować Polnareffa, przepuszczając fazę miecza przez filar, gdy spada. Jednak Polnareff strzela mieczem Silver Chariot w pobliski filar, odbijając go i przebijając szyję Chaki. Chaka leży na ziemi unieruchomiony po klęsce, choć Polnareff wspomina, że go nie zabił.[4]
Rozdziały / Odcinki

Występy w mandze
Rozdziały w kolejności pojawiania się

Występy w anime
Odcinki w kolejności pojawiania się
Gry wideo
W przeciwieństwie do mangi, gdzie Chaka walczy najpierw, a wkrótce potem Khan, w tej grze Chaka walczy po walce z Khanem. Tutaj Chaka jest sklepikarzem, który przypadkowo rysuje Anubisa i próbuje zabić gracza. Po pokonaniu go, opamiętał się i od tego momentu funkcjonuje jako zwykły sklepikarz.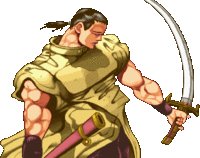 Chaka or Chaca in the English localization, appears in the Capcom game. He was part of the original roster in JoJo's Venture, and is a Weapon Stand user.
Movelist & Gameplay
Chaka's playstyle differs slightly from other characters in the game because his Stand functions as a weapon instead of a secondary fighter. He has a notable lack of projectile attacks but possesses very fast and deadly blade combos up close.
Stand Appearance Attack

+

NORMAL
Forget Me Not
+

STAND
Ogre Slash

+

STAND
(Press

for consecutive attacks)
Swallow Counter

+

STAND
Dimension Slash
次元斬

+

NORMAL
Bloody Slash
血華斬

+

STAND
+

STAND
(Level 2 Gauge)
(※ Only available in Heritage for the Future.)
Palettes
| A | B | C | Stand | Start |
| --- | --- | --- | --- | --- |
| | | | | |
Story Mode
Chaka is possessed by Anubis and forced to destroy Jotaro Kujo and his companions. He appears as typical enemy in the Joestar Group's Story Modes.
In Super Story Mode on the PS1 version, Chaka is the 20th Stage and the battle mirrors the one in the manga.
Expand/Collapse All

1
Stage 1
(Polnareff Stage 1)
2
Stage 2
(Kakyoin Stage 2)
3
Stage 3
(Muhammad Avdol Stage 3)
4
Stage 4
(Joseph Joestar Stage 4)
6
Stage 6
(Jotaro Kujo Stage 6)
7
Stage 7
(Vanilla Ice Stage 7)
Expand/Collapse All

20
The Sword of Anubis
(アヌビスの剣 Anubisu no Tsurugi)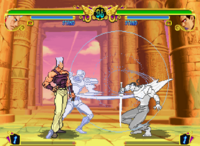 The Joestar group takes a boat to Kom Ombo, where Polnareff crosses paths with an enemy named Chaka, wielder of the sword Anubis. After the fight, Polnareff lets Chaka live, albeit out of commission, and decides to take his sheathed sword.
Secret Factor: This rapier is Chariot's secret. (この剣針はチャリオッツの奥の手だぜ)

End the fight with Polnareff's Last Shot super move.
Chaka appears in Diamond Records as a playable character in both the
Action Battle
and
Tactical Battle
game modes. He has one 'Solitary' type 5 star statue. Chaka's moveset in both game modes is comprised of various attacks inspired by the anime, using the sword of
Anubis
.

Anubis

Controlling Young Chaka ver.
操られた青年チャカ ver.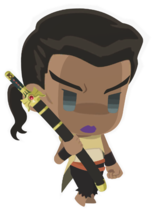 Rarity:

Max Power: 880
(Lvl 50)
/ 1960
(Lvl 80)
Release Date: October 10, 2018
Favorite Gift and Voiced Gift Reactions:

Skill:
Anubis

Erases Panels in a horizontal line




































Skill Lv 1
# of Erased Panels:
8
Cooldown:
60




































Skill Lv 2
# of Erased Panels:
10
Cooldown:
60




































Skill Lv 3
# of Erased Panels:
10
Cooldown:
55




































Skill Lv 4
# of Erased Panels:
12
Cooldown:
55




































Skill Lv 5
# of Erased Panels:
12
Cooldown:
50
Galeria
Ciekawostki
W zależności od tego, czy cenzura gry jest włączona, czy nie, kolor ostrza Chaki zmieni się w Heritage for the Future. Jeśli cenzura jest włączona, ostrze ma kolor brązowy. O dziwo, miecz Khana i Anubis Dual-Fielding Polnareffa pozostają niezmienione.
Przypisy
Nawigacja w witrynie