Malèna
Jump to navigation
Jump to search
"
Potrzebujesz kogoś, kto na to spojrzy! Opiekuję się twoimi ranami w moim domu. Chodź ze mną.
"
Malèna (マレーナ, Marēna) jest trzeciorzędnym sojusznikiem występującym w trzeciej części serii JoJo's Bizarre Adventure, Stardust Crusaders.
Jest miłą, młodą kobietą mieszkającą w Luksorze, , która opiekuje się odmłodzonym Jeanem Pierre'em Polnareffem po tym, jak został ranny w walce z Alessi.
Wygląd
Malèna jest Egipcjanką z długimi włosami spiętymi w kucyk. Jej strój składa się z płaszcza w kropki zakrywającego cienką sukienkę bielizny. Nosi również duże metaliczne kolczyki i opaski na rękę.
Schematy kolorów
Seria znana jest z zmiennych kolorów między mediami, informacje przedstawione poniżej mogą, ale nie muszą być kanoniczne.
Skóra
(Opalona, czerwona szminka.)
Włosy
(Brązowe, lawendowa opaska do włosów.)
Ubiór
(Różowy płaszcz w czarne kropki, złote dodatki.)
Ubiór
(Różowy płaszcz w jasnoróżowe kropki, żółta sukienka, niebieskie kolczyki, złote dodatki.)
Osobowość
Malèna jest przedstawiona jako miła, młoda kobieta, która wydaje się dobra z dziećmi w oparciu o to, jak dobrze opiekowała się Polnareffem, pomimo jego napadów złości. Wydawała się autentycznie zaniepokojona jego zniknięciem po tym, jak została uwolniona od zdolności odmładzania Sethana.[1]
Historia
Stardust Crusaders (1989)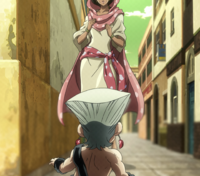 Malèna spotyka młodego Polnareffa na ulicy po tym, jak doznał obrażeń od Alessi. Martwiąc się o niego, zabrała go do swojego domu, aby pomóc mu wyleczyć się z odniesionych obrażeń. Kąpała Polnareffa, co sprawiło, że poczuł się "szczęściarzem", mimo że nie był w wieku, w którym rozumiał takie pragnienia.
Została zamieniona w płód przez Stand Alessiego Sethan. Ponieważ nie była połączona z łonem matki, Polnareff musiał pokonać Alessi przed śmiercią Malèny. Udało mu się go pokonać na czas, ale stracił jeden z jego kolczyków w jej domu.
Po klęsce Alessiego, Malèna, która powróciła do swojej pierwotnej formy (wraz z Jotaro i Polnareffem), obudziła się naga tylko z ręcznikiem. Poszła szukać dziecka i zobaczyła Polnareffa, którego nie rozpoznała. Zapytała go, czy widział chłopca. W momencie poza charakterem, zamiast wykorzystać okazję do flirtowania z nią, tak jak robił to z innymi kobietami w przeszłości, Polnareff zamiast tego zaprzeczył, że widział chłopca, pokazując, że nie był tylko kobieciarzem, a jej życzliwość wobec niego, nieznanej osoby, spowodowała, że naprawdę się o nią troszczył. Następnie odwrócił się i poprosił Jotaro, aby nikomu nie mówił o swoich działaniach. Kobieta czuła, że ten mężczyzna mógł być dzieckiem, ponieważ mieli ten sam kolczyk.
Rozdiały / Odcinki

Występy w mandze
Rozdziały w kolejności pojawiania się

Występy w anime
Odcinki w kolejności pojawiania się
Galeria
Ciekawostki
Malèna początkowo nie otrzymała imienia. W japońskich artbookach nazywa się ją "onee-san" (

お姉さん

), co z grubsza oznacza "starszą siostrę". W Japonii termin ten może być używany w odniesieniu do młodej kobiety starszej od siebie, niezależnie od relacji rodzinnych. Malèna została ostatecznie nazwana w adaptacji anime Stardust Crusaders z 2014 roku.
Przypisy
Nawigacja w witrynie