Khan
Jump to navigation
Jump to search
"
Nie ostry? Przepraszam.
"
Khan (カーン, Kān) jest trzeciorzędnym antagonistą występującym w trzeciej części serii JoJo's Bizarre Adventure, Stardust Crusaders.
Jest fryzjerem z Edfu[2] który daje Jean Pierre Polnareff golenie, ale zostaje opętany przez Anubisa, rozpoczynając walkę z Polnareffem i Jotaro.
Wygląd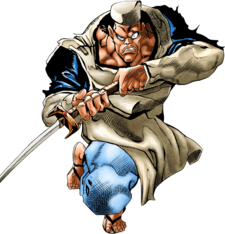 Khan jest dużym, muskularnym mężczyzną. Jego głowa jest wysoka z ostrymi kośćmi policzkowymi i kanciastą linią szczęki. Brakuje mu brwi. Jego włosy są ciemne i krótkie i zwieńczone małą, cylindrycznym kapeluszem. Nosi tunikę z ciemnymi, krótkimi rękawami, małe opaski, spodnie i sandały.
Schematy kolorów
Seria znana jest z zmiennych kolorów między mediami, informacje przedstawione poniżej mogą, ale nie muszą być kanoniczne.
Ubiór
(Biały kapelusz i tunika na niebieskim podkoszulku, szare opaski, niebieskie spodnie, brązowe sandały.)
Ubiór
(Biały kapelusz, ciemnoszara tunika.)
Ubiór
(Niebieski kapelusz i tunika na czarnym podkoszulku, czarne opaski, niebieskie spodnie, szare sandały.)
Oczy
(Szare, świecące purpurą, gdy jest opętany.)
Ubiór
(Szary kapelusz i tunika na ciemnoszarym podkoszulku, ciemnoszare spodnie, brązowe opaski na rękę i sandały.)
Osobowość
Khan jest uprzejmym fryzjerem, często widzianym z uśmiechem. Chętnie wysłuchuje próśb swoich klientów i przeprasza za wszelkie błędy.[2] Niewiele więcej o nim wiadomo, ponieważ niedługo po goleniu Polnareffa odsłania Anubisa z nieznanego powodu.
Umiejętności
Główny artykuł: Anubis
Khan tymczasowo dzierży Stand Anubis, gdy ten podnosi miecz. Jest to czujący Stand, który opętuje umysł Khana i czyni go śmiertelnym wojownikiem. Nie wiadomo, czy ma wcześniejsze doświadczenie w walce, ponieważ jest fryzjerem, ale ponieważ Anubis rośnie w siłę z każdą walką, Khan jest silniejszy niż poprzedni posiadacz Standa, Chaka.
Anubis
(
アヌビス神
)


Umiejętność
Kontrola umysłu, selektywna niematerialność, atak wykładniczy
Historia
Stardust Crusaders (1989)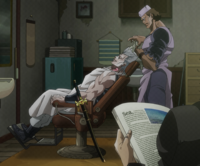 Khan jest fryzjerem, którego Jean Pierre Polnareff odwiedza w celu ogolenia, ale przed rozpoczęciem pracy prosi go o umieszczenie Anubisa w pobliżu. Myśląc, że to normalny miecz, Khan wyciąga go i zostaje opętany przez Standa, atakując Polnareffa wkrótce potem. Ponieważ Anubis miał już doświadczenie w walce z Polnareffem (we wcześniejszej walce z Chaką), był w stanie odeprzeć prawie wszystkie jego ataki. Polnareff został uratowany przez Jotaro Kujo, który z łatwością pokonał opętanego fryzjera i złamał miecz Anubisa na pół. Sam Khan stracił przytomność.

Rozdziały / Odcinki

Występy w mandze
Rozdziały w kolejności pojawiania się

Występy w anime
Odcinki w kolejności pojawiania się
Gry wideo
Khan jest jednym z bossów występujących w grze. W pustynnym mieście w Egipcie Khan pojawia się jako kupiec. Po tym, jak grupa wchodzi do piramidy i zdobywa miecz Anubisa, Khan wydaje się pytać grupę, czy sprzedaliby mu miecz. Jeśli gracz się zgodzi, otrzyma 50 $, ale Khan ukradnie je, jeśli gracz odmówi.
Niemal natychmiast potem Khan atakuje grupę, wywołując bitwę. Po jego pokonaniu Khan zostaje zabrany, a grupa zdaje sobie sprawę, że miecz Anubisa go kontrolował.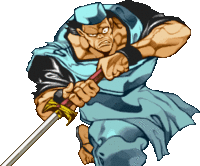 Khan is the final Anubis character (the others being Chaka and Anubis Polnareff) in Heritage for the Future. He is a secret character, and can only be unlocked by completing Challenge Mode with Anubis Polnareff.
Khan is introduced in the Story Mode exactly as he is in the manga; when Polnareff visits a barber on his way to the police station, Khan becomes possessed by accidentally drawing the sword from its sheath.
He is not fought in the storyline of any of the main characters, but he retains his own short storyline. In his own story, Khan is able to kill all of the protagonists and decides to stay faithful to DIO afterward because he fears the power of The World. This differs greatly from Chaka's ending, where the Anubis Sword compels the farmer to betray DIO.
Strategy
One of Khan's biggest differences from Chaka is his inability to sheath Anubis, which reduces his moveset considerably. His attacks involve holding the joystick in the opposite direction (facing away from your opponent) and then pressing forward and an attack key. This will make him dash forward at high speed and attack his opponent, the type of attack depending on what button was pressed.
Like Chaka and Polnareff, he possesses the ability to deflect and learn his opponent's moves by countering with the Anubis Sword.
Khan's super moves allow him to perform a powerful uppercutting slash at close range that severely damages the opponent and sends them flying, and a berserk barrage of sword slashes that ends in an uppercut.
On the surface, Khan might appear to just be a downgrade of Chaka, but he has a few key strengths which can help level the playing field:
Because he has no Active Stand, he cannot be Stand Crashed. This also means he has full access to Anubis special attacks at all times and can use the "evade" command with the sword out, unlike Chaka.
While he lacks the extremely simplified basic combos Chaka has, his low jab is fast and has above average range. You can easily spam it to whittle away your opponent's life, and it allows you to chain supers (or his dashing special attack) somewhat easily.
His Shoryuken-style slash deals a lot of damage and automatically Stand Crashes anyone who is hit by it.
Hitting the Stand key will make Khan spin like a tornado with the Anubis Sword. It doesn't deal much damage, but can be used to ward off an opponent on the ground or traverse the battlefield quickly while in the air.
Since he is slouching he has a smaller than normal hitbox. This can make some attacks miss you entirely due to his height, but this should not be relied on.
Keep in mind that he will be extremely vulnerable to chip damage due to not having an Active Stand, and he lacks the Tandem ability Chaka has; you will have to weigh which strengths suit you best against your opponent.
Palettes
| A | B | C | Stand | Start |
| --- | --- | --- | --- | --- |
| | | | | |
Gallery
Ciekawostki
Khan jest jedną z niewielu postaci specjalnych, która nie zmienia się w swoją dziecięcą postać, gdy zostaje uderzona Standem Alessiego w Heritage for the Future, zamieniając się zamiast tego w krowę, która została dźgnięta ostrzem przez Anubisa.
Przypisy
Nawigacja w witrynie