JoJo's Bizarre Adventure - Episode 19
Jump to navigation
Jump to search
Race Toward the Cliff of Death
(

死の崖へつっ走れ

Shi no Gake e Tsuppashire)
[1]
is the nineteenth episode of the
JoJo's Bizarre Adventure
anime
. It is also the tenth episode of
Battle Tendency
. It covers
Chapter 85
to
Chapter 88
of the
Battle Tendency
manga.
Kars has infiltrated the Nazis' chalet to take the Super Aja. Joseph Joestar must find a way to take the Aja back as it slides towards a cliff and Kars has no compunction falling down as long as he gets the Stone.
Summary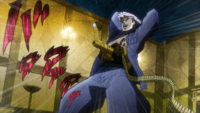 Stroheim starts using his new mechanical body, which was designed to surpass Santana, to fight against Kars. Although his abdominal machine gun forces Kars outside, the Pillar Man uses the full power of his Light Mode. Turning his blades into chainsaws, Kars can cut the bullets before they touch him and cuts Stroheim in two. Kars takes the Super Aja but then Stroheim fires an eye UV beam at Kars, forcing him to drop the Aja. The stone begins to slide toward a cliff, causing Kars and Joseph to race for the stone. Meanwhile, Lisa Lisa, Caesar and Messina have arrived to witness the battle.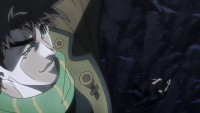 Unfazed by the prospect of falling into a ravine, Kars keeps his speed and grabs the stone with his foot. However, JoJo blinds him with snow and grabs the Aja, only for Kars to unveil his ankle blades to hook Joseph and pull him down with him. Thankfully, Joseph uses the Aja as a shield against Kars who wants the stone intact and manages to turn falling icicles into a makeshift rope, which is completed by Caesar. Joseph has managed to keep the stone. Kars shortens his fall, preventing him from crushing a flower. He then laughs maniacally and allows JoJo to hold onto the Red Stone a little longer.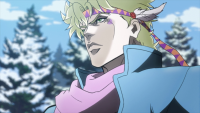 The next day, Caesar and the others look at the ruins of a hotel which was the address at which Esidisi sent his package and they deduce that it is surely Kars' hideout during the day. Caesar advocates assaulting the building before Wamuu arrives, but JoJo objects to it, believing it unwise to fight on their home turf. When JoJo and Caesar bring their ancestors who have fought to destroy the Stone Mask and their conflicting opinions on the matter, Caesar punches Joseph and the two scuffle before being pulled away by Messina and Lisa Lisa. As Caesar then angrily walks away to go fight Kars, Lisa Lisa orders him to stop since it's too dangerous. He disobeys the order, stating that he must do this for his lineage whilst feeling a sense of duty to his grandfather. Ordering Messina to follow him, Lisa Lisa then explains to JoJo that Caesar has a secret past.
Appearances
Credits
Staff
Animation Director Cooperation
(作画監督協力)
Assistant Animation Director
(作画監督補)
Tatsuo Amemiya
Zinnmu Zinnmurar
雨宮 達夫
ジンム・ジンムラー
Hirohide Shikishima
Minoru Morita
Tomoki Koda
Tatsuo Amemiya
Motoki Yagi
Hiroaki Kawaguchi
Toshihiko Masuda
Yoshiaki Tomita
敷島 博英
森田 実
香田 智樹
雨宮 達夫
八木 元喜
川口 弘明
増田 敏彦
冨田 佳亨
Sakurako Sagano
Setsuko Shibuichi
Shinichi Suzuki
Studio Liberty
Nakamura Production
Jumondo
AI
Meta Studio
佐賀野 桜子
四分一 節子
鈴木 伸一
スタジオリバティ
中村プロダクション
寿門堂
AI
メタスタジオ
In-between Animation
(動画)
In-Between Animation Inspection
---
Zinnmu Zinnmurar
Sayo Endo
Mutsumi Sasahara
Yukari Manabe
Fusae Sato
Ming Zhe Qiu
Young-Ung Lee
Hanil Animation
J&K Corporation
Synod
Beep
AI
Sunshine Corp.
Magic Bus Nigata
山口 夢仁
遠藤 小夜
笹原 睦未
真鍋 由香里
佐藤 房江
邱 明哲
李 映熊
韓一動画
J&Kコーポレーション
synod
BEEP
AI
サンシャイン
マジックバス 新潟スタジオ
david production
福田 周平
赤間 紗枝
大川 貴大
山口 朝美
矢口 真琴
西村 彩
Design Cooperation
(デザイン協力)
David Production
亀井 隆広
工藤 かよ
Puavaranukroh Taweeporn
Music
Manga/Anime Differences
The word "Nazis" were replaced by "German soldiers" just like in previous episodes of Battle Tendency.
In other languages
Language
Title
Translation
Japanese
死の崖へつっ走れ
Race Toward the Cliff of Death
Chinese
衝向死亡懸崖
Rush to the Cliff of Death
Chinese (Hong Kong)
衝向死亡的懸崖
Rush to the Cliff of Death
English
Race Toward the Cliff of Death
Spanish
Una carrera hacia el abismo de la muerte
A race to the abyss of death
Portuguese
Corrida para o Penhasco Mortal
Race to the Deadly Cliff
French
Ruée vers la falaise de la mort
Rush to the cliff of death
German
Ein Rennen bis zum Äußersten
A Race to the Extreme
Hebrew
המרוץ אל הסף
Race Toward the Cliff of Death
Arabic
سباق نحو الحافة
Race to the edge
Italian
Corsa lungo il baratro della morte
Race down the abyss of death
Czech
Rychle na okraj!
Quickly to the edge!
Danish
Kapløb mod randen
Race towards the edge
Commentary
Commentary
"
This episode incarnates the spirit of JoJo the best out of Part 1 and 2. From the moment Joseph runs to catch the red gem, up to his freefall fight against Kars, everything only lasts a few seconds. The direction stretches everything out infinitely though, much like an older anime (laughs).
Up to now, Kars was a mysterious character set in the background. It's the first time that he really acts. He exposes himself through really cool shots and finishes perfectly by madly laughing. You can also see his Light Saber technique in detail. The compositing effect is very pretty during the close-up on the blade.
The craziness around Stroheim works well as a whole. It's like it's his episode: "Hello, I make a thunderous entry. Then I get cut in half. Goodbye." (laughs)
We have tried to perfect most shots for the TV broadcast, but we also remade several for the Blu-ray and DVD. The new viewing should give you a brand new experience.
"
Gallery
References