User:MetallicKaiser
Jump to navigation
Jump to search

About Me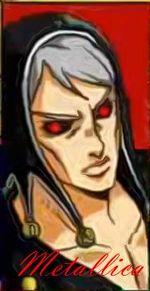 I'm a huge JoJo's Bizarre Adventure fan currently up to date with JoJolion.
I'm also a One Piece Fan.
To all fellow JoJo wiki editors: If you're particularly good at Rhetoric, feel free to fix whatever I write down. I consider myself fluent, but not necessarily skilled at writing coherent summaries.
If you have any questions regarding the series, or this site, go ahead and leave a message on my wall. Thanks and happy editting.  Kai  JoJo Admin 
My Favorite Pages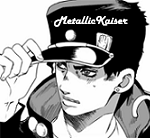 Stuff That Needs To be Done
Anyone is allowed to work on these and it would be greatly appreciated.
Merchandise

Add pictures to figures (Super Action Statues updated by BiteTheDusto)

Character Profiles

Expand the other Jojo's histories
Expand history of Main antagonists
add references/cite sources
Expand history on all the characters
Fill in Relationships for all main protagonists/Antagonists
Add reference chapter # to Major battles section

Anime

create a music section (Done.)
Add screenshots into episode page summaries or a gallery
Add animator credits to all episodes.

Manga

Clean Chapter summaries of vocab and grammatical errors
Add In Store Dates to all chapters.

Clean wiki
Gallery