User:FrizzleLamb
Jump to navigation
Jump to search

"
Ohhh... so this is how you use this template...
"
—
Me
after browsing a little too much on the Wiki
I'm Frizzle. I like to type anything in general with my handy six-year-old laptop, so I spend time editing on the Wiki of one of my favorite manga(s). I simply help update pages and/or add images, which are the least I could do for the Wiki. Also caught up with JoJolion.
I'm a retired superhero who spends most of their time being conscious about grammar eating dogs and forgetting commas. I also do art sometimes.
I have eaten 3,397 socks on the wiki so far. Feel free to send a message at my talk page if you have any inquiries!
Stuff About Me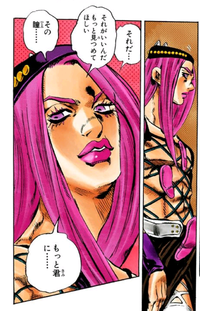 I'm fairly new to the JoJo's Bizarre Adventure fandom in particular, and the Golden Wind anime memes were my first exposure to it.
I began watching JoJo around the beginning of 2020 because of my friend. When I told him about Fire Force

, he mentioned JoJo and showed me several videos of people doing JoJo poses as well as Golden Wind memes. Soon, I was already watching the Part 5 anime, until I got bored midway and decided to finish reading the manga first - from Phantom Blood to Steel Ball Run - before going back to re-watch the anime seasons again. I had only fully caught up to JoJolion around the release of Chapters 97-98, but hopefully it's not too late to join the JoJo community.
Narciso Anasui and Gyro Zeppeli both tie for my top favorite JoJo characters, with Hato Higashikata in second.
Right now I'm doing my best to expand and clean up the Wiki with my current knowledge of the franchise.
Stuff That Aren't JoJo
I'd been watching anime for as long as I can remember but the first time I started reading manga online was in 2007. My other favorite anime/manga franchises are Inuyasha

, Yu Yu Hakusho

, and Bungo Stray Dogs

. Before finding the JoJo Wiki, I had been editing pages on plenty of Wikias (now known as Fandoms) such as Narutopedia, YuYu Hakusho Wiki, and The Mediator Wiki.
Outside anime, I like to watch and read fictional stories especially in the genre of science fiction, which is one of the reasons why I was able to develop my English writing and speaking skills other than watching Barney the Dinosaur. These days I'm more occupied with trying to learn Japanese so I occasionally watch anime or listen to audio dramas. I have a knack for remembering actor names.
Countdowns
Stuff I Do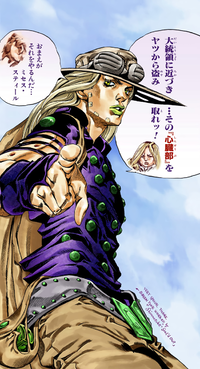 Add captions to anime episode pages' screenshots - DONE
Add infoboxes to story arc pages - DONE
Expand story arc summaries - DONE
Expand/Fix JORGE JOESTAR pages - DONE?
Expand Purple Haze Feedback pages
Expand TSKR Drama pages - DONE
Update latest information on JoJolion pages
Create Relationships sections
Create pages for JoJo voice actors
Miscellaneous & Boring Stuff
Look for JoJo references
Update images if needed
Add necessary redirect links
Add more GIFs/images to pages that need them
Add categories to images
Fix minor stuff like grammar mistakes or formatting errors
...and plenty more things that I forgot.
Stuffed Turkeys
Characters I Would Punch in the Face