User:Morganstedmanms/Sandbox
Jump to navigation
Jump to search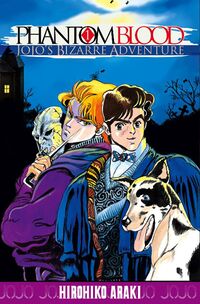 This article is about media releases in France. For the art exhibition, see JoJo in Paris.
"
Coming to Paris, I saw people of various ages and races. It felt like I was in a painting without borders.
"
Manga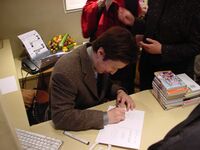 In France, the first four parts of JoJo's Bizarre Adventure chapters were published by J'ai lu[1] from January 2002 to December 2005. In 2007 publisher Tonkam (now a subsidiary of editions Delcourt resumed the publication of the following parts starting with a publication of Vento Aureo, the previous parts would later see revised releases under Tonkam's publication starting with Stardust Crusaders and then going back to Phantom Blood and continuing from there. Currently, they are publishing JoJolion.[2]
Anime
In 2014, the second season of the anime, Stardust Crusaders, was broadcasted in a simulcast by Crunchyroll and ADN (Anime Digital Network). The first season was also added the same day.
On July 6, 2016, a French DVD for the first season was produced by Warner Bros.. On March 15, 2017, a Blu-ray was released in France by Kazé. The second and third season also received Blu-ray releases by Kazé from June 21, 2017 to August 22, 2018.
The first and second season are also available on Netflix.
OVA
In France, the first two seasons of the OVA (or OAV in French) were published by Déclic Images in a 13 episode box set in 2003.
On January 19, 2021, Netlix France announced that they would be releasing a French dub for all four Thus Spoke Kishibe Rohan OVAs on February 18, 2021.[3]
Games
Exhibits
Main article: JoJo in Paris
"JoJo In Paris" was a special exhibition held by Hirohiko Araki from April 10 to April 30, 2003 in Paris at the Odermatt-Vedovi Gallery. It is notable for being Araki's public exhibtion of his art.
The reason why Araki chose France of how varied the people there were and because he wanted impressions from people who haven't heard of his manga before.[4]
Trivia
See also
References