User:Zoltier
Jump to navigation
Jump to search
"
A head that's empty is easier to stuff with dreams
"
I go by Zoltier, but most people just say Zolt. I do whatever needs help with on the wiki.
My Discord tag is Zoltier#9838. Shoot me a friend request and DM me there if you need anything, or join the wiki server and contact me there. It's a cool server, so join it.
About
I've been a JoJo fan since either Februrary or March 2019. I heard about JoJo back during "Kono Dio da!" but started to hear about it again in 2018/19 because a bunch of dudes I knew kept talking about it. I don't really remember which month I began or why I even decided to watch it aside from knowing that it was a thing, but it's not a decision I regret.
Interests and Favs
JoJo
Rereading JoJo right now. Will update my favorites when I'm done.
Parts
Protagonists
Villains
Manga/Anime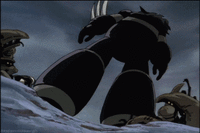 Not into too many anime or manga, but I really like Dragon Ball. Huge fan and pretty versed in it. I also like Getter Robo, and there's a lot I'd like to get into.
Music
I could say I like anything, but that isn't really true. I either like an artist/band or I don't really. Classifying into genres is hard for my tastes.
Some examples of stuff I really like:
Monstercat (nanobii, Au5, Glacier, etc)
Madeon
meganeko
Jamiroquai
Powerwolf
Yes
Jeff Beck
Sting
Pink Floyd
Games
Mostly stuck with Nintendo so far, but that's largely because of lack of access to PC or the Playstation (brother always had it smh). I like RPGs and action and stuff. Also particularly love messing around with glitches.
Other
I like to draw, but I haven't spent as much time as I should practicing. Also wanna learn Japanese at some point. Would be helpful.
Favorite Pages I've worked on
Things I should do
Whatever needs help
Don't be lazy