JoJo's Bizarre Adventure - Episode 8
Jump to navigation
Jump to search
"
With true conviction, the human race can overcome anything! Let me demonstrate to just what heights a human being can rise!
"
—Jonathan, as he and Dio have their final battle
Bloody Battle! JoJo & Dio (血戦!JOJO & DIO, Kessen! JoJo ando Dio)[1] is the eighth episode of the JoJo's Bizarre Adventure anime. It is also the eighth episode of Phantom Blood. It covers Chapter 37 through Chapter 41 of the manga.
Jonathan finally finds Dio in his castle. Despite Jonathan's Ripple, Dio's vampiric powers allow him to freeze limbs with a mere touch and thus Jonathan must find a way to directly strike the Vampire with his Ripple.
Summary
The group makes a detour at Poco's house, only to be told that Poco's sister has disappeared. Actually, the girl is imprisoned with Dio who is tempting her with the prospect of eternal life. When she refuses and slaps the Vampire, Dio leaves and sics the monster Doobie on her. However, Jonathan appears and easily defeats the Zombie.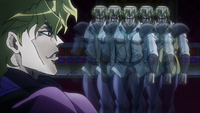 Jonathan climbs the stairs and reaches the final room where Dio awaits. Jonathan challenges Dio to one final match to avenge the death of his friends, but Dire pushes Jonathan out of way and challenges Dio himself to avenge the death of his friend, Zeppeli. Dire attempts a Thunder Cross Split Attack, but Dio freezes his legs and shatters him. Dire's head manages to survive and launches a Ripple infused rose, impaling Dio in his right eye.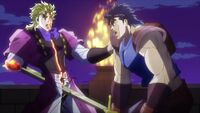 Jonathan thus steps in while Speedwagon, Straizo and Tonpetty stay back to fight Dio's Zombies. Inspired by Dire, Jonathan infuses the sword he had received earlier from Bruford, Luck and Pluck, with the Ripple, so that Dio will not be able to touch him. As the battle begins, Jonathan distracts Dio with roses and uses the Vampire's blind angle to cut off his arm then cuts him in half. However, Dio freezes the sword and Jonathan's hand before he can send the Ripple. Jonathan is thus immobilized and briefly at a disadvantage, but he exploits a fire behind Dio to heat the sword and free himself. Nonetheless, Dio breaks the sword and manages to freeze JoJo's fist before the Ripple can reach him.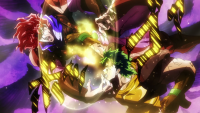 As a last ditch attempt, Jonathan lights his glove on fire to counter the freezing effect and finally manages to hit Dio's chest with the Ripple. Dio is sent into a cliff and uses a spiteful last technique: he releases a jet of pressurized eye humor and almost kills Jonathan. The latter still has enough heart to mourn his lost half-brother and collapses from exhaustion. JoJo has won the battle.

Appearances
Credits
Music
Manga/Anime Differences
In the manga, Jonathan uses Ripple on Doobie's snakes, causing them to devour Doobie. In the anime, they bite Doobie, causing him to melt.
There is a brief scene in the manga before Jonathan fights Dio where he is attacked by a zombie. He defeats it easily by ramming its face into a barred window. This wasn't shown in the anime.
In the anime, Speedwagon fights with a hammer and even attempts to crush Dio's dismembered arm with it. In the manga, this weapon was used in the battle where Poco is introduced. The hammer is used again only after the battle, where Speedwagon destroys the Stone Mask with it.
Page, Jones, Plant, and Bornnam are introduced before their initial appearance in the manga when they asked Dio if he wanted them to take care of Jonathan. In the manga, different zombies were used and the group only appeared after Dio is injured by Dire's rose.
Some panels of Straizo and Tonpetty attacking zombies are omitted in the anime. Tonpetty kicking a zombie away from Speedwagon is added.
In other languages
Language
Title
Translation
Japanese
血戦!JOJO & DIO
Bloody Battle! JoJo & Dio
Chinese
血戰!JOJO&DIO
Bloody Battle! JoJo & Dio
Chinese (Hong Kong)
血戰!JOJO與DIO
Bloody Battle! JoJo and Dio
English
Bloody Battle! JoJo & Dio
Spanish
¡Contienda sangrienta! JoJo y Dio
Bloody contest! JoJo and Dio
Portuguese
Rixa de Sangue - JoJo & Dio
Blood Brawl - JoJo & Dio
French
Le combat sanglant ! JoJo et Dio
The bloody fight! JoJo and Dio
German
Vendetta - JoJo & Dio
Hebrew
קרב הדמים בין ג'וג'ו לדיו
The Bloody Battle between JoJo and Dio
Arabic
معركة دموية! ديو وجوجو
Bloody battle! Dio and JoJo
Italian
Scontro decisivo! JoJo e Dio
Decisive battle! JoJo and Dio
Czech
JoJo a Dio: krvavý souboj
JoJo and Dio: A bloody fight
Danish
Blodig kamp! JoJo & Dio
Bloody battle! JoJo & Dio
Polish
Krwawe starcie! JoJo kontra Dio
Bloody clash! JoJo versus Dio
Commentary
Gallery
References