Killer Queen
Jump to navigation
Jump to search
"
Mon grand frère avait des bulles qui explosaient quand elles touchaient quelque chose...
"
Killer Queen (キラークイーン, Kirā Kuīn) est le Stand de Yoshikage Kira, figurant dans la huitième partie de JoJo's Bizarre Adventure, JoJolion. Tout comme son homologue de la continuité originelle, Killer Queen est un Stand humanoïdes aux allures félines. Il peut faire exploser des objets et peut déployer Sheer Heart Attack, une bombe sur chenilles.
Apparence
Killer Queen is a humanoid Stand of similar appearance to its alternate counterpart. Its crown is flat, while two sharp, triangular shapes resembling a cat's ears stand on either side of the top of its head. Its eyes have cat-like vertical pupils in front of generally light-colored sclera. It has no nose. With thin lips, its mouth is perpetually closed.
It wears dark, studded, leather-like forearm-length gloves, mirrored in style by a garter belt-like band at its waist and ankle-height footwear. Its thumbs are additionally bandaged in white.
Its shoulders, the back of its hands, belt buckle, both sides of its ankles and the top of its feet all bear the emblem of a skull with ears resembling its own; in varying sizes and external decoration. One minor yet constant difference between the designs of Killer Queen and its Part 4 counterpart is that, while Part 4 Killer Queen bears two skull emblems at its belt buckle, Part 8 Killer Queen bears only one.
Palettes
Les palettes changent souvent entre les médias. L'information ci-dessous ne devrait pas être considérée comme canonique.
(
Killer Queen
)
Yeux
(Yeux blancs, pupilles roses)
Tenue
(Gants bleu marine, clous gris, plaques oranges-dorées)
(Sheer Heart Attack)
Détails
(Chenilles grises métallique, bouton jaune)
Pouvoirs
De fait, on ne sait que très peu de choses sur les capacités de Killer Queen. Comme son homologue original, ce Killer Queen est un Stand de courte-portée qui reste près de son manieur Kira et semble avoir des qualités physiques plus grandes que la moyenne.
Il possède un pouvoir qui est encore centré autour des explosifs. Killer Queen peut déployer deux types de bombes pour combattre, ce qui en fait un Stand puissant au combat.
Bulles Explosives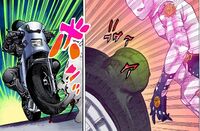 Selon Kei Nijimura, la petite soeur de Yoshikage Kira, Killer Queen avait comme pouvoir principal celui de créer des bulles qui explosaient au contact.[1]
Kei témoigne que Killer Queen créait des bulles qui flottaient dans les airs que Yoshikage utilisaient comme projectile. Cependant, on voit aussi Yoshikage créer des bulles explosives sous la peau d'une personne ou à l'intérieur d'un objet quand Killer Queen touche ou frappe sa cible. Une bulle se créé et gonfle localement sur la cible avant d'exploser.[2] On présume que les bulles viennent de la main de Killer Queen.

Techniques
Killer Queen peut invoquer plusieurs bombes miniatures qui se déplacent sur des chenilles. Contrairement au
Sheer Heart Attack
original, Kira peut créer plusieurs bombes mouvantes et les contrôler à distance avec précision. Kira peut également choisir quelle taille ses bombes vont prendre et les rendre suffisamment petites qu'elles naviguent dans le système sanguin d'une personne.
[3]
ou les rendre presqu'aussi grosses que la tête d'un homme.
[4]
La puissance de l'explosion dépend de leur taille, comme en témoigne la capacité de Sheer Heart Attack à juste éliminer un caillot de sang d'un jeune
Josefumi Kujo
ou bien à exploser avec assez de puissance pour dévaster jetée entière.
[4]
Les Sheer Heart Attacks n'ont pas de nez pointu comme leur homologue originel et ressemblent au moment où Sheer Heart Attack avait été malmené.
Chapitres

Apparitions Manga
Apparition dans les chapitres
Galerie d'Images
Références