Opaska Caesara
Jump to navigation
Jump to search
SPOILER WARNING: Part 2 spoiler details may follow.
"
JoJo! To jest moja ostateczna Fala! Odbierz to!! (
ジョジョ!俺の最後の波紋だぜ!受け取ってくれ!!
JoJo! Ore no saigo no Hamon daze! Uke totte kure!!
)
"
Opaska Caesara (シーザーのバンダナ, Shīzā no Bandana) jest wstępnie nazwanym kluczowym elementem występującym w drugiej części serii JoJo's Bizarre Adventure, Battle Tendency. Pierwotnie należał do władającego Falą wojownika Caesara Anthonio Zeppeli, został tymczasowo odziedziczony przez Josepha Joestara poprzez karmazynową bańkę Falą po śmierci Caesara z rąk Człowieka z Filaru Wamuu.[2]
Choć początkowo był modnym dodatkiem, później odgrywa kluczową rolę w pokonaniu Wamuu przez Josepha[3] i od tego czasu stał się powracającą częścią stroju Caesara i Josepha w różnych mediach związanych z JoJo.
Wygląd
"
Znakiem rozpoznawczym Caesara jest oczywiście jego bandana z trójkątnymi znakami. Nawet teraz nadal mocno kojarzę ten projekt z Caesarem – niekoniecznie dlatego, że Caesar go nosił, ale dlatego, że podoba mi się sposób, w jaki kolory kontrastują na bandanie.
"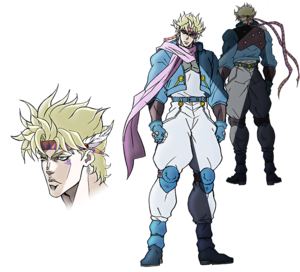 Opaska ma prosty motyw trójkąta mozaikowego, dzielącego go na dwa kolory. Noszony przez Cezara w mandze, zatrzymuje się na skrzydłach po obu stronach opaski, podczas gdy u Josepha wydaje się znacznie dłuższy i opada za plecami, podobnie jak japoński Hachimaki. W telewizyjnej adaptacji anime opaska jest konsekwentnie dłuższa, a jej ogony można zobaczyć nawet wtedy, gdy Caesar ją nosi.
Schematy kolorów
Seria znana jest z zmiennych kolorów między mediami, informacje przedstawione poniżej mogą, ale nie muszą być kanoniczne.
Opaska
(Fioletowa i jasnopomarańczowa)
Opaska
(Ciemnofioletowo-szara i bladopomarańczowa)
Historia
JoJo's Bizarre Adventure
TOpaska jest po raz pierwszy widziana przez Caesara podczas jego pierwszej konfrontacji z Josephem Joestarem przy fontannie w Rzymie we Włoszech. Caesar nadal nosi go podczas wydarzeń Battle Tendency, ale jego znaczenie ujawnia się dopiero podczas walki z Wamuu w San Moritz.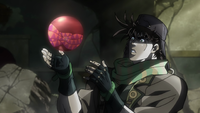 Po uderzeniu przez Boską Burzę Piaskową,[2] Caesar chwyta antidotum Wamuu i wkłada przez niego opaskę. Następnie, używając ostatniej ze swoich Fal, tworzy karmazynową bańkę, która trzyma chustkę i pierścień. Joseph otrzymuje bańkę i nosi opaskę na głowę,[5] aby uczcić swojego poległego towarzysza.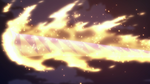 Po pokonaniu Wamuu przez Josepha,[6] po rzuceniu w niego koktajlu Mołotowa, Joseph kontynuuje jazdę, zapalając i rzucając opaskę Caesara. TPrzedmioty te są zasysane przez Wamuu, powodując zapalenie się sprężonego powietrza wewnątrz niego, implodując ciało Człowieka z Filaru. Z tego powodu opaska zostaje ostatecznie zniszczona. I tak Caesar zostaje pomszczony, a jego poświęcenie[2] pozwala Josephowi ostatecznie zatriumfować nad Wamuu.

Opaska Jonathana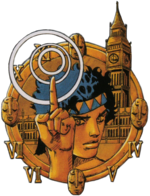 W 2012 roku, w ramach 25-lecia JoJo's Bizarre Adventure, kilka dzieł sztuki narysowanych przez Hirohiko Arakiego było sporadycznie udostępnianych publiczności za pośrednictwem różnych mediów. Dzieła te są godne uwagi, ponieważ debiutują Jonathana Joestara z opaską identyczną z tą noszoną przez Caesara. Po raz pierwszy ujawniono na boku budynku QFRONT w Shibuya w Tokio 28 grudnia 2011 r., każda kolejna grafika wydana w tym okresie przedstawiała Jonathana z opaską na głowę. Przykłady obejmują JoJo's Bizarre Words, JOJOVELLER i Hirohiko Araki JoJo Exhibition 2012.

Rozdziały / Odcinki

Manga Appearances
Chapters in order of appearance

Anime Appearances
Episodes in order of appearance
Gry wideo
Opaska Caesar była dostępna przez ograniczony czas jako asysta w grze mobilnej Puzzle & Dragons.

Caesar's Bandana
(シーザーのバンダナ)
Attributes:

No. 9582
Active Skill: "Final Ripple" (Localized Name: "Final Hamon")
10x ATK for Leader Monster for 1 turn; fully recovers bind (incl. Awkn) & unmatchable Orb status
Leader Skill: "N/A"
N/A
Galeria
Jonathan Joestar
Ciekawostki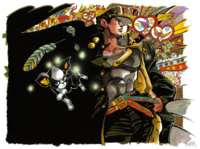 Przypisy
Nawigacja w witrynie