O Bebê Verde
Jump to navigation
Jump to search
ALERTA DE SPOILERS: Spoilers da Parte 6 podem estar presentes abaixo.
"
Escada Espiral. Besouro Rinoceronte. Cidade Fantasma. Torta de Figo. Besouro Rinoceronte. Via Dolorosa. Besouro Rinoceronte. Ponto de Singularidade. Giotto. Anjo. Hortênsia. Besouro Rinoceronte. Ponto de Singularidade. Imperador Secreto!
"
O Bebê Verde (緑色の赤ちゃん, Midori-iro no Aka-chan) é um personagem de grande importância na sexta parte de JoJo's Bizarre Adventure, Stone Ocean, especificamente no arco "Despertar".
O Bebê Verde é uma criatura única feita do Osso de DIO e uma multitude de almas. Seu nascimento representa um estágio avançado no plano de DIO e Enrico Pucci, como escrito no Diário de DIO. O bebê é um usuário de Stand, e é automaticamente protegido pelo Green, Green Grass of Home.
Aparência
O Bebê Verde se assemelha a um gremlin

, com duas linhas em ambos lados de seu crânio. Ele possui orelhas grandes e pele verde, que possui um padrão de formatos de folhas. Ele possui olhos que parecem sementes. Ele também tem o que parece ser uma marca em formato de folha em sua testa e a Marca de Nascença Joestar em suas costas.
Esquema de Cores
A série é conhecida por sua mudança de cores entre as mídias, a informação apresentada abaixo pode ou não ser cânon.
Pele
(Verde, marca de nascença cor-de-vinho.)
Personalidade
O Bebê Verde é pela maior parte inocente, como um bebê humano. Ele é curioso e demonstra interesse na marca de nascença de Jolyne.
Habilidades
Green, Green Grass of Home faz com que o tamanho de qualquer ameaça que se aproxime encolha proporcionalmente quanto mais perto eles chegam do Bebê Verde. Esse efeito pode continuar sem fim, ao ponto em que o alvo irá aparentemente sumir da existência.
O Stand também irá atacar fisicamente aqueles que estão em proximidade do Bebê Verde após serem encolhidos.
Green, Green Grass of Home
(
グリーン・グリーン・グラス・オブ・ホーム
)


Habilidade
Encolhimento Proporcional
History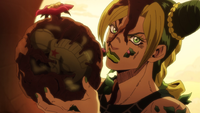 A strange creature, the Green Baby was born from DIO's bone after it absorbed the souls of thirty-six convicts.
DIO's bone began by infecting convicts by touching them. Those infected sought out the sun and slowly germinated into plants. Thirty six people in total were infected.
It was during this time that the gang: composed of Jolyne, Anasui and Foo Fighters, came across the bone. When Jolyne tried to stop the bone carrier, a random infected person, she herself became infected.
After being exposed to sunlight, Anasui concluded that the plant must only bloom in sunlight. Jolyne, knowing this, still jumped in to grab the newly forming Green Baby. Soon after, D an G's invincible automatic Stand Yo-Yo Ma swallowed the shell containing the Green Baby, forcing Jolyne and Anasui to accompany Yo-Yo Ma while Foo Fighters hunted down D an G.
After D an G was killed, the Green Baby hatched, removing Jolyne's plant infection due to no longer needing the plants to grow. Anasui and Jolyne then hunt down the Green Baby as it wanders away. Unfortunately they discover that the Green Baby has a Stand which shrinks anything that approaches it. As Jolyne attempts to foil the ability, Green, Green Grass of Home appears to defend the Green Baby and reduce all threats to nothing.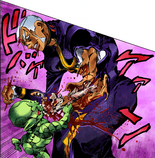 After a long fight, Anasui manages to trap the Stand within a bottle, using Diver Down to help him and Jolyne escape the bottle. Unfortunately, while they are still diminished in size, the Green Baby kicks the bottle towards the two, nearly crushing Anasui, before Jolyne breaks the bottle and the baby cancels its ability due to a newly found interest in Jolyne and her Joestar family birthmark.
Shortly after this, they are tailed by Pucci, whom eliminates Foo Fighters and incapacitates Anasui. Jolyne sets out to fight Pucci and stop him, but Pucci tosses Jotaro's memory disc into a dying Anasui, which leaves Jolyne with the threat that Jotaro's disc will be lost with Anasui. Jolyne goes after the disc, to Pucci's joy, which allows him to utter the fourteen words to the Green Baby. The baby quickly reacts and rips at Pucci's arm, dragging him into the bushes violently to fuse with him.

Capítulos

Manga Appearances
Chapters in order of appearance
Galeria
Referências