Green, Green Grass of Home
Jump to navigation
Jump to search
"
O quebra-cabeça é isso... Nós nunca poderemos alcançar a
criança
? Eu acho que nunca conseguiremos.
"
Green, Green Grass of Home (グリーン・グリーン・グラス・オブ・ホーム, Gurīn Gurīn Gurasu Obu Hōmu) é o Stand do Bebê Verde, na sexta parte de JoJo's Bizarre Adventure, Stone Ocean. Ele é um Stand humanoide relativamente pequeno que protege o Bebê ao encolher qualquer pessoa que se aproxima dele.
Aparência
O Stand se manifesta como um humanoide em um macacão escuro e tribal com uma máscara com quatro olhos. Ele tem dois objetos parecidos com turbinas em cada lado de sua cabeça. Longos espinhos saem do topo de sua cabeça.
Seu tamanho é aproxidamente igual a um terço da garrafa plástica de água média.
Esquemas de Cores
A obra é conhecida por sua mudança de cores entre as mídias, a informação apresentada abaixo pode ou não ser cânon.
Corpo
(Macacão azul, máscara e acessórios brancos, olhos amarelos, turbinas magenta, espinhos e fios laranjas.)
Habilidades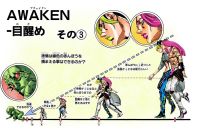 Green, Green Grass of Home automaticamente protege se usuário, o Bebê Verde, através de seu poder esotérico. Embora ele seja pequeno por natureza, caso um inimigo se aproxima o suficiente do Bebê Verde, ele irá eventualmente se tornar muito maior que eles, deixando qualquer diferença inerente irrelevante.
Green, Green Grass of Home é bastante perspicaz e é mostrado se aproveitar de seu poder e o ambiente em volta dele para matar seus inimigos.
Encolhimento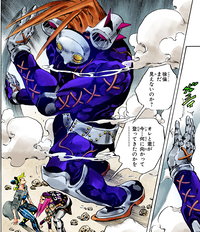 Green, Green Grass of Home faz com que tudo em volta do Bebê Verde encolha conforme sua proximidade a ele.[1]
Começando em uma distância desconhecida do Bebê Verde, qualquer coisa, sejam objetos ou pessoas, serão reduzidos proporcionalmente a sua proximidade ao Bebê. Caso alguém diminua a distância seu tamanho também será diminuído. Como tal, é impossível alcançar o Bebê Verde. Se alguém ir para longe do Bebê Verde, eles crescerão apropriadamente.[2]
Caso uma pessoa chegue perto o suficiente, o Green, Green Grass of Home irá se manifestar e atacá-los.[2] Embora ele possa forçar sua vítima a ir para perto do Bebê Verde, supostamente tentando remover a pessoa da existência ao fazê-los desaparecer em um tamanho infinitamente pequeno, ele pode eventualmente matar o alvo através de meios mais convencionais, como usando seu tamanho enorme comparado a vítima encolhida para esmagá-la.[3]
Se o Bebê fica interessado em algo ou alguém e vai pegá-lo ou tocá-lo, ele vai automaticamente voltar para seu tamanho normal.[3][4]
Capítulo / Episódios

Aparições no Mangá
Capítulos em ordem de aparição

Aparições no Anime
Episódios em ordem de aparição
Criação e Desenvolvimento
As habilidades do Stand são baseadas nos paradoxos de Zenão.[5] O mangá menciona que o Green, Green Grass of Home não tem nome, mas ele é mais tarde dado um no livro de arte JOJOVELLER.
Galeria
Referências