JoJo's Bizarre Adventure - Episode 5
Jump to navigation
Jump to search
The Dark Knights
(

暗黒の騎士達

Ankoku no Kishitachi)
[1]
is the fifth episode of the
JoJo's Bizarre Adventure
anime
. It is also the fifth episode of
Phantom Blood
. It covers
Chapter 24
through
Chapter 28
of the manga.
The heroes reach the town of Windknight's Lot where Dio is hiding. However, they are ambushed by Dio's Zombie minions and Jonathan must fight Bruford and Tarkus, two medieval knights resurrected as powerful zombies.
Summary
Upon arriving in Windknight's Lot, JoJo's group is pickpocketed by a talented young boy named Poco who uses a slingshot to shoot himself across a nearby lake. After using the Ripple to walk on the water, JoJo and Zeppeli manage to catch Poco, after Jonathan hits the cliff Poco is climbing with a Ripple punch. Jonathan catches Poco, but strangely enough, Poco does not remember where he is or what he was doing.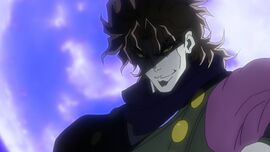 As the sun falls, they find themselves confronted by Dio, who had hypnotized Poco to lure JoJo's group to the graveyard where they are attacked by his legion of Zombies. Zeppeli attempts to use his Ripple attacks on Dio, but the Vampire, warned by Wang Chan, has developed a technique to counter the Ripple. By vaporizing the moisture of his body, Dio can absorb heat and thus freezes Zeppeli's arms. Just before Dio finishes him off, Jonathan joins in the battle for a quick defense, but both he and Zeppeli are easily defeated. Satisfied, Dio then summons the two undead legendary Dark Knights, Tarkus and Bruford to finish them.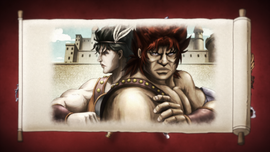 The tragic past of Tarkus and Bruford is explained. They were once loyal knights of Mary Stuart. However, Elizabeth I then condemned Mary as a traitor and waged war against Mary's armies. Mary Stuart eventually lost and was imprisoned while Tarkus and Bruford were still battling Elizabeth's forces, having been unbeaten until then. The two were then tricked into surrendering in exchange for Mary's life, but just before dying, they were shown Mary's decapitated head. The two died, cursing the world.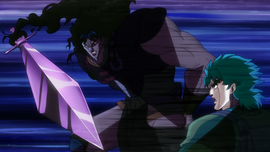 Dio allows Bruford to fight Jonathan alone and the two commence their battle, during which Bruford shows his peculiar technique of wielding his sword with his hair. After a couple of dodges, Jonathan is thrown into a lake where he is unable to breathe. Regardless of Bruford's armor, he is able to maneuver easily in the water and is not burdened by the need to breathe due to being a zombie. Jonathan is forced to dive deeper into the water and dislodge a rock at the bottom of the lake. Some trapped air underneath the rock gives Jonathan enough ammo to get his breathing back up and he unleashes an Underwater Turquoise Blue Overdrive upon Bruford.
Appearances
Credits
Staff
Animation Director Cooperation
(作画監督協力)
Assistant Animation Director
(作画監督補)
Ippei Masui
Keiko Yamamoto
Tatsuo Amemiya
桝井 一平
山本 径子
雨宮 達夫
Ryousuke Senbo
Ippei Masui
Shinya Nogami
Satoru Yamashita
Chuji Nakajima
Tomoki Koda
Shinpei Koikawa
Koji Morishima
Koji Miura
Satoshi Sakai
Kumiko Kasuga
Minoru Morita
Susumu Nishizawa
Momoko Nagakawa
Rui Kondo
Kazuaki Matsuda
泉保 良輔
桝井 一平
野上 慎也
山下悟
なかじま ちゅうじ
香田 智樹
鯉川 慎平
森嶋 浩二
三浦 弘二
酒井 智史
春日 久美子
森田 実
西澤 晋
永川 桃子
近藤 瑠衣
松田 一聡
Yukari Kobayashi
Shinichi Suzuki
Asuka Kurokawa
Sakurako Sagano
Zinnmu Zinnmurar
Meta Studio
Studio Liberty
小林 ゆかり
鈴木 伸一
黒川 飛鳥
佐賀野 桜
山口 夢仁
メタスタジオ
スタジオリバティ
In-between Animation
(動画)
In-between Animation Inspection
Fusae Sato
Zinnmu Zinnmurar
佐藤 房江
山口夢仁
---
Ayumi Ishii
Mutsumi Sasahara
Sayo Endo
Rika Satou
Chou Meitetsu
Yades
Hanil Animation
J&K Corporation
Beep
Big Owl
Jumondo
DCI
AI
White Line
david production
石井 歩
笹原 睦未
遠藤 小夜
佐藤 里佳
チョウ・メイテツ
Yades
韓一動画
J&Kコーポレーション
BEEP
ビッグオウル
寿門堂
DCI
AI
WHITE LINE
david production
Q-Tec
(キュー・テック)
Hirohisa Mita
Daiki Kitamura
Hiroki Ueno
三田 寛久
北村 大輝
上野 洋樹
David Production
亀井 隆広
Puavaranukroh Taweeporn
Music
Manga/Anime Differences
In the manga, Zeppeli explains to Speedwagon that only a few have the talent for the Ripple and that Speedwagon isn't pressured enough, despite Speedwagon's insistence. The discussion between them and how Speedwagon wants to help is shortened in the anime; it cuts to Zeppeli hitting Speedwagon in the diaphragm only to accidentally hit the wrong spot.
Poco moons the group after stealing from them in the manga, which is cut in the anime.
Many of Speedwagon's attempts to help the others are cut or shortened: in the manga Speedwagon asks Zeppeli to make him be able to create small ripples (scene shown offscreen and only mentioned later on the anime) and also tries to use the Ripple to walk on the water, but fails at it and has to swim. He also uses a hammer to fight the zombies, but it is nowhere to be seen until later episodes.

Speedwagon also mentions having been to many places in the manga when heating Zeppeli's arm, which is not mentioned in the anime.

The trial of the 77 Rings and Bruford's hair having turgor are not explained in the anime.
In other languages
Language
Title
Translation
Japanese
暗黒の騎士達
The Dark Knights
Chinese
暗黑的騎士們
The Dark Knights
English
The Dark Knights
Spanish
Los caballeros de la oscuridad
Knights of darkness
Portuguese
Os Cavaleiros Negros
The Black Knights
French
Chevaliers des ténèbres
Dark Knights
German
Ritter der Dunkelheit
Knight of darkness
Hebrew
האבירים האפלים
The Dark Knights
Arabic
فرسان الظلام
Dark knights
Italian
I Cavalieri Neri
The Black Knights
Czech
Temní rytíři
Dark knights
Danish
De mørke riddere
The Dark Knights
Polish
Czarni rycerze
Black Knights
Commentary
Gallery
References